Hitting the Italian slopes in a ski-in, ski-out resort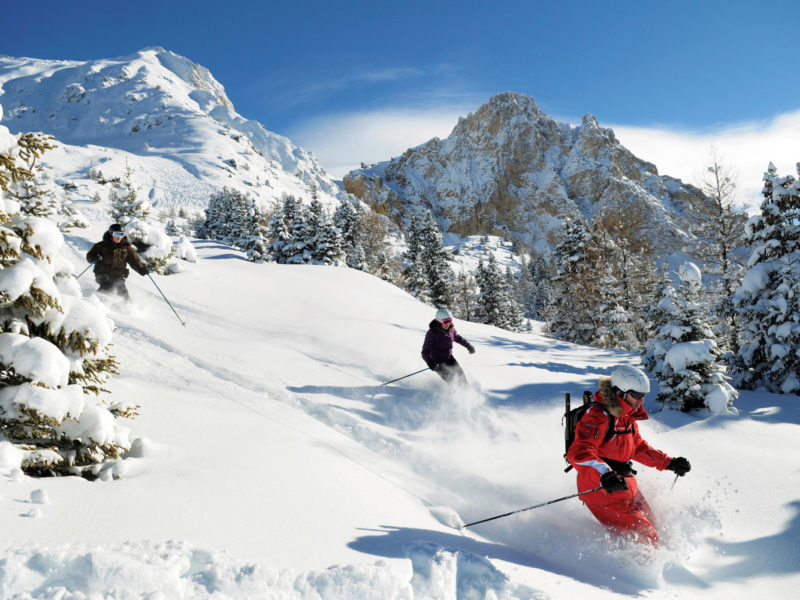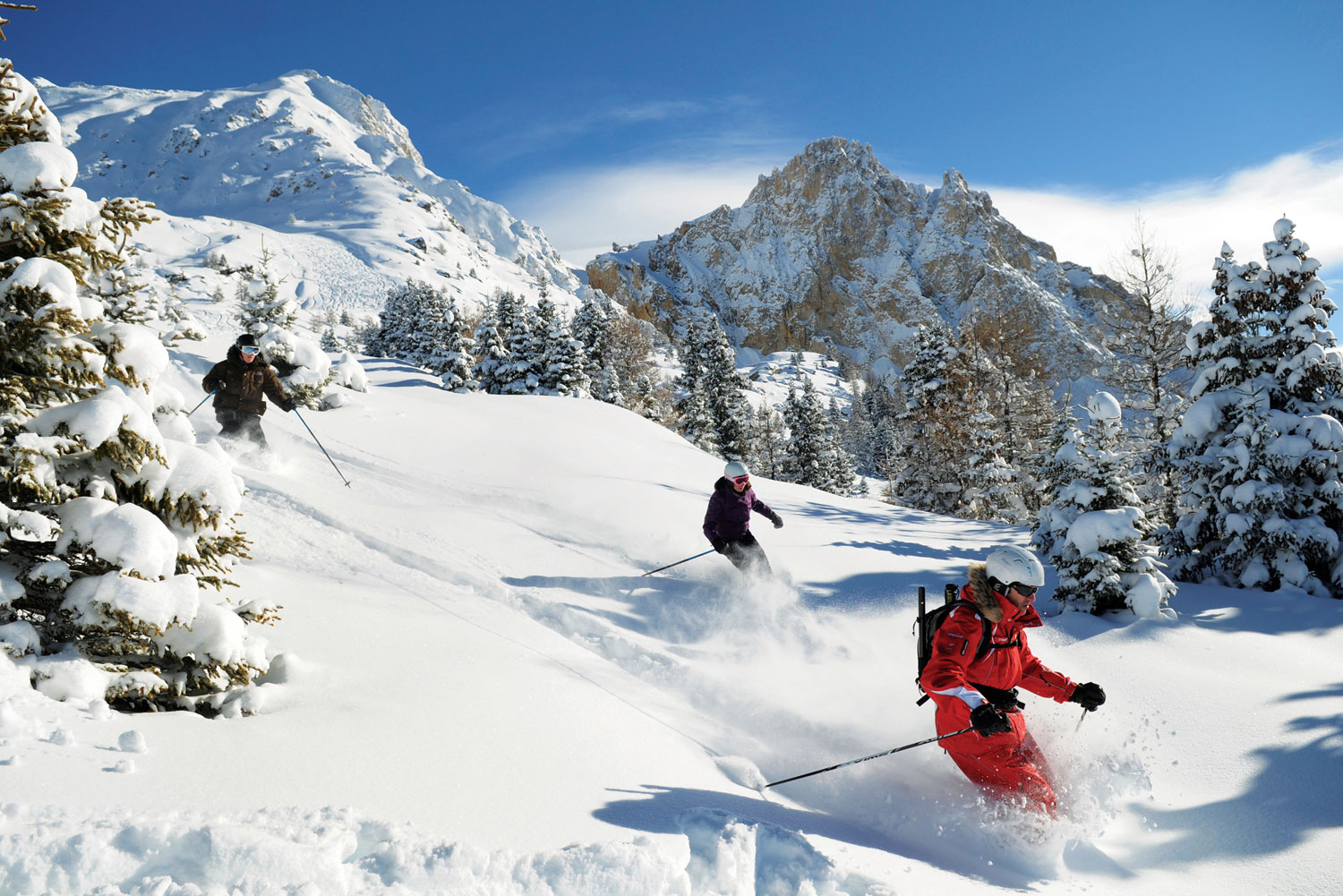 Club Med's future is looking less bleak, more chic, at Club Med Pragelato Vialattea. Words by Georgia Rickard.
Thinking of trying out a Club Med resort? We may just have the one to take a chance on, if you like luxury – and more than a little skiing – that is…
A confession
I confess: Club Med has never really captured my imagination. Not in the way it's meant to. It's the place my mother had a wild affair with a Tahitian in the '70s – apparently he showed her some very inventive ways to explore an island. She's never forgotten him, which is all well and good, but I've never forgotten him either, which is not good. So, it's always been a hotel brand I've felt best avoided.
If last year's closure of the chain's three-star Lindeman Island resort says anything, the majority of Australians aren't so sure about Club Med either.
The brand may have once been a thriving chain selling the promise of luxury and adventure for the young and the single, but a couple of misturns in the early noughties – including a foray into fitness centres, and the launch of some questionable 'budget resort' accommodation – left the French company's offerings floundering somewhere in the wastelands of bad buffet food and floral bedspreads. Particularly here in Australia, with Club Med's then-Australian general manager Quentin Briard admitting, after Lindeman's closure, that their product just wasn't what the market wanted anymore.
Back and better than ever
Now Club Med is back and better than ever – or so they claim. To prove it, they've invited International Traveller to their global relaunch, set to take place in the pretty north-western corner of Italy. Over 300 journalists are being flown in for this event; television presenters, radio reporters and journalists from around the world. French Vogue will make an appearance. Italian Harper's Bazaar is a confirmed guest. International Traveller is the only Australian magazine there.
The destination
Our destination for the night is Pragelato, Italy a 45-minute drive west of Turin airport and the home of Club Med's latest venture – a ski-in, ski-out resort 'fashioned in the style of the local village'. If a ski resort seems a strange location from which to relaunch a beach resort chain, think again. Post-apocalypse Club Med, as we're about to learn, is all about 'embracing your surrounds', not just parking yourself by the pool (or, ahem, in your room).
The company has downsized significantly in the past few years; ditching the entire bottom third of their portfolio in favour of a new, more discerning benchmark and, from here in, they say the only way is four stars and up. Their next venture in Guilin, China, will be set amongst UNESCO World Heritage listed sugarloaf mountains and rice terraces.
Unfortunately, even business class on an Emirates A380 (Couches! Canapes! Cake! I confess, I spent most of my time in the bar area) isn't enough to remove the sting of three flights, 28 hours and too many time zones, though it helped. A lot. But the picture-book roadside makes the final 45-minute leg a little easier to bear.
This part of the Italian Alps has been dabbed, rather than totally covered, by the turistica brush, and so the area retains a pleasantly decent air of authenticity – where Starbucks has not yet entered the local mélange of French and Italian dialect. The resort too is surprisingly unobtrusive; all sloping roofs and low-rise chalets – part of the new company policy to incorporate the local surrounds into each resort as much as possible.
Pragelato, meaning 'icy meadow'
And these local surrounds were a canny choice. Pragelato – meaning 'icy meadow', thanks to its particularly cold climate and the resulting icy grounds – might be a tiny town but it has some big history, having hosted multiple events during the 2006 Turin Winter Olympics. It's also something of the quiet achiever of European snow; part of the second largest ski domain in Europe with 440 kilometres of slopes, more lifts than you can count and consistently good-quality powder. I'm raring to head straight to Club Med's on-site gondola, but alas – cameras are lighting up and Prosecco is being downed. The dawning of Club Med's next era is beginning.
Like the resort itself, the launch is surprisingly tasteful. Held in the vast main bar area, we are treated to the usual press conference stuff: new beginnings, big ideas, grand plans, etc. etc., but it's the bar area itself that really speaks volumes. Oversized chandeliers fashioned from antlers hang from white ceilings, an assortment of lounges congregate around the several fireplaces; snow buckets down in powdery clouds outside… It's not Philippe Starck sophisticated but it's modern, well-styled and thoroughly comfortable: a solid four-star product. As the music begins and drinks are refilled, general consensus amongst media is good: Club Med has done well.
The proof is in the powder
But the real proof is in the powder, and happily, it is here that Club Med Pragelato shines. The snowfields are vast and the skiing is excellent – non-negotiables for any ski holiday, to be fair – but there's another major advantage of staying with Club Med: its trademark all-inclusive packages. Snow holidays are notoriously full of hidden costs, as anyone who's ever bought an on-slope sambo can tell you.
But a family skiing getaway here has everyone suited, booted and trailing behind a ski instructor for five days without shelling out anything on top of the initial tariff. Even on-slope lunch is covered at Club Med restaurant Chalet Mollino – a genuinely lovely, two-story chalet with sloping glass windows, a huge fireplace and the best hot chocolate in the area.
Of course, if you're an intrepid traveller after cultural immersion then Club Med is not for you (and never has been).
Give it a miss if you're not 'ski mad'
This particular resort is also not the place to come if you're not ski-mad; like so much ski accommodation, the focus is more about what's outside your room, not in it. Lodgings are essentially modern and include all the additional comforts required by today's traveller (in-room espresso machine, wi-fi, flatscreen…) but they're just not the kind of rooms you never want to leave. Unless you manage to find yourself a Tahitian, of course.
But you probably won't find one here. Like most of Club Med's products these days, the Pragelato resort is family-oriented, complete with hassle-free buffet restaurant and a well-equipped Kids' Club. But if that's what you're after, then you'd be hard stretched to find another option that's as enjoyable, easy, and easy on the wallet as this.
Overall, it's an excellent example of what this brand does very well: hassle-free, genuinely easy holidays, run by friendly, eager-to-please staff. The new Club Med, in other words, is essentially the best bits of old Club Med, this time around with nicer rooms and a better-looking buffet. Now, to find a memory-erasing service…
The Details
Club Med Pragelato Vialattea, Via Rohbach, 10060 Frazione Plan, Italy +39 0122 741301 – clubmed.com
How to get there
Emirates flies from Australia to Rome via Dubai daily, from approximately $2287 return. Alitalia flies from Rome to Turin several times per day, from approximately $80 return (emirates.com; alitalia.com).
Luggage can be checked all the way through if all flights are booked together through Emirates. Pragelato is a 45-minute drive west of Turin, with cars for hire at the airport complete with snow tyres and ski racks if required (europcar.com; avis.co.uk). Transfers can also be arranged as part of your accommodation package with Club Med.
When to go
Ski season in the Turin region runs from mid December to early April. The first two weeks of January are generally the busiest time of year to visit due to the number of Italians on annual leave.
Accommodation
A six-night tariff at Club Med includes accommodation, breakfast, lunch and dinner at a choice of three restaurants with wine, beer and soft drinks included at lunch and dinner, lift passes, ski hire, five days of ski school and kids' club facilities. Rates from $1905 per adult and $1476 per child (for bookings until end of September).
You can't leave without
Heading to Chalet Raggio di Sole ('Ray of Sun'), a tiny on-slope bar in the valley of Sestriere Borgata (the next mountain over from Pragelato). Aside from looking like something straight out of a European fairytale, the gluhwein – or 'vin brule', as it's referred to here – is sweet relief after a hard day's thigh-burning. chaletraggiodisole.com
Eating the pizza at Club Med restaurant La Trattoria. Made in the local style (wafer thin) by local chefs (not wafer thin), it's easily some of the best pizza we've ever tasted.
Checking out the Club Med Wellness Centre. It actually includes a PAYOT spa with a Turkish bath and Finnish steam room, but you don't have to shell out for treatments to feel 'well' – the indoor heated pool and spacious gym are both free, and offer floor-to-ceiling views of the snow-capped mountains.
The best thing about Pragelato
The absolute ease with which you can get on, off and around the slopes. Having a dedicated on-site gondola is a nice touch, but the connecting mountains and lifts are also clearly signposted and make for a cruisy traverse.
The worst thing about Pragelato
The cold is proper cold. Snow falls heavily and consistently (although often at night), so you really do need your thermals. Avalanches are also a very real threat – it had been just two weeks since the last fatality when we visited. Unless you're an extremely competent skier, stick to the assigned areas.
You should know
It's too cold here for very small kids (under four years of age) to ski – winter temperatures average about minus 10 degrees celcius. However, there is a dedicated section of the kids' club for children of this age. If you are keen for some separate time, they can also head to the kids' club after 'shower hour' (6-7pm), allowing them to play and eat dinner under supervision while you eat separately.
Don't come here for the nightlife – Pragelato is a friendly village, but it's very small and not for ragers. If it's partying you're after, consider investigating nearby villages Sestriere and Sauze d'Oulx.
LEAVE YOUR COMMENT