Where to eat in Paris: Must-eat Restaurants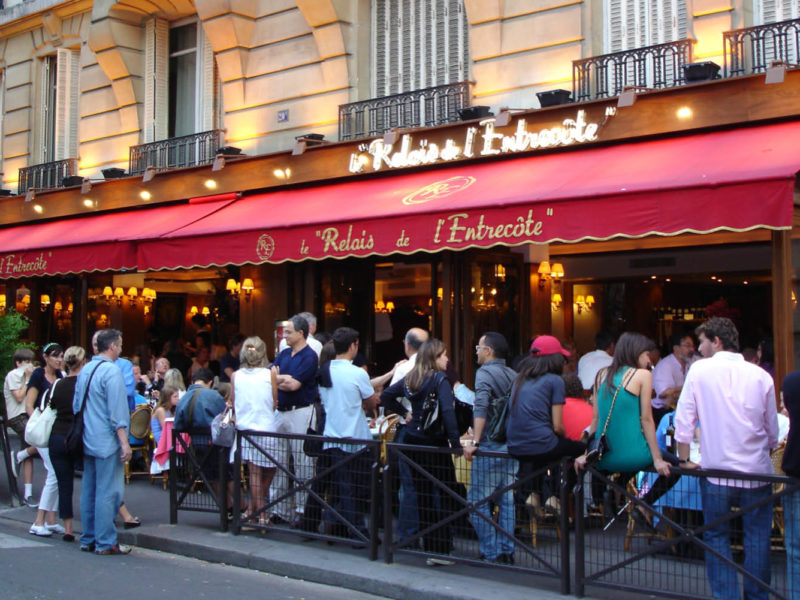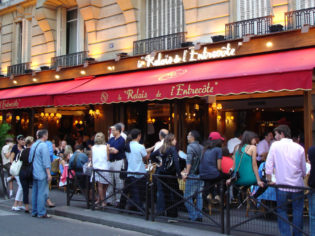 A former Paris resident and restaurant critic gives us the scoop on where to eat in the City of Lights.
Whenever I return to Paris, the city I once called home, I always end up eating in the same places – restaurants and bars that I can't walk past without popping in for a snack or drink.
What follows are my choice picks – I'll see you at the bar.
Make sure to book at Au Passage, because this is one hip restaurant.
Situated in the 11th arrondissement shouldering the Marais but feeling more like trendy nearby République, it's all Formica tables and mismatched chairs, with natural wines taking the lead on the drinks front.
The food from chef Luis Miguel Tavares Andrade is out there and changes daily – think smoked pigeon for one course, veal with XO for the next, and salted chocolate ganache drizzled with olive oil to finish.
Address: 1bis Passage Saint-Sébastien, 75011
I used to live near this rickety, timber-clad restaurant in the 18th arrondissement, which serves the food of France's south-west. It quickly became a firm favourite and now I cannot go back to Paris without eating here; I love everything about it.
Go in the evening when it's crowded and utterly Parisian in its vibe. Tables are crammed together (you'll have to move the table to get in and out of your seat) and voices are loud. Order the salade du béarnais, a heady combination of leaves with tomatoes, heaps of smoky, salty bacon lardons and layers of soft and crisp, garlic-fried potatoes, crowned with melting goat's cheese.
It's so huge it would be a miracle if you finished it (I never have), but what a joy it is to try. The original Relais Gascon, just off Place des Abbesses, has a second outpost five minutes down the road.
Address: 6 rue des Abbesses, 75018 Paris
Although France is known for its wine, the cocktails in this town are also worth your time.
Step into Little Red Door in the hip 3rd arrondissement and choose your cocktail depending on which artwork you like – they bring you a book of pictures; you pick your fave; a drink appears. It sounds corny and it kind of is, but that's all forgotten when you get your drink, which invariably boasts Everlasting Gobstopper levels of flavour.
Address: 60 Rue Charlot, 75003 Paris
If you want to eat at one of the world's best restaurants, L'Arpège (which has no less than three Michelin stars), but can't find the coin, then there's a little secret we should let you in on: go for The Gardener's Lunch. At €175 ($278), it's half the price of its evening offerings, and with chef Alain Passard's famed love for vegetables (he has farms dotted around France, each producing veggies depending on their unique terroir), it might just be the best way to experience his unique approach to cooking.
Address: 84 Rue de Varenne, 75007 Paris
To market
Pretty much every day in Paris is market day; you just have to find out where the market is and when. You'll see locals loading up on their weekly vegetables, knowing that this is better, not to mention cheaper, produce than you can get at the supermarket.
Have a Google and find out where the nearest market is in relation to your accommodation, and buy your supplies for the duration of your stay. And a hot tip: the hustle and bustle of bartering is part of the joy, so don't be shy.
You'll find l'Entrecôtes across Paris, but the one on the Left Bank (St-Benoît) is the one I always head to.
This is a famous chain of restaurants, so there will be tourists here, but there will also be locals, because it's that good. There will be a queue, too, so prepare yourself for that, but once you're in, the service is speedier than a TGV. You don't order here; you just get. All you need to do is tell them how you like your steak.
They'll serve you a lightly dressed salad to start, and then load you up with fries and steak doused with their famous, rich, herby 'green sauce' for which they've never given away the recipe. Everything is delicious. Just hurry up and go.
Off the tourist trail, Ma Cave Fleury is a little bar in 2nd arrondissement where Morgane Fleury serves the sparkling wine from her father Jean-Pierre's vineyard in Aube. Think Champagne, but not from the region of Champagne itself.
Her wines are natural and organic, and the establishment, situated on a gritty street lined with sex shops (this is real Paris, baby), has a 'locals' feel. Time it right and you might even find yourself in the middle of a jazz performance, which are often held here.
Address: 177 Rue Saint-Denis, 75002 Paris
There's no denying it, this is a touristy brasserie.
Famed for being the meeting place for eminent intellectuals like Jean-Paul Sartre and Simone de Beauvoir, it's one of the few Parisian hotspots that hasn't lost its charm.
Every time I'm in Paris I go here, often alone, order its truly excellent tartare de bœuf façon Deux Magots with a glass of its equally delicious Gewürztraminer, and watch the Parisian drama unfold – the tourists; the couples; and yes, even some Parisians. Bliss.
Address: 6 Place Saint-Germain des Prés, 75006 Paris
Rue Montorgueil
When I lived in Paris, I used to go to this street in Les Halles regularly to peruse the food stores and people-watch – it's one of the world's great food streets.
Rue Montorgueil is like an ancient equivalent of a supermarket, because everything you need is here: cheese shops, bread shops, fishmongers, fruit and veg… Les Halles is historically the market area of Paris; this is the way shopping used to be.
You could spend all day just walking up and down, tasting as you go, and I can't help but do just that whenever I'm in town.