Everything you need to know about Yala National Park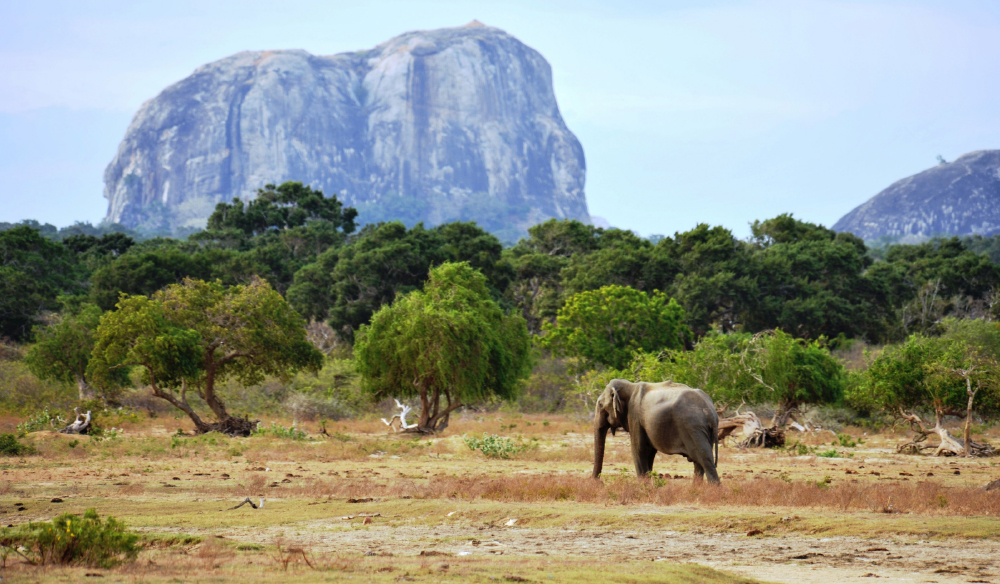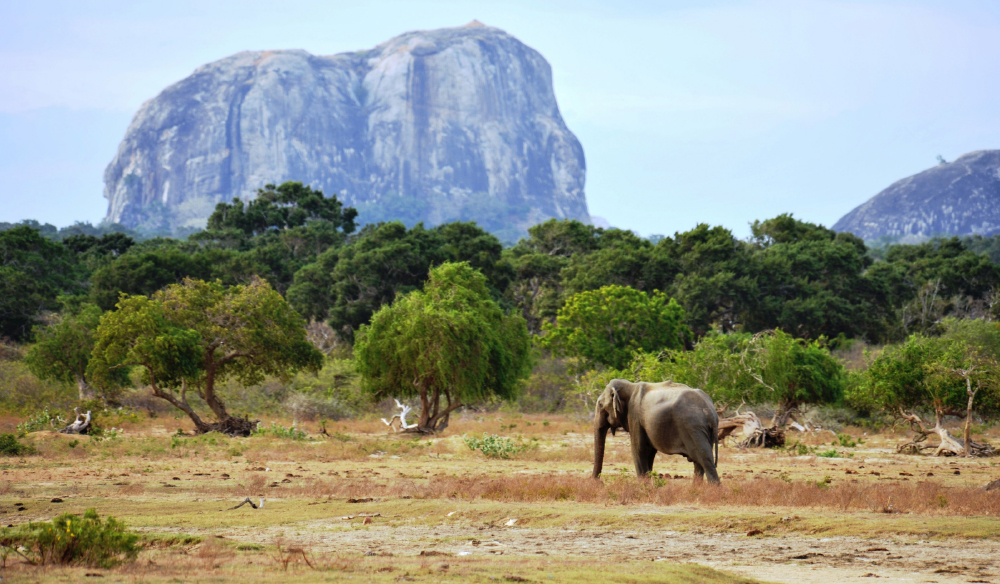 Prior to its inauguration as a national park in 1938, Sri Lanka's Yala wilderness was a shooting gallery for the ruling British elite, who sought trophies of its plentiful leopards and elephants.
Sitting in the south of the tear-drop-shaped island and abutting the Indian Ocean, today Yala's wildlife is shot by thousands of photographers a year instead; it's by far the country's most popular national park, and for good reason: it's the best place on the planet to spot leopards, with the highest concentration of the cat in the world.
But there's so much more to the 1268 square kilometres of protected space, including important archaeological sites and temples, families of Asian elephants, an endless stream of birdlife and simply a vast and varied landscape of forests, scrub and dramatic mesas rising from the jungle.
So if you're holidaying on one of the country's golden beaches – tear yourself away for a couple of days and witness the best of Sri Lanka's rich and varied natural wonders.
Yala is divided into five blocks plus a Strict Nature Reserve to maintain a pristine area in the face of tourism and other activity. Blocks 1 and 5 are set aside for the public to visit, with Block 1 by far the busiest (see below). Blocks 2, 3 and 4 are more rugged and remote and far less visited requiring permits to enter.
Must-see sights
Don't make the mistake of simply going on a safari to spot the park's big animals, there's so much more to Yala if you have a few days to explore, from ancient temples to its vast beach lining the Indian Ocean.
Kumbuk River
The park is bordered in the north by the Kumbuk River, and you can stay at KumbukRiver Eco-Extraordinaire lodge situated on its banks to see an entirely different corner of Yala, the lowland forest giving way to dense jungle. There are a range of accommodation options available, some with views of the roaring Kumbuk a stone's throw away.
Plus try river rafting, guided bird-watching and walks into the wilds of Yala's buffer zone.
Beach time
Turn your time in Yala National Park into an unashamed beach holiday. A long stretch of golden sand marks its border with the Indian Ocean and there are ample beach huts, and beachside villas to choose from to use as your base for your expeditions into the park.
The luxury Wild Coast Tented Lodge would be a good choice, its arched fabric structures set among the dunes and designed to channel the shape of a leopard's paw.
Elephant Rock
At times in Yala National Park you could be on the set of a King Kong film, dense forest stretching off into the horizon only to be abruptly stopped by an enormous lone-standing mountain.
Elephant Rock (pictured main) is the most photogenic of these, the huge mesas looking like an old bull elephant marching across a plain.
Sithulpawwa
Buddhism has been prevalent in Sri Lanka since the third century BC and Yala happens to have a great example of an early cave temple (pictured above) dating back to the second century BC; rare paintings on the temple walls from this time still remain.
Sithulpawwa's caves sit below a white stupa and once housed thousands of arhats – monks thought to have achieved enlightenment.
A conservation effort
Tourism can be a strong force for good, bringing money to the local economy which helps monetise a natural asset, an incentive to keep it in tip-top shape so people will want to come in the first place.
But too many visitors can adversely affect the environment. Since the country's civil war came to an end in 2009, tourists have flocked back to Sri Lanka and Yala: 43,368 visited the park in 2008 compared to 658,277 in 2016.
It's meant a problematic number of safari jeeps entering the park, something the Sri Lankan government is looking to address, and should have remedied earlier if it hadn't become such a political football.
However, an action plan has been drawn up to be implemented before 2020. Its various measures include improving safari-jeep-driver discipline; reducing the numbers of tourists concentrated in the busy Block 1 of the park (see map) by opening up other blocks; and zoning Block 1 itself to disperse jeeps throughout in an orderly fashion.
Animal Spotting
Yala is a haven for big mammals, a rare sight in Asia outside of national parks big enough to accommodate them. Thankfully this is one of them.
Sri Lankan flying snake
With yellow and black bands, and red spots, you'll be lucky to catch this striking snake gliding between trees.
It expands its ribs to flatten its body to soar across the canopy looking for small lizards to dine on; the stuff of nightmares for some, for others a rare photo opportunity.
Sloth bear
The Sri Lankan sloth bear is a dishevelled-looking shaggy character sporting a yellow crest on its chest, a lot like the sun bears found on the continent. Strong climbers, they dine on insects and fruit, and they're very shy, emerging at dusk.
Yala represents one of the best places to spot them.
Leopard
The star of the show, it's said there are around 30 leopards roaming around the most popular section of the park, meaning you have an increased chance of laying eyes on this reclusive big cat.
The leopards are actually a subspecies endemic to Sri Lanka, so you'll be ticking off an extremely rare animal indeed.
Asian elephant
It's a life-affirming experience to see families of Sri Lankan elephants, a subspecies of Asian elephant, roaming the expanse of Yala, with over 300 calling the park home.
Sri Lanka is thought to have the world's highest density of Asian elephants, which are under massive pressure from habitat loss in other parts of Asia.
LEAVE YOUR COMMENT