Review: Raffles Hotel, Singapore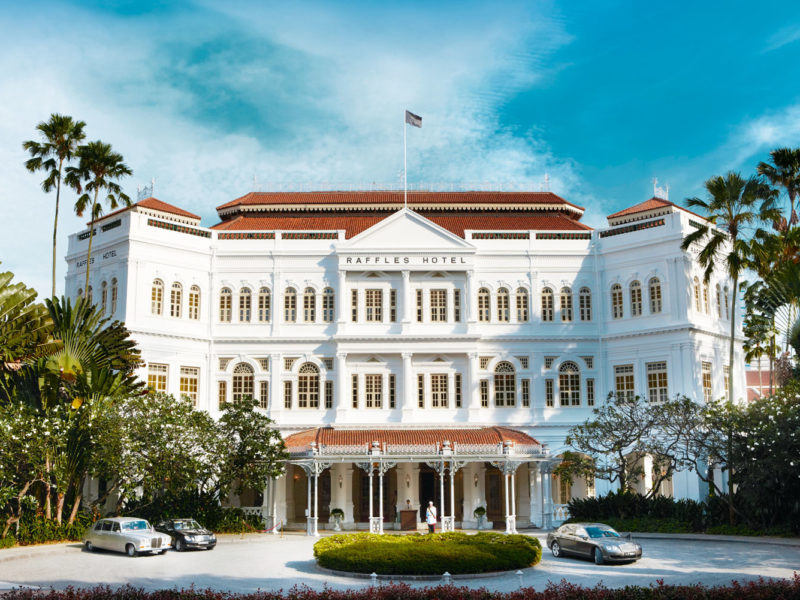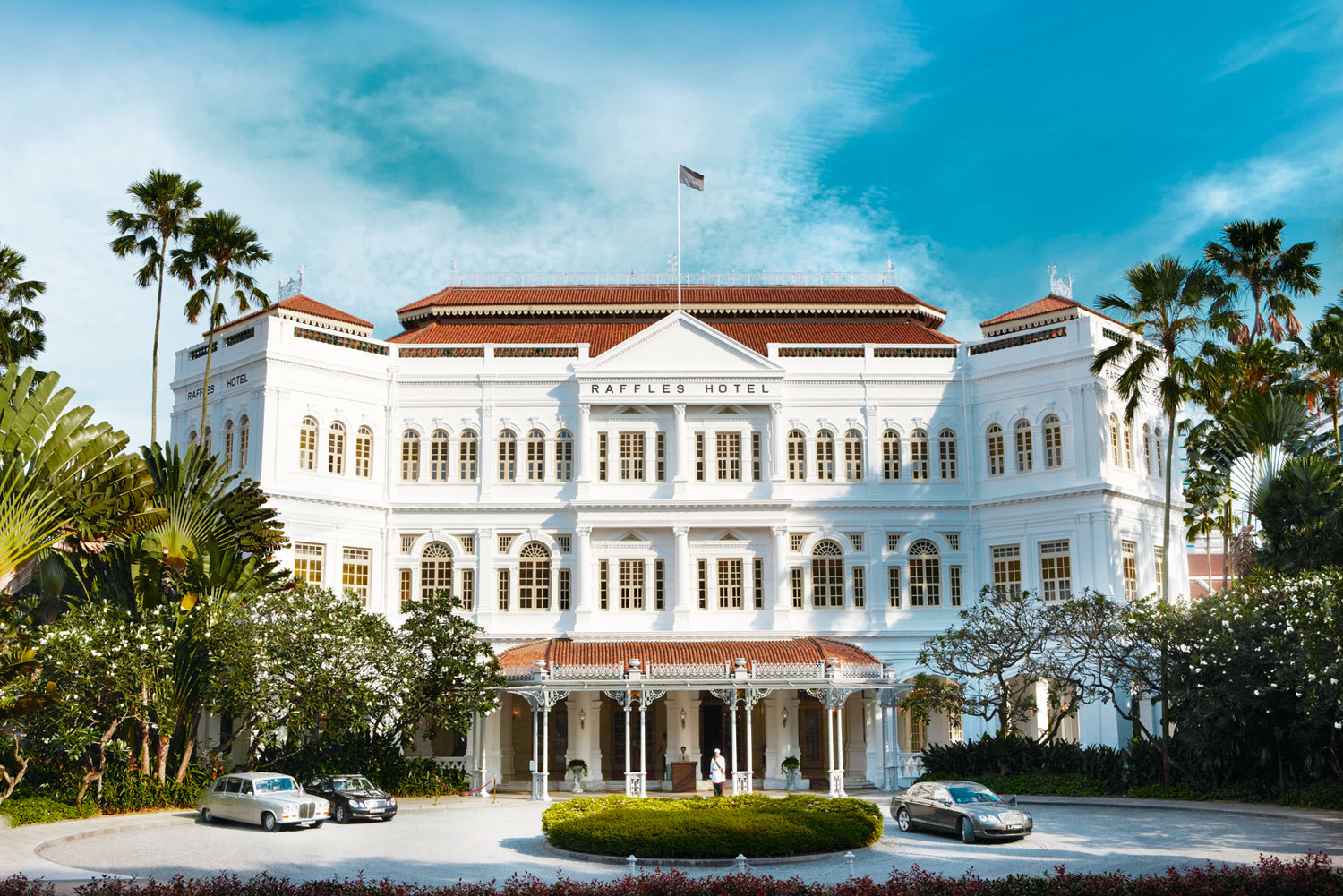 Singapore's most famous hotel has been charming guests for over 125 years, but does the legend live up to reality?
It's said that back in 1887, the twinkling lights of Raffles – once just a 10-room bungalow hotel – acted as a lighthouse for those travelling to Singapore by sea.
Perhaps hard to believe these days, with extensive modern buildup now blocking the building's view from the ocean. Yet then, the lights of Raffles were the first of the city you would see. The building was a shining beacon. It still is, in a sense. Walking up to the grand-yet- homely-looking hotel, it almost sparkles. Thanks in part to its pre-covid restoration, completed by New York studio Champalimaud Design in 2019, which includes a line-up of swank new bars and restaurants, a grand, chandelier-studded ballroom and even a shopping arcade. Each of the 115 hotel rooms has also had a spruce-up, while still maintaining some of the charming colonial features, like the brass ceiling fans and wooden cabinets that you'll find solidly in-tact.
First impressions
The first thing you might notice when stepping inside the Grand Lobby is the glistening, crystal chandelier overhead. Or maybe it's the richly coloured, oak furnishings from the original building, which draw your eyes up and across the enormous ceiling-high space. You might be the person who's taken by the antique grandfather clock (which is believed to pre-date the hotel itself) ticking away in the corner, or someone who heads straight to the Champagne afternoon tea service taking place in and around the foyer. Whatever catches your eye, you'll be drawn in from the get-go, and almost never want to leave.
The room
I stayed on the first level, in one of the 35 Palm Court suites. To get there, you must exit the lobby and walk round the whitewashed, arched outer-hallways, which are dotted with quaint cane chairs and tables for two. The afternoon sun beams through, creating an ethereal silhouette as I make my way around.
My room fronts onto the verdant courtyard gardens, where Hemingway once sat to write under the flowering magnolia trees. There's also a small, flourishing herb patch in one corner, brimming with basil, thyme and sage. I push the heavy door open to my room; it's comfort at its finest, somehow managing to exude indulgence without being excessive.
The parlour area features an understated blue and grey velvet couch, a flat-screen TV, linen lamps and double-glazed windows fit with white shutters and motorised blackout shades. There's also a mini bar, disguised as an old steamer-trunk, stocked with nuts, soft drinks, wine, and of course, the hotel's signature Champagne: Billecart. I step further into the bedroom. There stands my four-pillared bed, which I immediately lunge myself onto. It's sleep-inducing beyond belief – crisp cotton sheets and pillows so soft you could almost disappear sinking into them.
Next to the bedroom is a double walk-in wardrobe, lined with intricate hand-painted wallpaper. It features a small desk, fitted with a neon make-up mirror and hairdryer beneath. Next, the bathroom, which sees two floor-to-ceiling Italian marble vanities, and the most exquisite brass-coated bathtub you'll ever come across. Ask one of the butler's to run one for you – it'll take at least 20 minutes, and is worth every minute of the wait.
The food
My first evening starts in the pool bar with a complimentary Singapore Sling – originally crafted at the hotel itself back in 1915 – before meandering to Butcher's Block, one of Raffles' sleek in-house dining establishments, for dinner. Dishes here are fire-focussed, from smoking and ember-roasting, to slow grilling or coal infusion, everything is done by the flame.
Chef de Cuisine Jordan Keao leads the charge, bringing with him a wealth of experience from working at one of Singapore's finest wood-fire restaurants, Burnt Ends. Standouts from the lengthy, 10-course Tour De Force menu include a crisp lobster bao topped with sweet yuzu kosho; delicate, smoked Toro sashimi with seaweed, caviar and a mesmerising, green-tinted herb dashi; and the Australian wagyu striploin, served with the creamiest, whipped bone-marrow mash I've ever had the pleasure to experience. The wines, too, are solid – the one that comes to mind is a floral-yet-fresh furmint from Hungary. Not something I'd ever think to try, yet one I'll definitely be going back to.
The Tiffin Room breakfast is an excellent excuse to get you up in the morning. Take your meal in the striking antique-plated dining room, or outside in the courtyard by an ornate, cast-iron fountain. The savoury menu includes eggs served every way you could possibly ask, sweet treats like French toast and waffles, and a delicious array of pastries and breads. I opt for a crunchy chocolate granola with yoghurt and berries, along with a freshly squeezed watermelon juice.
Other dining spots most certainly worth a visit are La Dame de Pic, which offers an exceptional experience menu of reinvented French classics from 3-Michelin starred ​​French chef Anne-Sophie Pic. One of my favourites from the seven-course Experience menu was the berlingots – dainty pasta parcels filled with lightly smoked French cheese fondue swimming in a soft mushroom consomme with galangal and roasted barley – along with the pre-dessert cheese trolley, which allows you to take a spoonful from a glorious array of soft and hard cheeses.
The Writer's Bar is also a must-do, particularly if you're in the mood for a knock-out gin tipple (try the number 9 – gin, cucumber tonic, with a Campari and vermouth).
Getting there
Singapore Airlines flies direct to Singapore from most Australian major cities.
www.singaporeair.com
The verdict
The number one reason I'm coming back to Singapore is to stay at Raffles. It was one of the most breathtaking hotels I've ever had the honour of staying in; the rooms, the chic-yet-comfotable atmosphere, and the near-perfect service that I cannot compare to anywhere else.
We rated
The staff, who were thoughtful and attentive, yet not overbearing.
What we'd change
Honestly? Nothing.
LEAVE YOUR COMMENT