The magic of Africa at Sabi Sabi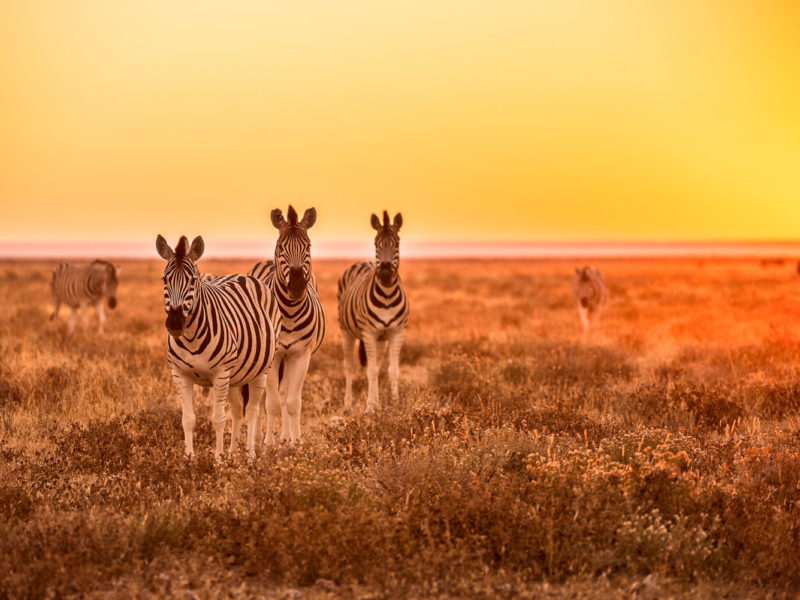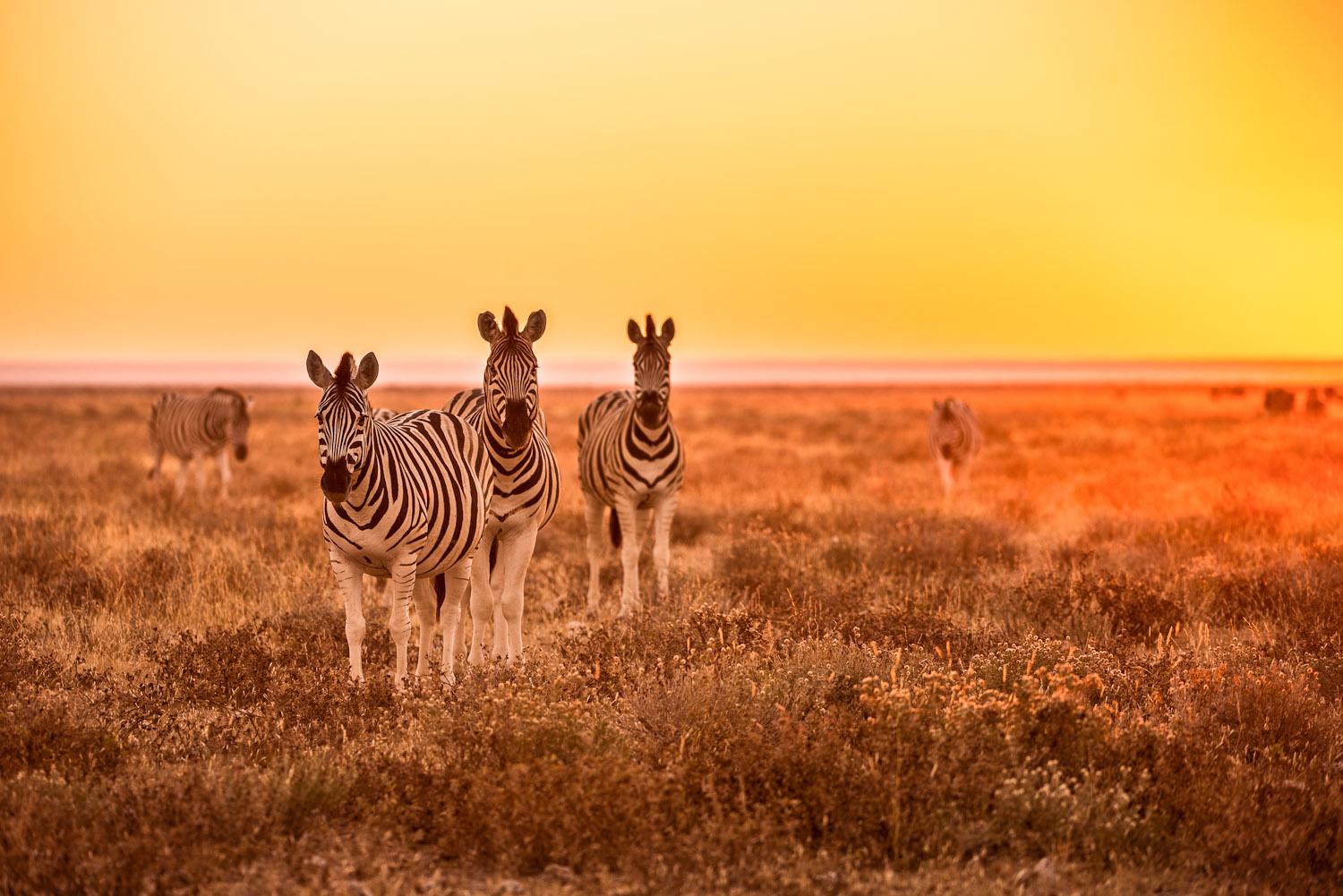 We fall under the spell of this magnificent animal kingdom. Words by Megan Arkinstall.
My breathing is shallowing and my heartbeat hastening as my eyes follow a lithe lion, a mere 20 metres from me, as it strides ever so slowly towards its prey.
Camouflaged by tall, dry grass, it is powerful yet beautiful.
I glance to the left where an unsuspecting kudu stands tall, munching on leaves with no knowledge that its life hangs in the balance.
The lion stays low, executing his movements with exact precision: one foot in front of the other, slowly and quietly.
A whisper from my left: "Lions usually only hunt at night" – I nod, not taking my eyes off the scene unravelling in front of me for fear of missing something – "but they're opportunistic. If they see something vulnerable, they'll go for it."
My eyes dart between the two animals; I'm in awe (and a little shaken) that I'm about to witness a kill. For me this is a once-in-a-lifetime event but these animals are simply playing their roles in a daily game of survival.
The kudu suddenly stops munching and becomes eerily still; it has seen its predator and is calculating its next move. There are a few quiet gasps from the safari truck.
I am holding my breath as though that will help the kudu's fate – but today it doesn't need my help. It wastes no more time, rapidly bounding away; the lion half-heartedly follows for a few metres before giving up.
"That was a pretty poor attempt," laughs Marcus Hack, our safari ranger and aforementioned whisperer (or wildlife whisperer, if you will). "But he looks pretty full anyway," he says, starting up the truck and reversing away, with Louis Mkansi, our wildlife tracker, directing him through the scrubby bush.
I sigh with relief. It's one thing to see a kill on a David Attenborough documentary, but it's another to watch it in real life without an accompanying soundtrack to drown out the realistic and no doubt very haunting sounds.
"We never intervene. I would have been happy to see the lion get its kill, but I'm also happy I didn't. It's sad to watch, but it's the circle of life," Marcus says matter-of-factly, looking at us in the rear-view mirror whilst navigating the bumpy dirt road. "And if we interfered with that, we'd ruin the whole ecology of the place."
The place he is referring to is Sabi Sabi Private Game Reserve – a biodiversity hotspot located within the Sabi Sand Wildtuin, a 65,000-hectare parcel of land in the south-west reaches of South Africa's Kruger National Park.
Its name comes from the Sabie River that runs along its border with Kruger and is sometimes called the 'River of Fear', a reference to the swarms of crocodile and hippopotamus that live in its waters.
Word of the area's prolific wildlife spread in the late 19th century when the Selati Railway Line was constructed to link the then-booming goldfields of the west to the east coast, and those travelling on board the railway were afforded great game viewing. It's even said that ladders were placed at trees near the railway line so that passengers who were stretching their legs off board could quickly escape any approaching wildlife. Prior to this, the reserve was mainly visited by European hunters in pursuit of ivory and rhino horn.
The Sabi Sabi we know today has been in operation since 1979 and is privately owned by Hilton and Jacqui Loon.
Over the past 35 years it has become a multi-award-winning player in South Africa's luxury safari scene, not only for its deluxe accommodation, faultless service and spectacular wildlife viewing, but also its dedication to conservation (including a sustainable fire management program, waste-water disposal, not intervening with the natural process of life, the employment of staff from neighbouring communities, and the presence of anti-poachers who patrol the borders 24 hours a day).
The reserve and its four accommodation offerings are completely unfenced, meaning endless wildlife – as many as 70 species of mammal, 300 birds and 57 reptiles – can roam freely between here and Kruger National Park.
"We get to know the roads that mark the boundaries; each one has a name," Marcus explains when questioned where Sabi Sabi ends and Kruger starts.
These unruly dirt 'roads' weave in and out of the bush with no structure whatsoever, yet Marcus and Louis know them instinctively. And so do the wildlife who are regularly spotted walking on and by them. "Why use the roads, when you can use the highway?" quips Marcus.
Sabi Sabi's four lodges are well hidden within the reserve. Each is unique and caters for a different clientele: Little Bush Camp (intimate, African-style), Selati Camp (built near the defunct Selati Railway line; old-world and traditional colonial), Bush Lodge (the largest of them; contemporary, family-friendly) and innovative Earth Lodge (luxe, sophisticated and unique).
My shoulders immediately loosen when we are greeted upon arrival by the staff. They offer us deliciously fresh iced tea to sip as we take in the vast outlook from the open, light-filled lobby. I am blown away: the photos online do it no justice.
Each lodge is strategically positioned by a waterhole to take advantage of animal sightings – it's not unusual to see a buffalo herd stroll past as you're having your morning coffee or to hear the cackle of hyenas at night.
One morning we wake to find animal tracks directly in front of our room, and we instantly understand why we are escorted to our rooms after dark every night despite being less than 100 metres from the lobby.
But that's the beauty of Sabi Sabi: you're truly in the wild with very little man-made interference. Earth Lodge itself is built into the slope of the earth, the structure designed with nature in mind and beautifully camouflaged by the African bushveld.
Walls are made of mud and grass, the furniture and décor are all soft muted tones, and the woodwork is masterful, sculpted by South African artist Geoffrey Armstrong using natural driftwood salvaged after the devastating floods that swept through the area in 2000.
His unique pieces are dotted throughout the lodge: chandeliers are made from twigs and branches; simple wooden artworks hang in the rooms; tables, benches, seats and fountains are all made from trees felled by the floods or torn out by elephants.
But the most spectacular piece is the bar. Carved from a single tree, it is so grand the room in which it resides was built around it.
There's no music and no televisions here – the noise would keep the animals away and disturb the inherent peace and tranquillity of the lodge. There's no time for TV anyway.
Each day runs to a full schedule: an early morning wake-up call at sunrise in winter or before sunrise in summer, followed by morning tea, a three-hour safari, buffet or à la carte breakfast, free time, an à la carte lunch, free time, afternoon high tea, another three-hour safari, and finally more food.
A superb five-course degustation dinner is served under the stars in the outdoor boma surrounded by fire torches, in the comfort of your suite, or by the rocky gardens in the lobby area. Then it's time for a deep sleep before repeating all over again.
Although they are not compulsory, the safaris are addictive. You don't dare sit one out for fear of missing one of the coveted Big Five.
Incredibly, we begin ticking them off within moments of arriving on the white-knuckle, nine-seater plane flight from Jo'burg – it beats the five-hour drive and offers amazing views of the African plains that stretch as far as the eye can see.
An African safari has been at the top of my bucket list for as long as I can remember and at the first sight of an elephant I squeal with delight and scramble for my camera. Little did I know that we would see herds of them on every safari – but the thrill of seeing the world's largest land animal in the wild never gets old, not even for the rangers and trackers.
Around here seeing the Big Five is almost a sure thing, but it's also serious business for the rangers and trackers to ensure all guests get this opportunity. Spotting rarer species, like jackal, cheetah and wild dogs, witnessing a hunt or kill, or the act of courting, suckling or feeding are all bonuses.
Then there are the babies: we are privileged to see zebra, rhino and elephant. (It must be the luck of the clucky doe-eyed honeymoon couple we share the truck with.)
I ask Louis and Marcus what their favourite animal is to track. "The cats," Louis says without hesitation, flashing his infectious, pearly-white grin. Marcus agrees: "There's nothing quite like watching a big cat – so sleek, so powerful – walk past the truck. It doesn't give a damn who we are; it's the king of the bush."
At only 22, Marcus is the youngest ranger at Earth Lodge, but his knowledge and enthusiasm matches that of his full-time partner Louis, who has been with Sabi Sabi for 18 years.
Louis hails from nearby Huntington Village where he learnt to seek out animal tracks at a young age while looking after his grandfather's sheep and cattle. Like all trackers at Sabi Sabi he has a special understanding of the land and its wildlife. This knowledge cannot be found in a textbook.
He's just spotted three young lions, although I'm not quite sure how; they're almost impossible to see from the road, having a lazy afternoon nap in the long grass. It's clear why they are tired – the stench from that morning's kill is still lingering in the air – but there's no other sign of their feed, thanks to hyenas.
These scavengers play an integral part in Africa's ecosystem, devouring every last skerrick left over from a kill – the bones, the skin, everything, leaving not a trace. But even the hyena go hungry if the vultures get there first.
We watch as the lions sleep; they're not bothered by us gawking at them, until Marcus starts up our truck to get a better angle.
A young male raises its head and looks directly at us, watching as we slowly move then, as Marcus kills the engine, it flops back down. We are within metres of them, watching their huge panting chests quickly rise and fall.
"The animals see us as part of the vehicle," Marcus explains, "but if you jumped out, you'd be gone." These words echo in my head one misty, cold morning when he and Louis hop out of our truck to pursue some tracks on foot; they disappear into the long grass, Marcus with his rifle.
Has he ever fired it? "No," he says. "But it's good to know it's there."
No matter what the situation, though, we always feel perfectly safe. Such close encounters are possible because, over the past 35 years, the animals have become comfortable with the presence of the Sabi Sabi safari trucks, which have never posed a threat to them.
There is a restriction of three vehicles at each sighting, and despite there being around 20 vehicles on safari each morning and afternoon, you feel like you're the only ones in the reserve.
Vehicles must also stay on-road at all times. That is unless one of the Big Five has been spotted off-road, then it's hell-for-leather bush-bashing, over rocky escarpments and river crossings, which is all part of the fun, too.
By our second afternoon, we tick off two more of the Big Five; we are spectacularly outnumbered as we sit, surrounded by a herd of peacefully grazing buffalo – one truck and hundreds of buffalo. We also spot a rhino and its clumsily cute baby trotting down the road, kicking up dust as they disappear into the sunset.
The leopard is our final conquest. We are slowly following the tracks of 'Warthog Wallow' (named after the spot she was born, as part of the Panthera Munyawana Leopard Project which collects scientific data in order to manage trophy hunting and poaching in the Sabi Sands Wildtuin).
Marcus has his serious face on as he converses over the radio in the local language, Shangaan. Although we can't understand a word, when he puts his foot down and takes to the accelerator with gusto we know it's good news.
We arrive at a river crossing where two other trucks are parked; their occupants are looking intently into the bushes surrounding the river. Marcus points towards the bush.
"She's going to come out somewhere here," he explains in hushed tones. So we sit and wait. Silence.
It's these quiet moments, simply sitting and waiting, or driving around in the truck pursuing tracks (sometimes to no avail) that allow you time to soak up the experience; to feel that African magic that lingers in the air.
"There she is!" A sleek, agile body emerges from the bush with a lushly spotted coat, even more perfect than I imagined. She stops and looks around, as though to decide the best route; her gaze fixes on me.
She slowly walks directly towards me.
Ten metres, five metres, three metres – she is less than a metre from me when she changes direction and moves behind the truck. My camera captures the whole thing, but it's not something I'm likely to ever forget.
That evening as the sky turns brilliant shades of orange and pink, we toast our good fortune at spotting the Big Five with a sundowner by the truck. Bucket-list item number one is officially ticked and I am filled with joy.
We still have three safaris to go, and of course we are spoilt: a family of zebras, giraffes munching on treetops, a herd of wildebeest, a baboon running past a waterhole, squirrels frolicking up trees, hyenas lurking in the dark, a larger-than-life elephant walking past us as we enjoy our lunch, and countless birds – the gorgeous lilac-breasted roller bird, bee-eaters, hornbills…
It's a wildlife wonderland, so much so you'd be forgiven for thinking the rangers let the animals out for your viewing pleasure.
As we sip our coffee early on the morning of our last day, Marcus excitedly announces there is a hippopotamus in the waterhole out the front of the lodge.
We think he's joking; surely we don't get to see one of those too? But there it is: a giant hippo standing knee-deep in the waterhole. We sit less than 10 metres from the most dangerous animal in Africa as it soaks its enormous body in the water.
Later that day, we're back at the airstrip. As we wait for our plane, I sit and appreciate the raw beauty, breathing in as much of that incredibly fresh air as I can before it's all over.
The plane arrives. As it takes to the sky, my tiny window frames the vast, extraordinary land of Sabi Sabi as it slowly disappears into the horizon.
Without warning, a few tears well up and roll down my cheeks. I laugh a little in surprise. This is not merely post-holiday blues; I have been sincerely touched by the magic of Africa.
"We'll come back," my husband says.
He's right. I'm keeping this place at the top of my bucket list for a while yet.
Details
How to get there
Qantas fly from Sydney to Johannesburg daily from $2227 per person return*.
Sabi Sabi offers daily flights from Johannesburg to the Sabi Sabi private airstrip from $340 per person.
Alternatively, it is a five-hour drive. We recommend staying in Johannesburg for at least two nights prior to your safari to allow jet lag to subside so you can fully enjoy the safaris, bright-eyed and bushy-tailed.
Best time to go
Spring (September to November) and summer (December to February) is when the bush is green, lush and thick and there's lots of newborn animals.
Temperatures range from 20–35 degrees Celsius.
Autumn (March to May) and winter (June to August) is the dry season and is when the animals will frequent the waterholes more often.
Temperatures range from 19–25 degrees Celsius. Mornings and nights can be very cold, while the sun is very hot during the day, so pack layers.
Hot water bottles, blankets and ponchos are provided. The trucks are open to provide the best viewing, so pack a hat!
Lodges
Selati Camp is an old-world, colonial-style camp.
With a railway theme (it is located near the defunct Selati Railway Line), the camp consists of eight thatched suites, each with ensuite, private alfresco shower and overhead fan, all connected by a pathway lined with oil lamps and lanterns.
From $925 per person, per night, fully-inclusive.
Bush Lodge is Sabi Sabi's flagship lodge with 25 spacious, air-conditioned thatched suites with ensuites, and both indoor and outdoor showers.
The contemporary lodge is the only one that has a kids' club, so it's great for families.
From $925 per person, per night, fully-inclusive.
Little Bush Camp is an intimate camp located on the banks of the Msuthlu River.
It has six thatched roof suites, each in a traditional African style, with a private viewing deck and spa, indoor and outdoor showers and air conditioning.
It is the smallest of the camps.
From $925 per person, per night, fully-inclusive.
Earth Lodge has been described as the 'most environmentally sensitive lodge in Africa'.
Its 13 ultra-luxurious suites are spacious and contemporary, built with mud and grass walls and plush décor.
Each has an indoor and outdoor shower, deep egg-shaped bath and private outdoor plunge pools.
From $1210 per person, per night fully-inclusive.
For more information visit sabisabi.com
You may also like to try
The following companies run luxury safaris in other parts of Africa:
Cheli & Peacock Safaris has lodges and camps in both Kenya and Tanzania. chelipeacock.com
&Beyond has lodges and camps in Botswana, Mozambique, Namibia, Rwanda, Tanzania, Uganda, Zimbabwe, Kenya and Zambia. andbeyond.com
LEAVE YOUR COMMENT