Full circle around the unknown wonders of Armenia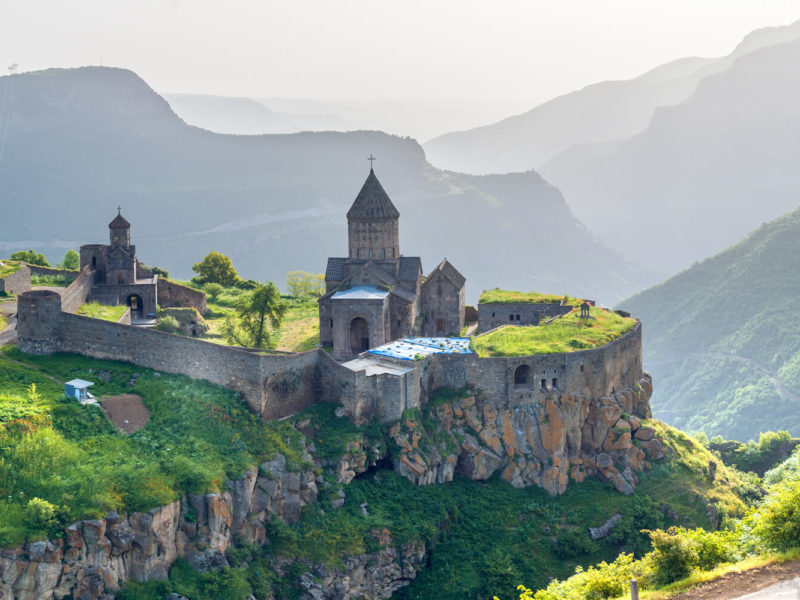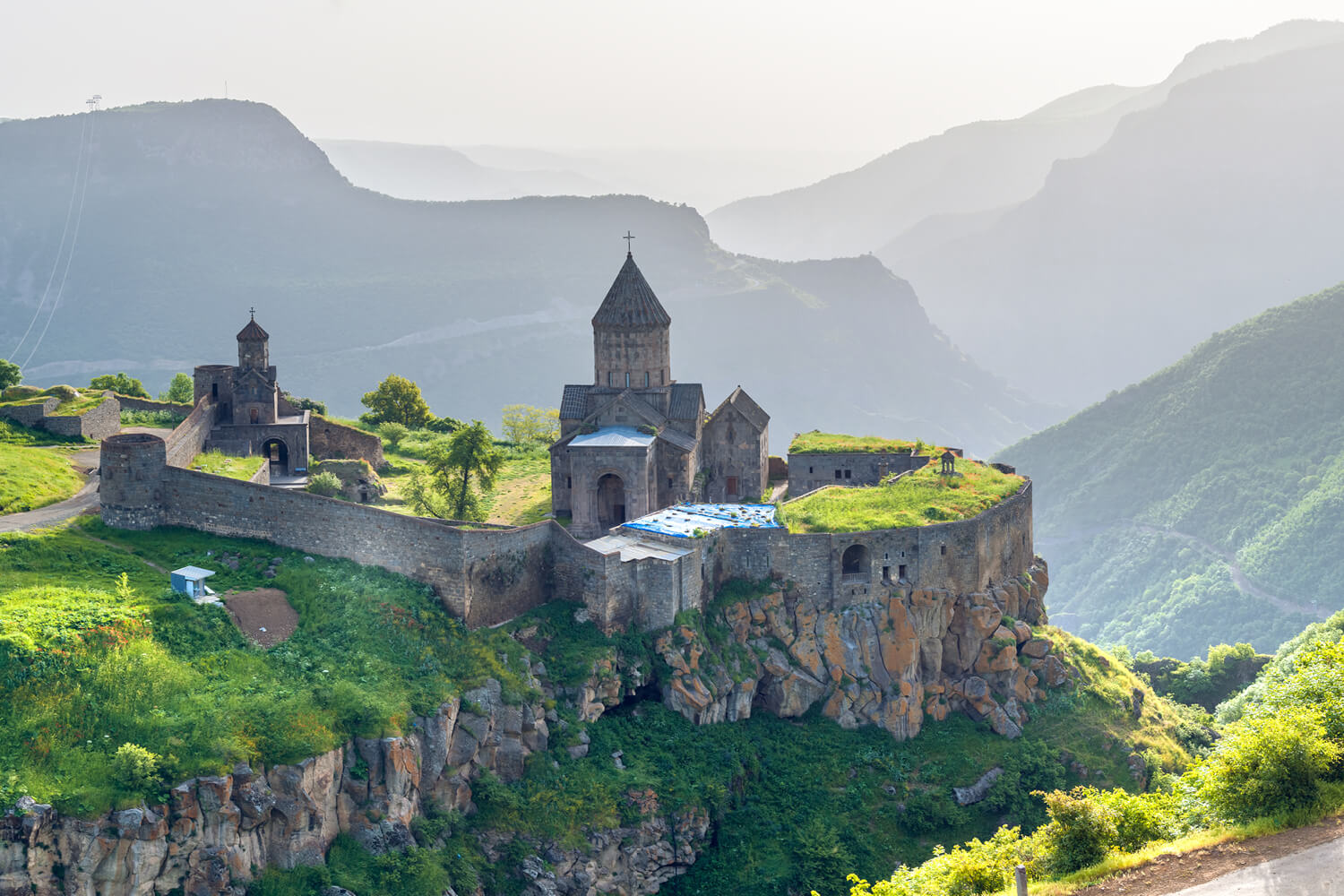 What the compact nation of Armenia lacks in landmass it more than makes up for in culture, diversity and an ancient line in making wine. We chart a circuitous path around the country to sample its unique appeal.

No news is good news, so they say. But when most news is bad news, then any good news comes as something pretty special.
And such is true in the case of Armenia, a tiny nation perched high in the Caucasus Mountains that divide Europe from Asia, bordered by Turkey, Iran, Georgia and Azerbaijan.
Armenia has suffered from invasion and conflict for most of its long history. First came the Persians and Mongols.
Then followed the bloody massacres of the 'Armenian Genocide' of 1915, when the government of 'Young Turks' in Istanbul seemingly attempted to wipe out a whole people.
Next, Soviet Russia imposed its iron will for 70 years.
Despite gaining its independence in 1991, Armenia's problems continue to this day – including a hot/cold standoff with Azerbaijan over the breakaway republic of Nagorno-Karabakh.
And just as relations with Turkey were starting to improve, with the establishment of TATON (the Turkish and Armenian Tour Operators' Network), an attempted coup in Turkey soured the relationship all over again.
So, why Armenia?
That's just the question I was asked by a group of Armenians while waiting at Sydney Airport to catch a flight to the Armenian capital Yerevan.
All I could think of to say was: "because I've heard that Armenia has the world's most beautiful women."
But the reply was surprising.
"We Armenians don't think so," they said. "We think that Russian women are the most beautiful."
This self-effacing answer proved to be typical of the Armenian spirit – an intense national pride tinged with a bit of an inferiority complex, maybe deriving from the fact that Armenia today is just one-tenth as big as at the height of its power nearly 2100 years ago, around 80 BC.
But Armenia fully justifies the saying 'small is beautiful', with a superbly scenic mountainous landscape and an unrivalled historical and artistic culture.
In fact, Armenia's history supposedly dates all the way back to the days of Noah's great-great-grandson Hayk (hence the Armenian name of the country, Hayastan).
But the culture is anything but purely biblical, having absorbed influences from all its neighbours – particularly Iran, which has been the dominant influence on Armenian language, music and cuisine.
Road to Enlightenment
I set out to explore this intriguing country, driving direct from Yerevan's airport, Zvartnots, to the north-west city of Gyumri, about 120 kilometres away and home to many striking 18th- and 19th-century buildings. (A recommended car hire company is Sixt, with prices from around $35 a day).
Gyumri is Armenia's second largest city and, like most places in Armenia, is built largely from stone, the most prominent being an attractive salmon-coloured volcanic tufa.
I was informed that Kim Kardashian, who paid a visit to the city – her ancestral home – to much fanfare in 2015, gets her name from the Armenian word Kardash, meaning 'son of a stonemason'.
Sadly, Gyumri was hit by a catastrophic earthquake in 1988, in which more than 25,000 people died.
A stroll through the city with its fine parks and gardens reveals the extent of the earthquake damage as well as the extraordinary rebuilding effort still underway.
One of the buildings being restored is Villa Kars, an Art Nouveau mansion now converted into a boutique hotel.
A detour to the Shirak plateau, in Armenia's far north-west, is recommended during spring (April–June), when birdlife at the 2000-metre-high Lake Arpi is at its most prolific.
Of around 500 bird species in the whole of Europe, 350 can be found in Armenia.
At other times of year, you'll have the company of wolves and hardy shepherds, who eke a precarious living out of the stony landscape.
Back in Gyumri I check out the many traditional crafts produced here, including pottery and intricate hand-crafted ironwork.
One establishment using Gyumri ironwork is the 85-year-old Voskevaz winery in the Aragatsotn region.
The vineyards produce a trademark wine using the millennia-old Areni Noir grape variety.
It's a stunning wine, with depth enhanced by ageing in Armenian oak from Nagorno-Karabakh and Dilijan, one of the country's few forested regions.
Five minutes' drive from Voskevaz, the Agarak archaeological site features at least two square kilometres of rock tombs dating back some 3000 years.
At the site, archaeologist Boris Gasparyan points out the use of wine in the burial ceremony.
To the ancient Armenians, wine served as 'a covenant between gods and humans'.
Wine features hugely in Armenian culture.
I visit the country's principal cathedral at Echmiadzin, on the day of the Blessing of the Grapes, the most important event on the church calendar after Christmas and Easter.
Rival choirs on either side of the conical-domed church pierce the skies with their ethereal, age-old chants and it's easy to believe that some of their harmonies might penetrate the very wine-producing essence of the grapes.
A taste of history
Along with its wine heritage, Armenian cuisine is one of the oldest in Eurasia.
The key to preparing any Armenian meal is the tonir, a vertical clay oven buried in the floor, used for baking the traditional flatbread lavash and a wide range of other dishes.
Other culinary essentials include freshwater trout from Lake Sevan and the khorovats – a barbecue on which meat is grilled on large steel skewers.
But vegetarians are also exceptionally well catered for in Armenia.
Any meal will start with a vast palette of vegetable dishes – from stuffed capsicums to aylazan, a stew based on eggplants and green beans.
Spices and herbs including coriander, garlic and fennel are also widely used, with a broad variety of goat's and sheep's cheeses adding weight to an already groaning table.
Back on track
I make my way back to the capital to find a city that punches way above its weight.
In summertime, it seems that the whole populace is out on the streets, strolling the garden boulevards or relaxing at one of the many open-air bars and cafes.
The focal point of the city is The Cascade, a combined escalator-staircase with a whole suite of avant-garde indoor-outdoor museums, all tumbling down the side of a steep hill.
A detour on every visitor's hole-in-the-bucket-list should be to the Geghard Monastery and the ancient pagan temple of Garni (combined, this makes for a round trip of about 70 kilometres from Yerevan).
As in many Armenian churches, the acoustics of the main church at Geghard are totally gobsmacking.
The sound reverberates within the walls and throughout your whole body as though it is coming from all directions at once.
Indeed, the mournful tones of both traditional and contemporary Armenian music are hypnotic.
From ancient Persian melodies and religious music to the most cutting-edge Armenian jazz, this country's musical repertoire is astounding.
Check out An Ancient Observer, the brand-new album by jazz musician Tigran Hamasyan, or the sorrowful songs of French-Armenian singer Rosine Tachdjian, or the duduk (ancient flute) sounds of Djivan Gasparyan.
Any of these could be the gateway to a whole new world of music.
Hitting the road again, this time heading south-east from Yerevan, the first stop after about 100 kilometres is Areni-1 cave, in Vayots Dzor province, where evidence of wine production (among it a wine press for stomping grapes, drinking cups and withered grape vines) has been found and dated to around 4200 BC.
This could make Areni-1 the world's oldest winery (a claim sometimes disputed by neighbouring Georgia, which has a winemaking culture dating back up to 8000 years).
Just down the road, Noravank Monastery is home to photographer-priest Ter-Sarak Martirosiyan, who has somehow managed to raise a family in between prolonged stints at this isolated mountain stronghold.
"I had a guard here," says Father Ter-Sarak, "but fortunately he wasn't very talkative!"
Astonishingly, Noravank escaped being ransacked by the 14th-century Mongol invaders, and the ancient tetrad of 'sun, swastika, eagle and lamb' can still be seen on the façade of the monastery.
From Noravank it's about 45 kilometres to the spa town of Jermuk (give or take another 20 kilometres for a detour to the 10th-century Smbataberd Castle).
With the opening of the new Hyatt Place Jermuk hotel, the spas of this town are once again regaining the popularity they enjoyed during the Soviet days.
The rugged Syunik province, in the very south of Armenia and traversed by the increasingly-busy highway to Tehran, is best tackled by 4WD.
Gardman Tour are off-road experts; I just survived the off-off-road stretch from Ltsen to Tatev, high above the scenic Vorotan Gorge.
The reward was a visit to the world's longest cable-car ropeway, which sails like a time machine over the roofs of the mediaeval Tatev Monastery.
Equally mind-boggling are the standing stones of Karahunj, 50 kilometres from Tatev, which predate Stonehenge and which allowed the ancient Armenians to measure the seasons and predict solar and lunar eclipses a whole millennium before the Egyptians were able to do the same.
Heading back towards Yerevan again, my 4WD convoy ventures up to 3400 metres above sea-level on the super-scenic Syunik plateau.
In just one 2.5 square kilometre area below the frozen lava flows of Mount Tsghuk, German archaeologists recently uncovered over 10,000 petroglyphs (rock carvings) dating back around 7000 years, to the time when hunter-gatherers lived here.
The plateau stretches some 240 kilometres so there is more than just a little work still to be done, and probably lots more to find.
The final leg of my trip back to Yerevan is via Vardenyats (aka Selim) Pass, where a 14th-century caravanserai (inn) once frequented by travellers on the Silk Road is just crying out for restoration.
The route follows the shoreline of Lake Sevan, one of Eurasia's biggest freshwater lakes, before re-joining the Yerevan Highway.
I have effectively come full circle on my journey through Armenia, but with so much more still to see it is tempting to head out again to devour the huge appeals that this small nation possesses.
Details
GETTING THERE
Emirates and Qantas offer connecting flights to Yerevan via Dubai from most major Australian cities, the three-hour hop between Dubai and Yerevan serviced by flydubai.
Qatar Airways flies to Yerevan via Doha from Sydney, Melbourne, Adelaide and Perth.
LEAVE YOUR COMMENT