Why Karpathos is Greece's best-kept secret island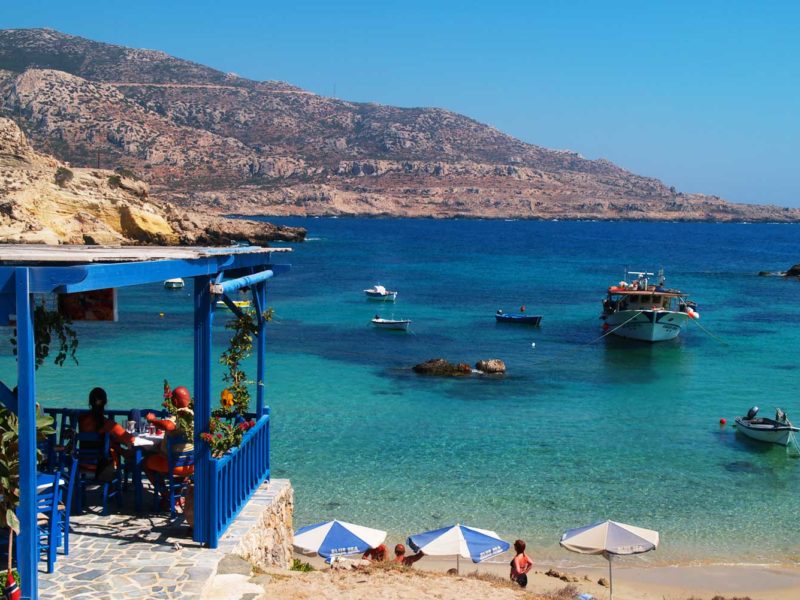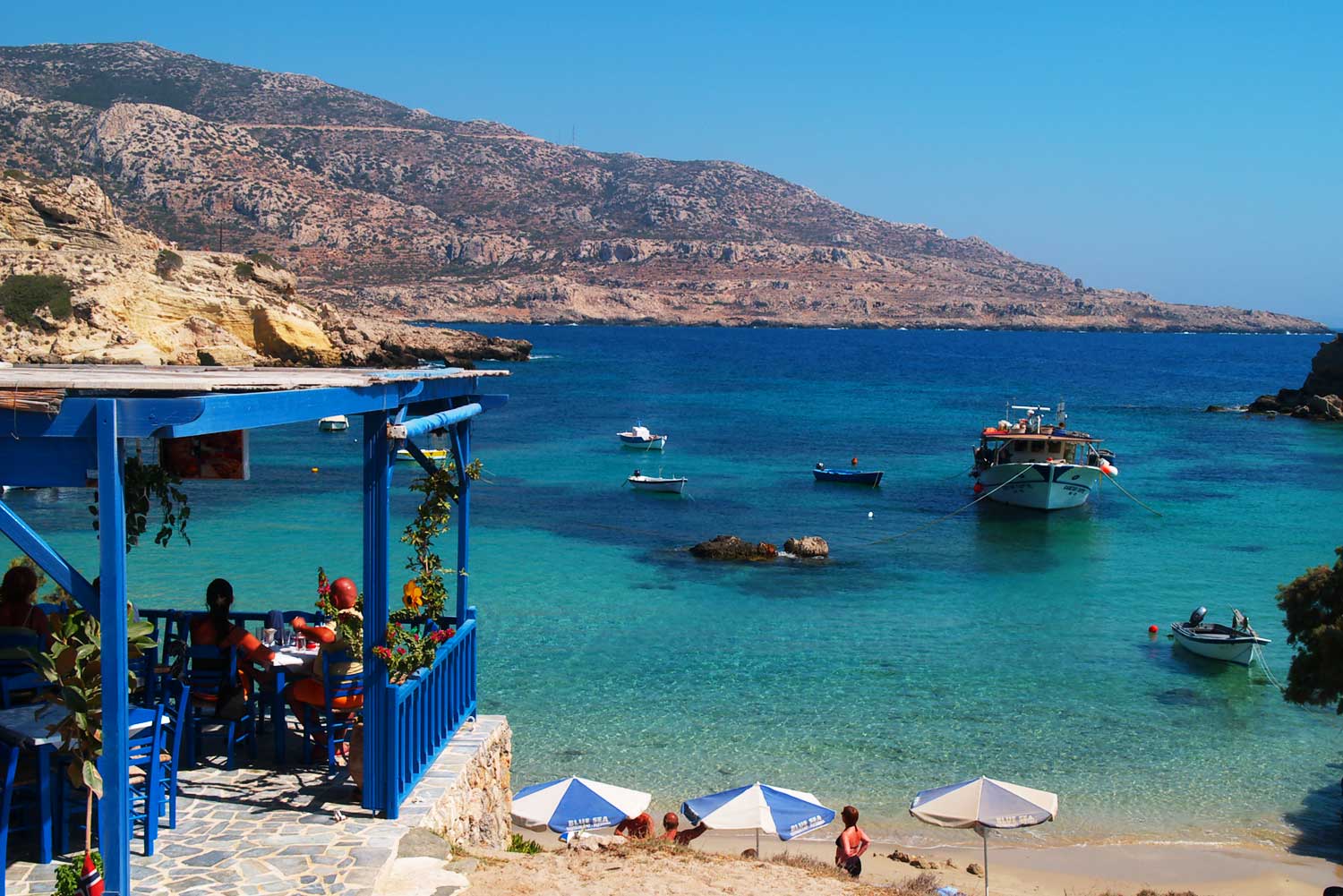 The island of Karpathos is as stunning as Santorini and should, by all rights, merit similar attention from travellers. But, as Rob Woodburn discovers, this isn't the case, thank goodness
We arrive on Karpathos at the best of times, early September after the heat of August has relented yet the weather remains splendid.
Initial impressions are that we've avoided the holiday crush yet we learn that most island accommodation is fully booked until the end of the month.
If this is peak season on Karpathos, we absolutely love it: no crowded beaches, no tourist scrunch.
This is one of the southernmost Greek islands, a 30-minute hop by air or five hours by ferry from the popular Dodecanese destination of Rhodes, yet a world away in comparison.
Rhodes has millions of visitors a year, many on all-inclusive charter package holidays. Karpathos is radically different: calm and charter-tour free, its exquisite beaches popular but never overwhelmed. There's little suggestion of hard-sell tourism. The main hub is the ferry port of Pigadia and it doesn't even have a tourist office.
Going anywhere on the island means going either up or down. There's almost a complete absence of flat.
Visiting villages in the mountainous interior, we have superb views in all directions. On the coastal route heading north of Pigadia we stop often to gaze down from dizzy heights onto inviting sands and secluded coves carved into the rocky coastline.
You quickly learn that Karpathos is an island of distinct halves.
Pigadia and the mountain villages of Menetes, Volada and Piles, the fishing hamlets of Finiki and Arkasa, and the island's airport are all in the relatively popular south whereas, beyond the tiny hamlet of Spoa, the north is a scantily populated region of craggy peaks that tower over small valleys and wild, parched rolling countryside.
There's an isolated mountain village, a few tiny settlements and a network of hiking trails.
A large portion of the far north, an area encompassing Tristomo Bay and the adjacent island of Saria, is designated as protected, a haven for the endangered Mediterranean monk seal, as well as rare plants and other animal species.
Far, far away from the party hotspots
It's easy to imagine this is what all the Greek islands were once like, a far cry from holiday party hotspots such as Mykonos and Ios.
Apart from a flurry of activity around ferry times, the port of Pigadia is a sleepy place in daytime yet lively each evening with a fine choice of dining for a place its size.
The waterfront tavernas are popular but more interesting fare is found away from the water.
The meze plate for two at To Helliniko is a fine introduction to local food. How could you not warm to a menu that lists "saganaki, seafood, aphrodisiacs"? And Mike's Restaurant is renowned for its moussaka.
Karpathos is a favourite holiday choice of Italians, Scandinavians (with direct flights from Sweden) and for island expatriates and their families. We rarely hear another native English speaker.
We do, however, hear mild Australian accents. The family that owns our chosen hotel have lived there.
Maria was born in Wollongong and her daughter Kaylee in Canberra. Grandma Calliope, who once lived in Melbourne, opened the island's first hotel in 1969 and has run a hotel here ever since.
The Electra Beach Hotel is a few minutes walk from town. I
t has a swimming pool set in a lush garden and steps leading directly onto the beach. It has 75 rooms, half of them with sea view and, for years, was one of the largest hotels on the island.
The recent opening of a 244-room resort, however, implies an end to small-scale development – something that has helped Karpathos retain a sense of proportion.
Small is beautiful is the rule of local car hire – an essential consideration given the island's challenging geography and limited public transport.
Rentals are restricted to cars with cute names like Panda, Micra and Titch. This makes perfect sense because some roads are too slim for easy passing, particularly when driving down to the beach.
Hidden swimming coves
Achata, Kyra Panagia and Apella are a stupendous trio of swimming coves tucked into the island's jagged east coast.
With names sounding like Greek goddesses, these beaches inspire worship among the bronzed bathers basking under the glowing Greek sun beside a pellucid Aegean Sea, occasionally interrupting their solar worship to sip a restorative ice-cold café frappe at the nearest beachside taverna.
Achata is the smallest cove and closest to Pigadia. It seems quieter than its sisters, probably because public transport there is limited, possibly because the beach is hidden from view until you reach the car park.
Kyra Panagia, seen from the coastal road, is a stunning ribbon of sand dotted with sun umbrellas.
A convenient promontory is the perfect place to park and take a photo. Travellers on the public bus miss this opportunity: Panagia road slinks down the slope with barely a centimetre of passing space comfort.
At the bottom is a handsome beach of pebbles and sand, serviced by a shop, café and a few restaurants.
The only shade beside the water is a little cave at one end of the beach or you can hire two sunbeds and an umbrella for around $8 a day.
Further north, Apella is every inch as beguiling. Its trump card is the excellent taverna above the beach, one worth visiting for lunch, even if you don't intend getting wet – although few can resist sampling these translucent waters.
Having fully gratified the senses, Karpathos can also engage the intellect. The simplest way to unfold centuries of local history is a visit to the small archaeological museum on the Pigadia waterfront.
The chronological information in Greek and English illustrates a storyline dating back to settlement in the 15th century BC. The museum's small collection of relics includes a striking relief of a Roman soldier.
Antiquities have been unearthed at various locations across the island, most notably Roman mosaic floors at Arkasa and underground cisterns near Lefkos, both on the west coast.
The historic sites on the island map are worth the effort made to visit them.
Mountain-top village
The top attraction in the north is a remote mountain village, accessed by a good road along the island's spine.
Isolated Olympos was built on a ridge below Mt Profitis Ilias as a safe haven from marauding pirates. It dates from the 7th century and is now feted for keeping traditions alive, a reputation that owes a lot to tourism.
At the apex of the village is the 19th-century Church of the Dormition of the Virgin Mary, around which buildings huddle together and spill down the slopes in a colourful jumble of white and blue, faint yellow and faded green blocks.
The main street threads narrowly between the houses and neatly channels everyone past shops and stalls selling sequinned headscarves, brightly patterned shawls, sling bags, woollen slippers, ceramics and linen, all offered up by women in traditional dress: black scarf, white blouse, black apron embroidered with roses and chevrons of red, blue, yellow and green.
One ancient windmill in the village still grinds wheat and barley for bread. A local shoemaker produces traditional goatskin boots and woollen slippers.
Another shop specialises in embroidered traditional tablecloths and napkins.
Olympos is a cheerful place. The villagers are philosophical about doing business, eager to exchange greetings and small talk.
At a café where we order coffee with loukmades – little sweet pastries – a woman sits at a nearby table deftly stuffing zucchini flowers with herbed rice. When the café owner discovers she's out of pastries she simply sends me to a nearby bakery to get more.
After looking inside the church we follow a path leading away from the main square and discover vantage points where sprays of crimson bougainvillea frame a postcard scene of black rock mountains with precipitous slopes that plunge down to the Carpathian Sea.
And like the rest of Karpathos, there's not a tourist bus for miles to mar the scene.
The details
How to get there
easyJet flies direct from London to Rhodes from $67 or Aegean Air flies from London to Rhodes via Athens from $75. Olympic Air has daily flights between Rhodes and Karpathos. The fare is around $57 each way.
When to go
The best months are from May to July or September to October. It can be very hot in August, which is also peak season.
Where to Stay
Comfortable: Electra Beach Hotel has 75 rooms – half of them with a view of the sea. It's a short walk from the town. There is a restaurant that serves breakfast and lunch is available at the pool snack bar.
Unique: Aegean Village Hotel and Bungalows have views over Amopi Beach, a short distance south of Pigadia.
Finiki View has studio apartments overlooking the west coast fishing hamlet. Both places have a swimming pool and free wi-fi.
New hot spot
Thankfully, there are no 'hot spots' but there are several popular bars in Pigadia.
Where to eat
Karpathos is not a gourmet destination. The Pigadia waterfront tavernas all serve the standard fare of souvlaki, salads etc.
Try To Helliniko on the main street for generous meze plates including tasty local specialities.
Mike's Restaurant has courtyard dining and an excellent moussaka.
For fresh fish, shrimp and sardines head to Finiki on the west coast – Taverne Dolphin is the most popular of the three waterfront tavernas.
You can't leave without
Swimming at Apella and having lunch at the taverna above the beach
Visiting Olympos village
Meandering along the west coast between the hamlets of Arkasa, Finiki and Lefkos
Best thing about Karpathos
In addition to its superb swimming beaches, there are wild areas seemingly untouched by tourism, allowing a sense of how the Greek islands used to be.
Worst thing about Karpathos
Pigadia town is not the tidiest place, with rubbish strewn about and lots of feral cats.
You should know
Credit cards are accepted in a few places (hotels, hire car) but many shops and restaurants will only take cash (euros).
For more information greeka.com/dodecanese/karpathos.