Review: Propeller Island Hotel, Berlin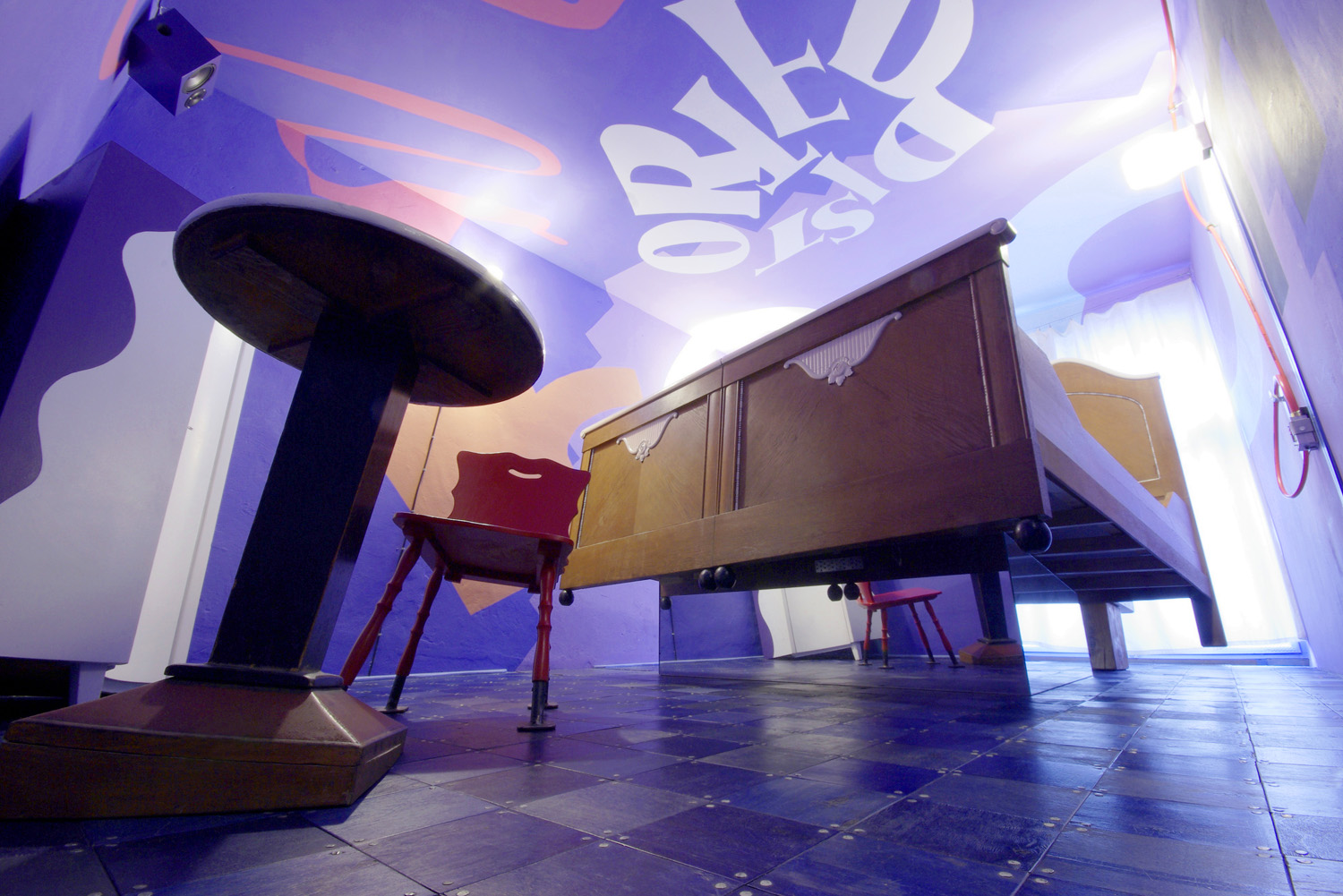 As weird and wacky goes, Propeller Island is more than just a work of eccentric design aesthetic. David Whitley books in for a hauntingly peculiar experience.
The normal rules don't apply at Propeller Island.
Ordinarily valid grumbles – reception only open from 8am to noon, having to get a room key from a safe and hike up three flights of stairs – are void when you've agreed to sleep in a coffin.
This novelty hotel is as much an art project as accommodation, the brainchild of Lars Stroschen, an avant garde musician and artist who decided some of his less bizarre ideas could be turned into guest rooms.
It's the sort of place to elicit wows and oh-my-Gods on Facebook when you show people where you're staying.
Room 31 – 'Gruft' – is perhaps the oddest of the hotel's collection of howling mad rooms, where I found myself presented with a specially constructed wooden platform.
On top of it were two white coffins, with red crushed velvet lining and crosses cut through the roof. A little note on the coffin lid read: No sex in coffins please. Box may break: coffins for one person only. Visions of grunting goths getting jiggy, do not make the prospect of sleeping in a coffin more appealing.
Should I have wished to bring an innocent young virgin back to my lair, I would have had to retreat to the double mattress, accessed by heading down the steps under the wooden platform, where it forms part of a bewildering maze that can only be crawled through.
It wouldn't be too hard to be freaked out by it, but it's amazing how much the coffin just feels like a normal bed once your eyes are closed. I crashed to sleep without any nightmares and forgot where I was until the next morning.
The en-suite bathroom was less exciting. Toiletry underprovision was an irritating flaw – just a liquid soap by the sink – but the crime was that the fun seemed to stop at the bathroom when the theme could have easily been extended.
I'd already decided to switch rooms for night two, so I headed to reception to get the new key. It's small, with racks of Lars Stroschen's CDs for sale and a help-yourself bar working on a honesty payment system for anyone wanting a drink in their room.
Inside a rainforest-themed common area, the breakfast spread was a minimalist continental affair, the quality of the meats, breads, cheeses and yoghurts laid out was great.
After the coffin experience, the second night's room was a return to comparative normality. The 'Flying Bed' may look like it's levitating in the photos, but the effect is achieved by balancing it on hidden supports.
The floor, however, is far from standard – it slopes fairly steeply upwards to magnify the floating furniture effect. That's a bit trippy when you stagger to bed at 2am.
The room is also lined with fairly hefty cables leading to the wall-mounted 'Atmosphere Creator'. Essentially, the room has its own in- built sound system, with speakers in each corner.
There are six channels to choose from, which constantly loop Stroschen's musical creations. They veer from Vangelis-obsessed spacey sounds to whale song via what can only be described as atonal bleeping. It somehow fits Propeller Island's glorious absurdity, however.
Propeller Island is very Berlin. It's an ever-morphing anything-goes city where subcultures and street art flourish. Experimentation is a cherished part of the dynamic character, and numerous areas fizz with a deeply amiable verve.
The problem is that Propeller Island isn't in one of those areas, when perhaps it should be.
It's in residential Wilmersdorf, a perfectly pleasant but anodyne part of West Berlin. Getting there from the parts of the city that would be the hotel's spiritual home involves a two-change train journey and a bit of a trudge.
No matter how excited you are by your off-its-nut crazy room, that schlep is always going to be a bit of a passion killer.
Still, that's heartening when you start contemplating what previous guests have got up to in your coffin.
The Details
WHERE
58 Albrecht Achilles Strasse, 10709 Berlin, Germany. +49 30 891 90 16, propeller-island.de
NOTES
David booked directly, paying $310 for two nights. This included a $19 charge for switching rooms on the second night. Each room is priced differently, with single person rates from $87 to $145. It's $19 extra if two people stay in one room.
WHAT'S THE GOSSIP?
"Each of the guest rooms is radically different in its decor and theme, and each may delight or appal you with its quirks."- Frommers.com.
THE IT VERDICT
David Whitley, who paid his own way and visited anonymously, says:
"Propeller Island is a real gloves are off place. Go expecting standard hotel comforts and you'll hate it. It's somewhere you stay to tell others you've stayed there; but one night is perhaps enough if you're solely after the brag factor. It still has that lick-lipping sense of fun and absurdity though."
LEAVE YOUR COMMENT