River cruising through Myanmar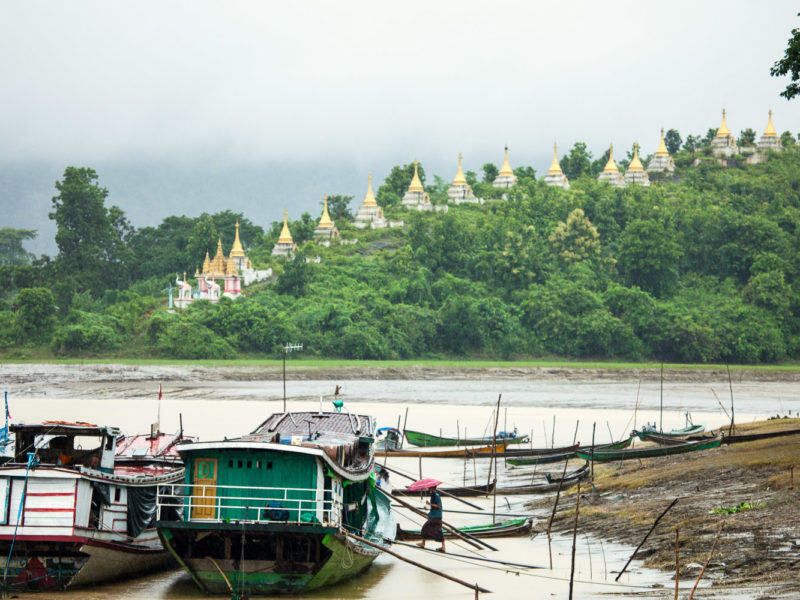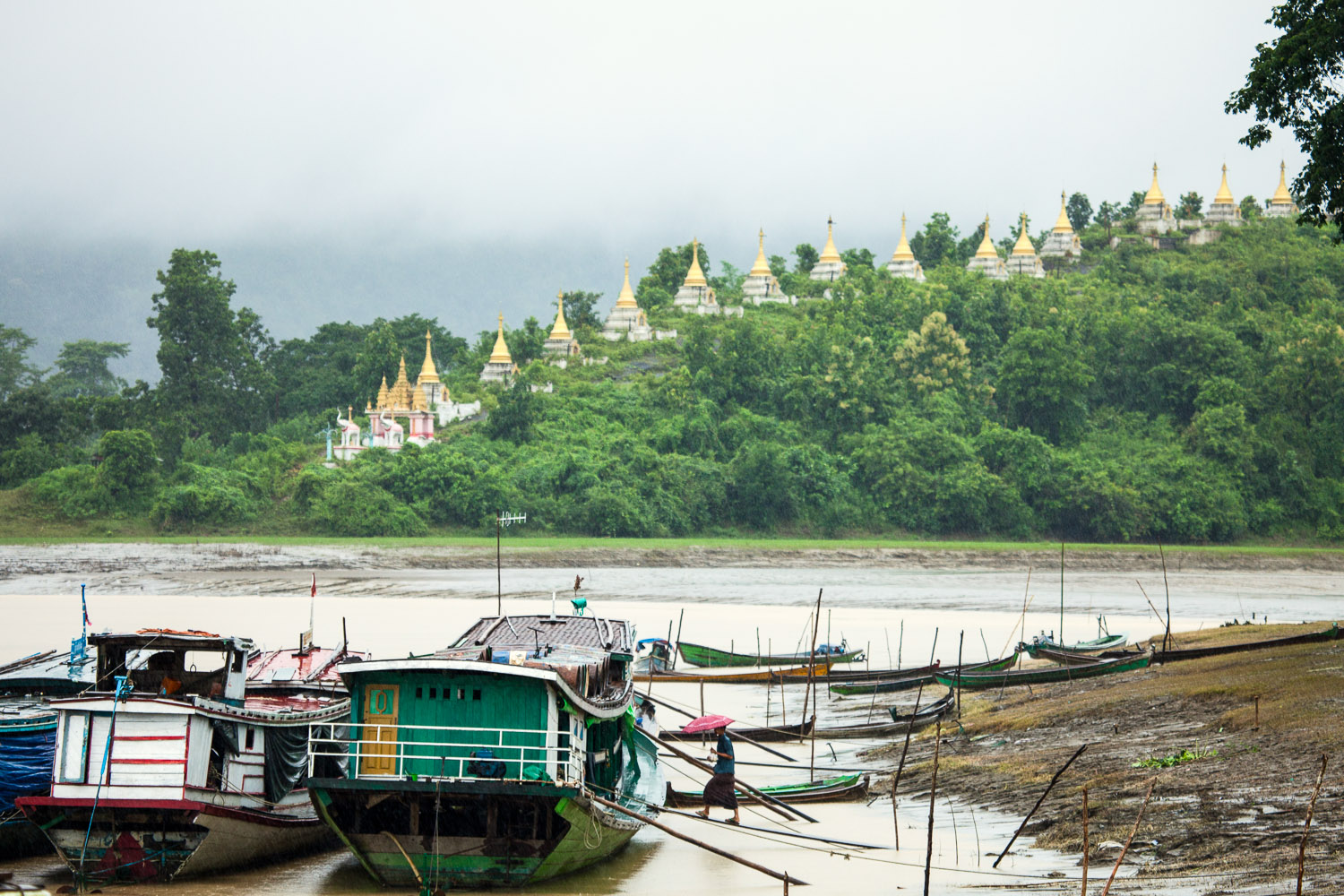 John Borthwick meanders along the rivers of Myanmar on a gracious cruiser steeped in the history of this curious and contradictory land.
"I think I'll just sit up here and let the world come to me," says the tall passenger, pulling up a pew among us on the riverboat's open forward deck.
An old Burma hand, his card reads, "Colonel, US Army, Retired".
He's back, visiting Myanmar again after years on the ruling junta's blacklist – because, I wonder, of something he did during his time here as a military attaché? He settles in and the world of the Chindwin River indeed comes to him.
Pirogues bob past, propelled by faded red sails cut from the old robes of monks. Raintree-shaded towns slip behind us in a jumble of rooftops, chai shops, bicycles and buffalo carts. The kids waving from the bank wear white thanaka face-paste and their grandmas crack betel-blood grins of stainless steel teeth and fat cheroots.
The Chindwin flows monsoon brown but its verdant shores are studded with the golden spindles and holy beehives of stupas and Buddhist pagodas. We're on a journey upriver to the country's remote north-west aboard RV Katha Pandaw, a pedigreed descendant of last century's Irrawaddy steamers.
After boarding the vessel just north of Yangon (formerly Rangoon), the capital of Myanmar (formerly Burma), we head up the Ayeyarwady (formerly Irrawaddy) River to Bagan (formerly Pagan), beyond which the place-names are content to remain the same.
Bagan is Burma's Vatican, Chartres and Benares rolled into one, with some 2500 pagodas and monasteries scattered across its plain.
I can see around 30 of them from where I've climbed, atop the giant Shwesandaw stupa.
From then on we compress royal Bagan's glorious millennium of art and architecture, plus tales of the devout or demented kings who built it, into one fast-forward day.
"Are you stupa-fied yet?" quips our Burmese guide Daniel, as we gather for our evening briefing. We – 24 passengers in 16 cabins – are a mixture of British, Australian and others, including the retired colonel.
The towns and villages that we visit thrive outside the imperatives of Twitter-time and selfie upload, yet they too are in change.
Their broad river is now hurdled by giant Chinese-built bridges that connect shores still quilted with paddies and studded with temples – but the temples today have solar panels and the farmers own their first-ever telephones, mobiles.
We leave the Ayeyarwady to join the Chindwin River to witness Burma time in rewind.
Twice daily Daniel lands us ashore for well-guided rambles through towns where riverfront streets are still called The Strand and old colonial structures – warehouses, banks, even an 1887 golf course – mostly moulder, abandoned, but occasionally still function fully.
We re-board to move ever north, seeing the jungle shores from the comfort of our teak and brass cabins, and the gin and tonic bubble of the upper deck.
The journey's highlights are… well, where to begin?
The Maha Bodhi Ta Htaung at Monywa, where there's over a million Buddha images, plus the country's tallest Standing Buddha (120 metres) and longest Reclining Buddha (100 metres) are so excessive that even devout Burmese call it a Buddhist Disneyland; wandering ashore in market towns or through forgotten temples dense with intricately carved art; bouncing around in a tuk-tuk with the colonel and swapping tales with the surprised driver in fluent Burmese; or just lingering in a riverside chai shop? (A 1920s traveller here noted that in such places, "A kindly indolence lingers amid the fretful restlessness of our age." The statement still holds true.)
More jungle, teak log rafts and pagodas; villages of laundry slapstones, whetstones, parasols, monasteries, longyis, babies and furious heat.
At Masein, 28 white stupas climb a ridge from the shoreline like geese ascending in flight. Meanwhile, the chefs keep us almost too well fed with delicious butterfish, pork, roasts, salads, soups and fruit. And one more banana spring roll, please.
We travel 1000 kilometres upstream to reach Homalin, the Chindwin's northernmost navigable point for craft like ours.
The RV Katha Pandaw is a lush, air-conditioned version of the classic steamers of the Irrawaddy Flotilla Company that flourished until 1942 when the fleet was scuttled in advance of Japan's invasion. (We find the boiler of one on the bank at Sitthaung where it was sunk.)
In 1995 Scottish entrepreneur Paul Strachan raised and refurbished an original steamer, the RV Pandaw. Today his fleet of a dozen purpose-built Pandaws promises, among other pleasures, no TVs in the staterooms; no captain's table or other such inanities. My kind of vessel.
The river is infinite, an expedition is not. We turn back to disembark at Kalewa.
The old colonel shares one more tale, about the time he held a party and tweaked the Rangoon junta's nose with that insidious western plot, live rock – played loud, with diplomatic immunity.
Details
Getting there
Qantas, Thai Airways and Jetstar fly from major Australian cities to Yangon daily via Bangkok.
Prices vary with carrier and season.
Thai Airways starts from $1096 ex Sydney.
Bangkok Airways flies to Yangon four times daily from $146 to $460 return.
Visa
Enquire early about obtaining a visa before you depart Australia at the Embassy of Myanmar in Canberra: 02 6273 3811
Cruise details
The 18-day Pandaw Chindwin River cruise from Yangon to Kalay costs from $5664 for a twin cabin.
Domestic transfers, tours, guide, food and drinks are included; pandaw.com
The pick-up point in Yangon is the Chatrium Hotel.
Rooms from $270 per person per night; chatrium.com
The more moderately priced New Aye Yar Hotel is comfortable and located downtown.
Rooms from $53 per night. newayeyarhotel.com
When to go
Chindwin River cruises run in August when the river level is highest.
What to bring home
Laquer wear (from Yangon and Bagan) and jade, especially Imperial jade.
As with gems anywhere, remember caveat emptor.
LEAVE YOUR COMMENT