The best Alaskan experience of all time (BONUS you can win it)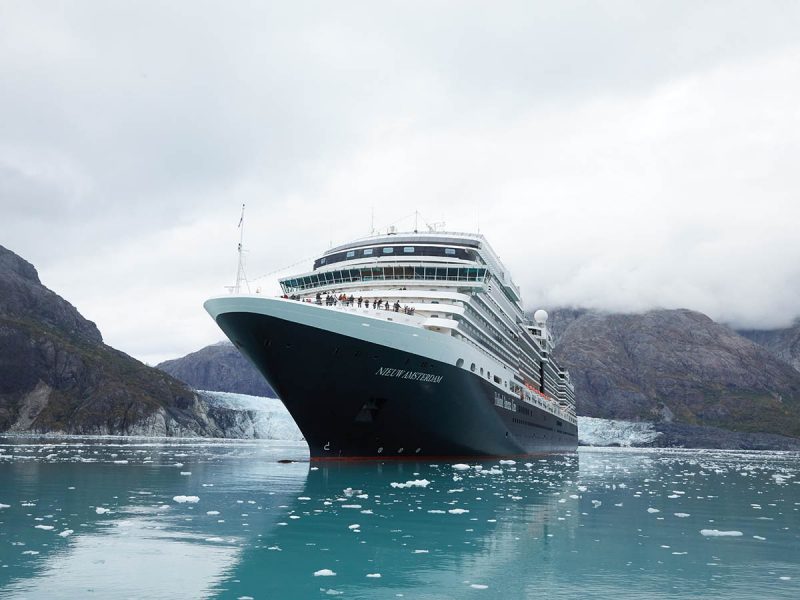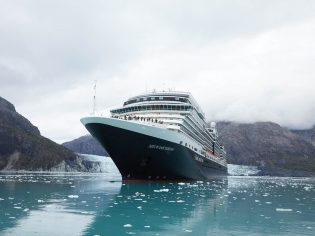 What's better than experiencing the drama of Alaska than with region experts, Holland America Line? Living it up for free, writes Dilvin Yasa.
As far as travel conundrums go, it's a biggie: you're headed to the snow-capped wilderness of Alaska and keen to spend your days glacier hiking, dog sledding, whale watching, salmon fishing and scenic helicopter touring, but you've only got a week.
In addition to travelling to Alaska longer than any other cruise line, Holland America Line has been sailing in Alaska longer than it has been a state. So who better to solve said conundrum and travel to Alaska with, than Holland America Line itself. In fact, the cruise line voted Best in Alaska by Cruise Critic has just released the ultimate itinerary for the dreamers and adventurers among us, and the luxurious 7-Day Alaskan Inside Passage cruise is teeming with a wide range of unique experiences both onboard the ship and ashore.
Your home for the week? The perfectly sized, elegant Koningsdam, a veritable wonderland of light-filled spaces that celebrate the balance between traditional nautical design and innovative dining and entertainment options.
How much can you see and do in a week-long voyage in Alaska onboard Holland America Line's Koningsdam? We reveal the perfect day-by-day itinerary aboard the cruise – a convenient roundtrip from Vancouver.
(Don't miss the opportunity to win this cruise at the end of this post)
Day one – Sail-away from Vancouver
The ticket says 4.30pm embarkation, but why let a day in vibrant Vancouver go to waste? Lock in the hugely popular Sea-to-Sky Gondola Experience & Shannon Falls tour, a six-hour exploration of the city's picture-postcard scenery. After you've enjoyed sail-away drinks on the AFT deck saying your farewells to Vancouver and had a chance to settle in to your spacious stateroom and look around the ship, double-check your pre-booked reservations for Nami Sushi, a fine-dining establishment celebrated for serving up the freshest, most inventive sushi at sea. The only thing getting in the way of you and Holland America Line's signature Mariner's Dream Bed? A soothing nightcap (and boogie) at B.B.King's Blues Club.
Day two – Alaska's glorious Inside Passage
Get your camera ready: today's the day you sail Alaska's glorious Inside Passage, a protected network of waterways home to frolicking humpback whales and orcas, meandering brown bears and soaring bald eagles, as well as some of the most dramatic scenery you're ever likely to see. A long and leisurely breakfast at Lido Market is in order (all that photography and observation is hard work), but post-scenic reflection is best enjoyed after putting the kids in Club HAL (available for those between the ages of three and 17) and signing up for a treatment at Greenhouse Spa & Salon. The icing on the cake? A reservation at Rudi's Sel De Mer, an intimate brasserie serving French classics, followed by some downtime at Rolling Stone Rock Room.
Day three – Explore the Fjords and Glaciers
Start the day with an elegant (but speedy) breakfast at The Dining Room. Why the rush? The morning begins with a Tracy Arm Fjord & Glacier Explorer tour aboard a luxurious, high-speed catamaran (those glacier-covered mountains aren't just going to admire themselves), after which it's off to the capital city of Juneau, where you can hike a glacier, attend an Alaska Salmon Bake or visit nearby wildlife reserves. Our advice? Book the Taku Lodge, Feast & Five Glacier Seaplane Discovery, which includes a seaplane journey to the lodge, bears, glaciers and a seafood feast and then entertainment back on the shop by taking in World Stage, the perfect panorama of sight and sound.
Day four – Striking gold in Skagway
Ghosts, good-time girls and gold rush lore; welcome to the most curious day of your cruise. Today's destination, Skagway, is known for its colourful history and pristine wildlife and there's no better way to get a lay of the land than with the deliciously titled Ghosts & Goodtime Girls walking tour. Prefer to immerse yourself in the region's natural beauty instead? The White Pass Rail & Klondike Highway by Bike tour allows you to experience the historic railroad and a cycle along the paved highway.
As night falls, nab a window seat at Italian at Canaletto for front-row views of the rocky Klondike coastline before checking out the dualling pianists playing 60 years of chart-toppers at Billboard Onboard.
Day five – Local guides to Glacier Bay National Park
Enjoy breakfast on the deck and keep both your binoculars and camera on hand; today is about appreciating the wonder that is Glacier Bay National Park (and its friendly inhabitants). Be sure to take in an Explorations Central talk to get an insider's perspective on the destination and get in the ear of local experts including Glacier Bay National Park Rangers and local Huna Tlingit guides who come onboard to provide expert insights to help you get the most out of your day. Little ones won't miss out either; Club HAL offers an exclusive Junior Ranger program, available only in Glacier Bay. The best way to unwind? Dinner at Pinnacle Grill, the ultimate steakhouse at sea, followed by an electrifying performance by Cantaré.
Day six – Cultural immersion in Ketchikan
Looking to immerse yourself in the local culture? Today's visit to Alaska's 'First City' of Ketchikan delivers in spades. Flanked by lush, green forests, the town clings to the banks of the Tongass Narrows and the options to explore the cultural sites of Native Alaskan nations such as Tlingit, Haida and Tsimshian are countless. Book in the Saxman Native Village, Dance Performance & Totem Park to give yourself the best overview, and spend a relaxed evening back on ship with burgers, fries and an outdoor movie at Dive-In, a casual poolside eatery. Exhausted? 24-hour In-room is also an option.
Day seven – The Inside Passage deserves a second look
It's a day of scenic cruising back through the Inside Passage towards Vancouver, so what better opportunity to reflect on all that you've seen than with a flat white at Grand Dutch Cafe, while you're doing some onboard shopping or while you're swimming as you take in the dramatic mountain scenery? Hopefully you've remembered to book Tamarind for dinner, but if you're looking to continue your Alaskan adventure once you get home, the Port to Table experience will guide you through the culinary traditions of the region, while BBC Earth in Concert will provide an experience you'll never forget.
Health & Safety
All Holland America Line guests must be fully vaccinated, provide a negative Covid-19 test result within two days of sailing, and wear masks in all indoor areas outside of the staterooms. Dedicated to maintaining your health, the Koningsdam is frequently and thoroughly sterilised, and features an enhanced air filtration system.
One lucky Internationaltraveller.com reader can WIN this Holland America cruise, worth more than $8700!
Click here to enter via the competition page.