The 10 best activities to book on an Alaskan cruise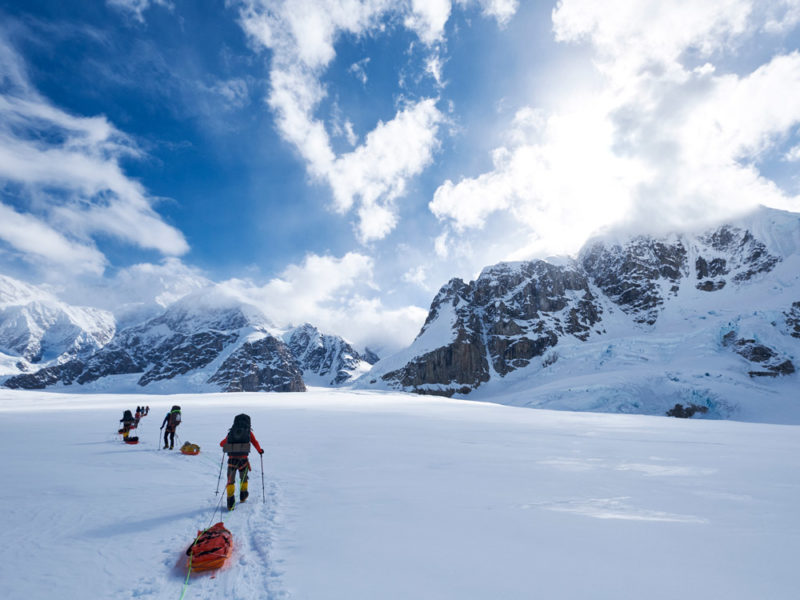 |

This Article was created in partnership with Cruiseco

|
There is a wide-held belief that cruising in Alaska is a slow-paced holiday best left for later in life. We're here to set the record straight.
It's no secret that Alaska is a wildly beautiful landscape of snowy mountains, colossal glaciers, hulking icebergs, alpine forests and mirrored lakes. But with such a multitude of natural and colossal scenic wonders, it's a curious misconception held that cruising America's northern-most state is better suited to our more senior citizens.
In fact, these same epic natural wonders form the ultimate playground for the adventurers among us. From the land to the water to the sky, we round up our top 10 shore excursions for adrenaline seekers.
1. Mendenhall helicopter and glacier trek, Juneau
At a staggering 21 kilometres in length, Mendenhall Glacier is one of Alaska's most famous glaciers and an absolute must-see. On this fabulous tour, you will fly by helicopter over wetlands, rainforest and alpine ridges to the extraordinary Juneau Icefield with its glaciers, ice spires and icefalls. Once you're dropped on the glacier, professional mountaineers will guide you on a three-hour trek through the glacial icescape. Along the way, you will be shown how to use mountaineering gear as you climb and descend ice walls and explore a pristine and remote iceland that very few get to step foot on.
Where to book this excursion: Book this glacier heli-hike before your 16-night sojourn with Princess Cruises from Los Angeles or en route to Seattle from Vancouver on Celebrity Cruises' Alaska Dawes Glacier Solstice tour.
2. Dog sledding, Skagway and Juneau
An iconic Alaskan experience for the whole family, you'll have the chance to cuddle up to 16 beautiful Alaskan huskies before hopping into a sled and being pulled along at lightning speed. During winter, you can enjoy the traditional dog-sledding experience on the snowfields. If you're visiting during summer, however, the sled ride takes place in a purpose-built summer sled at a musher's camp, where trained dogs lead you down a forest trail.
Where to book this excursion: This cuddle-a-pup excursion is available on Royal Caribbean International's 14-night Alaska Glacier & Canadian Rockies cruise package.
3. Klondike Summit to Sea bike ride, Skagway
This bike ride may be all downhill, but it's breathtaking nonetheless. Beginning with a ride on the historic White Pass & Yukon Route railroad, which climbs to almost 3000 feet (914 metres) in elevation, you'll meet your guide who will take you up to the summit of White Pass in British Columbia. With the hard bit done for you, you can enjoy the 24-kilometre cycle downhill through three climate zones (alpine, sub-alpine and temperate), coasting along at up to 40 kilometres per hour past cascading waterfalls, glaciers, mountains, crossing the US/Canada border and stopping at a number of historical sites along the way.
Where to book this excursion: Book this once-in-a-lifetime experience on Holland America Line's Great Alaskan Explorer expedition.
4. Alpine zipline, Icy Strait Point
There are a few ziplining adventures in Alaska, including in Juneau and Ketchikan where you can fly through Tongass National Forest – a temperate rainforest of rushing streams and mountains as a backdrop. But if you really want a thrill, the zipline at Icy Strait Point is the one to ride. You will be taken to the top of Hoonah Mountain, where the world's largest ZipRider stands taller than the Empire State Building at 405 metres above sea level. Accelerating at up to 96 kilometres per hour, you'll literally soar over rainforest below!
Where to book this excursion: Ride the alpine zipline on Oceania Cruises' 13-night Enchanting Alaska tour cruising from Vancouver return.
5. ATV expedition, Denali
If your cruise incorporates Denali, this is by far the most exhilarating location for an ATV (all-terrain vehicle) tour, surrounded by 2.4 million hectares of wild territory. The tour will see you splashing through creeks, down valleys, over rocky tracks, through boggy tundra, all while taking in breathtaking mountain vistas. There are also ATV excursions in Ketchikan, Haines and Skagway.
Where to book this excursion: Celebrity Cruises' Majestic Tundra Explorer Cruisetour stops in Denali on their four-night post-cruise tour from Anchorage to Fairbanks.
6. Ocean Raft Adventure, Icy Strait Point and Sitka
Get your adrenalin pumping with a thrilling ocean raft ride along Alaska's rugged coast. These large inflatable vessels are designed for high speeds and are also highly maneuverable. This means more opportunities to see animals up close, such as the coastal brown bear and Sitka black-tailed deer. It's not uncommon to also spot marine life, such as sea lions, sea otters, seals, humpback whales and orcas, on your tour.
Where to book this excursion: Book this thrilling adventure on day 13 of Silversea's fly, stay, 'Rocky Mountaineer' rail and cruise package starting in Calgary, setting sail in Vancouver and anchoring in Anchorage.
7. Klondike rock climbing and rappelling, Skagway
If climbing new heights is your idea of fun, then this tour is a must. A short hike from the Klondike Highway will bring you to the base of imposing granite cliffs that have dozens of climbing routes to choose from, suitable for climbers of all abilities. From the top you'll be able to see Skagway River, the historic White Pass and Yukon Route, and the spectacular surrounding wilderness of Skagway. What goes up must come down, so try the 21-metre rappel (abseil) back down if you're game.
Where to book this excursion: Add this rappelling adventure to you seven-night cruise itinerary from Seattle return aboard Norwegian Cruise Line's Norwegian Bliss – part of their 19-night The Best of Hawaii & Alaska cruise package.
8. Heli-biking, Icy Strait Point
You may have heard of heli-skiing, but what about heli-biking? This one-of-a-kind experience includes a scenic helicopter flight over jagged mountains, deep valleys, lush alpine ridges and vast waterways. You will land on a secluded mountaintop of Chichagof Island, a rugged atoll mostly uninhabited except for a large population of brown bears! Unload your bike and start the incredible downhill ride through this untouched wilderness, finishing at the beach where you will sample some traditional Tlingit foods.
Where to book this excursion: Seabourne's 16-night Glaciers & Alaskan Inside Passage Sojourn anchors at Icy Strait Point on day eight of the tour, but make sure you book this exclusive excursion well in advance.
9. Bike, hike and float, Skagway
This is the trifecta of active adventure: cycling through a rainforest, hiking an historic trail and floating down a glacial-fed river on a raft. From the historic Taiya River Valley, you will embark on a flat eight-kilometre cycle that takes in a number of historic and natural sites, past wildflowers with mountain vistas as a backdrop. Next is a three-kilometre hike along the Chilkoot Trail (part of an epic 53-kilometre trail), where you will retrace the steps of goldseekers during the Klondike Gold Rush. Finally, you'll board a river raft for a relaxing float along the Taiya River, which is bordered by forest, snow-capped peaks and granite fjords.
Where to book this excursion: Take on the trifecta on Norwegian Cruise Line's Alaska Highlights cruise tour before you head on to Honolulu for a thorough relax.
10. Mendenhall Lake kayak, Juneau
Permits to kayak in Mendenhall Lake are limited, so this experience is truly something special. As you paddle across the lake in your two-person kayak, take in the view of Alaska's glacial landscape at its very best as you pass hulking icebergs, thundering Nugget Falls and, of course, Mendenhall Glacier. This kayak tour is usually also combined with lunch at Gold Creek Salmon Bake where you can feast on authentic Alaskan dishes, including fresh salmon.
Where to book this excursion: Book this experience well in advance of joining the Regent Seven Seas Mariner on their 17-night Pacific Northwest cruise from Vancouver to Los Angeles.
Itching to start your Alaskan adventure now? Read our guide to cruising Alaska – the best time to go, which ships to cruise with, plus other handy tips, or visit Cruiseco to book.
LEAVE YOUR COMMENT