Why small ship cruising is the best way to see Fiji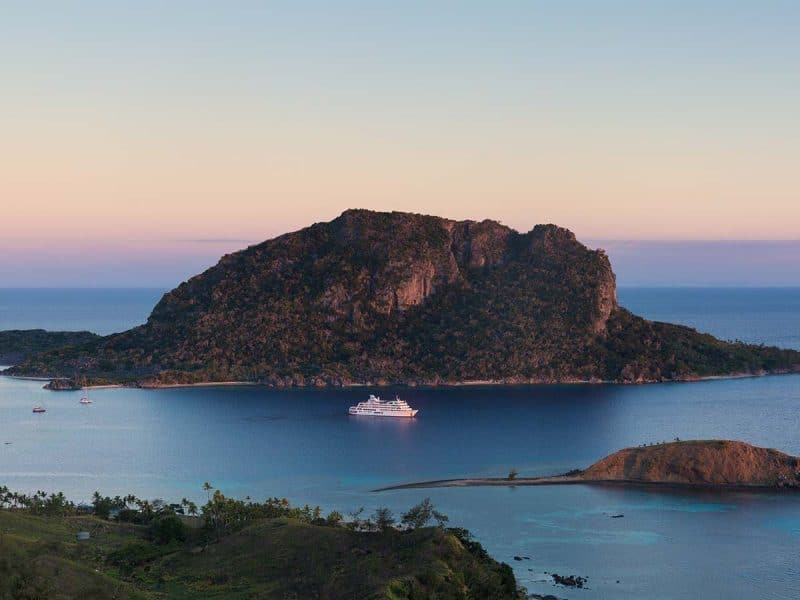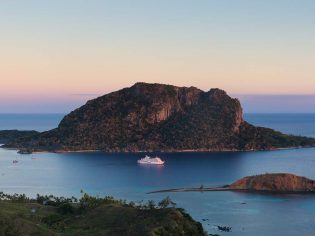 The reasons to explore Fiji's islands onboard a small cruise ship are stacking up.
Cruise ships are returning to ports around the world and it's okay to feel nervous about stepping aboard one as you navigate pandemic travel. However, if the call to visit foreign shores is irresistible, take comfort in the option of small-ship cruising.
On smaller vessels there are fewer passengers, streamlined hygiene protocols and you can stick to one country (and one set of COVID rules). To "test the waters", I board Captain Cook Cruises' MV Reef Endeavour to explore Fiji's remote north, and I'm happy to report it was all smooth sailing.
Cruise rules
After two days enjoying the waterslide and restaurants of Radisson Blu Resort Fiji, I turn up at Captain Cook Cruises' check-in counter at Port Denarau. The friendly Fijian women behind the desk welcome me with big smiles and immediately start joking around with my six-year-old son. Devoid of queues, our documents are checked quickly and our luggage labelled and safely stowed, ready for the staff to take it to our ship cabin.
We have an hour to peruse the stores at the port. There's a bakery, grocery store, clothing shops and a handful of restaurants where it seems most of our fellow passengers are congregating.
When it comes time to board the MV Reef Endeavour, waiting patiently at the end of a wharf, the result of my pre-paid Rapid Antigen Test (taken at Radisson) still hasn't landed in my inbox. Not to worry, I'm told, the Captain Cook staff are happy to do another test for me on the spot and the process is fast and easy (children under age 12 don't require a test). I'm given the all-clear and soon we're on board, dancing with the musicians on the vessel's sun-soaked deck, ready to set sail.
Captain Cook Cruises Fiji
As the ship moves away from the dock, excitement builds. For most passengers this is their first overseas holiday since March 2020. The Fijian crew, many of whom are new, is thrilled to be cruising too. With tourism being Fiji's biggest commodity, welcoming back travellers is cause for celebration – and everyone certainly celebrates over the next week.
Copious amounts of cake is served every afternoon after days spent snorkelling and exploring tiny island villages. As the sun dips below the ocean's horizon, Endeavour's deck chairs are snapped up by friends old and new. There's a buzz in the air as they chat loudly about the day's activities, sapphire, red and white cocktails always in hands. After dinner, evenings are spent dancing to live music, betting on hermit crab races and playing trivia.
It's a welcome site seeing such simple pleasures becoming normal again. It's as if the pandemic never existed. The only reminders are the sanitation stations throughout the ship's shared areas and the crew's polite insistence on serving the buffet meals. I was never sure if they were being professional or hygienic, but I assume it was both.
Fiji islands
The main reason I chose Captain Cook's Fiji Island Discovery Cruise is because you get to go beyond the luxury resorts of Viti Levu, Fiji's main island, and the country's popular Mamanucas and Yasawas. Instead, we head toward Vanua Levu, and to relatively isolated communities on islands such as Taveuni, with its beautiful Bouma waterfalls, and Kioa, with its friendly Polynesian Fijian community. And this brings me back to the joy of travelling on a small ship.
The Reef Endeavour is small enough to navigate the islands and call into the bays and ports in these parts. Sometimes, the ship docks against a wharf, other times we board tenders for beach landings. Having a low number of passengers means we never wait long to disembark the ship, nor are there big queues at the buffet lunch or the bar. The pool is never crowded and neither are the snorkelling sites and beaches. When we visit villages, we're not overwhelming residents, and it's easy to feel like we're intrepid travellers or perhaps expats embarking on grand independent adventures.
The return of cruising
It's not just small ship cruising that's in vogue, but Fiji also, with many Australians eager to return since flights resumed in December 2021. Cruise Lines International Association (CLIA) Managing Director Australasia Joel Katz says Fiji's proximity to Australia combined with its different culture make it an appealing destination.
"Some of the most beautiful and unspoilt locations in Fiji are best accessed by sea, so small ship cruising really is ideal," Katz says.
He says CLIA cruise lines, big and small, have committed to extensive new health protocols in response to the pandemic, and cruise ships have returned to almost 100 countries worldwide.
"Many people," he adds, "see small ship cruising as an opportunity to build confidence as cruising resumes, allowing them to travel in smaller groups.
"It also provides an opportunity to restore the economic opportunities that come with cruising, particularly in remote communities and out-of-the-way destinations."
This is certainly true for the villages and towns we visited on our Captain Cook cruise. Although some locals can meet their basic human needs with long-practised subsistence farming, the unexpected disappearance of tourism dollars more than two years ago was certainly felt. Yet, for all the damage this pandemic has done, Fijians continue to smile and dance and sing, and welcome travellers into their lives, even if only for a precious moment.
The writer travelled as a guest of Tourism Fiji and Captain Cook Cruises Fiji.
LEAVE YOUR COMMENT