Solo adventures in Switzerland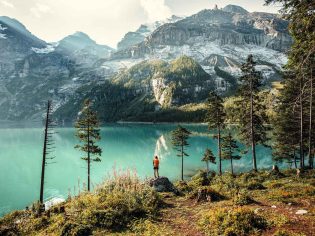 |

This Article was created in partnership with Switzerland Tourism

|
Whether you're sharing your journey with a guide or going on an adventure completely solo, there's so much to see and do in Switzerland.
To highlight how easy and satisfying travelling as a solo female in Switzerland is, the Swiss tourism organisation recently announced their 100% Women World Record attempt – the longest all-women rope team while climbing to 4000m!
To inspire intrepid Australian women, International Traveller invited the indefatigable Elspeth Callender to share her many stories of a female solo traveller in Switzerland.
At nearly 3000 metres altitude, I'm walking across the summit of Schwarzhorn towards a rocky outcrop in the hope of seeing a glacier. I'm no longer tethered to the mountain, and my guide, Beat, has detached the rope that connected us to each other all morning. I'm fully aware that tripping on this schist means I'm gone, down into the swirling clouds intermittently exposing views of Grindelwald's grassy alps far below.
My heart should be racing. My legs should be shaking. Instead, when Beat turns to check on me, I'm quietly laughing to myself.
The Switzerland of my ancestors
For more than a decade I've returned almost annually to Switzerland. Initially, I visited out of curiosity about ancestors from the Italian-speaking canton of Ticino. The capital of the district, Cevio, is a scenic bus ride up Valle Maggia to the base of a cliff where families like mine built grottoes into the rock walls to age and store their homemade cured meat, cheese and wine.
Though once the Swiss have you within their land-locked borders, so I've learnt, they do expect active participation.
A latecomer to skiing, high altitude hiking, e-biking and this via ferrata I've just smashed on Schwarzhorn's western ridge, I often wonder why it took a place on the other side of the world to really get me into these sports. Perhaps our expectations of ourselves are more expansive when we're out on the road? I definitely push myself and take more risks when travelling.
How Switzerland is the perfect combination for pushing yourself
It's possible that Switzerland also offers the perfect combination of geological drama, loads of stable weather, accessible alpine areas and a seriously outdoorsy adrenaline-seeking culture. They also place enormous value on their wild-flowering alps, spring water, fresh air and wild animals. It naturally has a lot going for it.
Across Switzerland's 26 cantons, 208 of its mountains are over 3000 metres high, and there are more peaks above 4000 metres than in any other European country. Intricate networks of trains, buses, boats, gondolas and cable cars have been designed to efficiently transport people from densely populated centres into these natural environments and the types of recreational infrastructure I've used today.
For those who don't know, via ferrata (or klettersteig) loosely translates as 'iron path' or 'iron way'. Steep routes are dictated by a steel cable secured inches from the surface at attachment points in the rock every few metres. It's like mountaineering without the need for ropes.
My mountain guide, Beat (BEE-at), was raised here in the Bernese Oberland. He's also a forest warden, outdoor events agent and stone artist. Earlier that morning, I'd filled my drink bottle from one of Beat's sculpted fountains at Grindelwald-First gondola's highest station (2166 metres).
Mountaineering in Switzerland without the ropes
From there, we hiked up through the meadows, chatting about how much his kids love pizza. Clanging cowbells were a constant soundtrack. Our hike eventually became a scramble, and when the scramble became a climb, Schwarzhorn Klettersteig materialised.
From his small backpack, Beat produced helmets, harnesses and Y-shaped lanyards with energy absorption units and dual carabiners. Kitted up, I followed his instructions to make my way along the line with both carabiners clipped on. When I reached an attachment point, I released and re-clipped one carabiner at a time so I was always connected to the steel cable.
At the steepest part of this via ferrata I climbed three consecutive steel-rung ladders up a cliff wall on ascent to Schwarzhorn's summit. Being new to this, I was also roped to Beat, who steadily walked and climbed a few metres ahead.
"I can tell you're sporty by the way you fall" – learning to ski in Switzerland
Straight-talking Swiss-calm guidance really works for me. When I was new to skiing, on a much earlier visit, I had a lesson in the mountains above St Moritz in the Upper Engadine Valley of the country's most eastern canton of Graubünden. My veteran instructor, Susi, encouraged intuitive learning and told me: "I can tell you're sporty by the way you fall".
My Swiss guides and travelling companions always seem to get as much joy as I do out of shredding the slopes, hunting for mushrooms, hiking a high pass, taking a sauna, drinking coffee and schnapps at a mountain hut, or eating a traditional seasonal dish at a popular city restaurant.
For instance, I once overnight hiked the Andermatt region, where you can walk to the source of four major rivers. My guide, Miriam, was even quicker than me to jump into Lake Toma, the icy-cold source of the Rhine.
Most unforgettable was a winter experience with Mario in Graubünden's Upper Engadine Valley. Late one afternoon, we rode the cable car from Samedan up to Romantik Hotel Muottas Muragl (2456 metres) to walk snow-covered trails overlooking what he called "my backyard". Mario was intent on us tobogganing the four-kilometre run back to Samedan at sunset. It was how he'd transported himself to school as a child, while I had zero experience, so I was on the front brake-steering with the heels of my Blunnies while Mario instructed from the back.
This common expectation that everyone in Switzerland has a general degree of sporty coordination is A-okay because I rise to the challenge… right after a few sleepless nights.
The way they rate their tracks, trails and runs tends to create, for me at least, do-or-die situations. I rode the ribbon-like Corviglia flowtrail above St Moritz, astounded that a mountain-biking track with cliff-drop corners was beginner-intermediate. Schwarzhorn Klettersteig, which called on my rock climbing experience, is rated peu difficile (not very hard).
Switzerland's alpine trails are classified wanderweg (graded footpath), alpiner weg (ropes required) and bergwanderweg (somewhere in between). The fact that even wanderweg can have vertiginous sections has, over time, gradually increased my personal tolerance for risk.
Sharing a journey can be great but I'm equally comfortable travelling entirely solo in Switzerland, even without a guide. One summer, I decided to take a break from the relentless physical trials and hired a Harley-Davidson Street 750 for a week.
Grand Tour of Switzerland is a 1600-kilometre sealed road roundtrip that takes in the country's highlights. No GPS is required; you just follow the signposts. The super scenic circuit I covered, from the comfort of a cruiser, took in Neuchâtel, Gstaad, Interlaken and Gruyères – yes, of the cheese fame.
Solo hiking (and skinny dipping) in Switzerland
Another time, I had a few days to kill between a group hike on Via Alpina 'Bear Trek' in the Jungfrau Region and some guided e-biking in the mountains around Zermatt in Valais canton. After a thrilling cable car ride from Mürren down the cliff to Stechelberg, alongside a bunch of kids commuting to school, I caught a bus and three trains to Zermatt. It took exactly three hours and six minutes, as scheduled.
The next morning, I had several helpings of hotel breakfast then threw on my backpack and set off for three days of independent solo hiking. My place of accommodation in Zermatt before and after this jaunt, Hotel Daniela, was more than happy to store my excess luggage, and the staff volunteered invaluable advice and printed me some maps.
From there, a 19-minute train got me to the village of Randa. I then puffed uphill for a couple of hours, crossed the longest pedestrian suspension bridge in the Alps, and reached Europahütte (2265 metres) just in time for dinner. The next morning I was still adjusting to carrying a backpack at altitude, so ascending felt like I was hiking with the dead weight of a sleeping marmot on my head.
When I reached Kinhütte (2584 metres), I knew it was exactly where I wanted to stay for my second night. Far above the treeline, Kinhütte is overlooked by massive peaks, and the magnificent 4478-metre Matterhorn is visible from the sun-catching patio.
Andreas, the host, cooked me rösti for lunch then led me along the first section of a trail that ended 500 altitudinal metres higher than the hut, at a tiny lake fed by the dripping tongue of a glacier. Up there in the full summer sunshine, with no one around, I stripped off and plunged.
My eyes were still shining from the dip when I returned to Kinhütte. A recently arrived group of University of Zurich students wanted me to sit at their table for dinner and tell them my life story.
I love staying in these Swiss Alpine Club (SAC) huts. There are 152 of them scattered throughout the Alps, with beds for around 9200 people every night. They range from unstaffed shelters to fully equipped chalets with caretakers, three-course meals and signature treats.
Hiking solo one morning before sunrise in the Alpstein massif, in Appenzell Innerrhoden, I reached remote Meglisalp at first light. The day's rays hadn't yet hit the front of the building but there were already fresh self-serve chocolate-filled pastries available.
As Miriam had solemnly warned me in Andermatt: "If you go to a hut you can never avoid the good cake".
The next afternoon I hiked from Kinhütte all the way back into Zermatt. Arriving on dark, Hotel Daniela was a welcome sight. It remains a favourite place to stay and eat while in Switzerland, along with Hotel Schönegg in Wengen and Hotel Kirchbühl in Grindelwald.
Et, j'adore Palafitte in Neuchâtel, where I stayed when motorcycle touring. It's the only 5-star hotel built over a lake in Europe. My private pavilion had a balcony with a ladder, so I leapt in for a swim before the cheese fondue arrived.
Up on Schwarzhorn, as I'm carefully following Beat to the outcrop, I detect a hint of panic in the speed at which he turns to check on me. Understandably so – when we'd met that morning I'd never even seen a via ferrata and was very much the bumbling student.
"Everything's fine," I say with a reassuring nod. I'm laughing to myself because this has become such a typical scenario: I start a day in Switzerland as a novice, and finish it feeling as grounded as a mountain goat.
LEAVE YOUR COMMENT