The new way to see the Northern Lights of Norway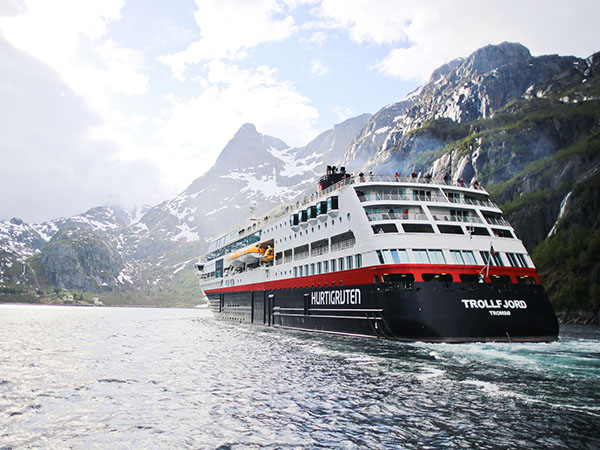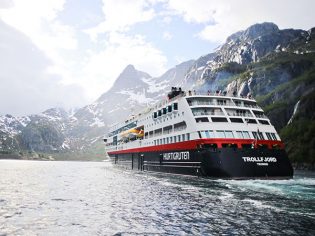 |

This Article was created in partnership with Hurtigruten

|
Hint: it involves 16 days of complete luxury in one of the most spectacular destinations on the planet.
If you look online, you'll notice a wealth of advice on how best to see the Northern Lights. Some recommend hopping on a snowmobile and dodging polar bears as you zoom, neck craned skywards. Others speak of the unique combination of dog sled, tripod and a camera using a shutter speed of 15 – 30 seconds. A few just shrug and mutter something about manifesting with crystals and 'hoping for the best'.
From us to you, here's the best advice you'll ever receive about seeing the Northern Lights: book Hurtigruten's new North Cape Express itinerary and relax. The 16-day leisure-focused cruise sails the Norwegian coastline and gives ample opportunity to view what's known as Mother Nature's ultimate light show, Aurora Borealis.
The polar bears and dog sleds? You can do those too, but only as the mood takes you, rather than as a matter of necessity. Phew.
North Cape Express
Why make 2023 the year of the Northern Lights? To celebrate their 130th year of transporting guests (and freight) around the Arctic, Hurtigruten has returned to their historic roots, reviving one of their most iconic cruise itineraries and creating a brand new journey. The Sportsmans Route has been revived as the Svalbard Express in the summer (more on that later); for winter expeditions, the North Cape Express has now been extended to 16 days of jaw-dropping fjords, breathtaking islands and, yes, those aforementioned Northern Lights.
First setting sail from Norway's capital of culture, Bergen, on 26 September 2023, the North Cape Express not only takes guests to the country's most southern and northern points, but marks Hurtigruten's first ever sailings in Oslo, too. There are also four new ports being added to the itinerary, as well as scenic cruising through Hardangerfjord. Whether you're keen to view the Northern Lights far above the Arctic Circle at Alta, want to take a snowshoe hike at Lofoten, or yearn to enjoy a fireside drink in picturesque Alesund, port visits on North Cape Express are significantly longer than the standard coastal cruise, offering half- and full-day stops so you can get the most out of each destination.
Days one to three will be spent exploring the best of the Bergen area (the cruise includes a visit to 7 Fjell Bryggeri, the country's first micro brewery) before boarding the MS Trollfjord. From there, explore the magic of Molde and Kristiansund, hiking to Varden and embracing the glamour of Atlantic Road, a darling of Hollywood film favourites. Days five and six reveal a bounty of treasures, kicking off with a stop at the ancient fishing town of Rørvik, followed by Lødingen, the perfect base to explore Hinnøya Island, Norway's largest island south of Svalbard. Days seven to nine (also known as Alta, Honningsvåg and Tromsø) are prime Aurora Borealis viewing destinations, so get that camera ready and prepare to be mesmerised. The cherry on top? If the Northern Lights don't appear during your voyage around Norway, Hurtigruten will give you another six- or seven-day Classic Voyage to enjoy, free of charge.
Happily, the hits don't stop there: following on, you can expect to enjoy nature hikes in Svolvær, kayaking in Brønnøysund and seeing art nouveau architecture in Alesund. Journeying south along Norway's west coast, the MS Trollfjord then sails past some of the country's most famous fjords (including Hardangerfjord), popping in at Farsund and Kristiansand before winding up in Oslo. During the trip you will have experienced the best of Norway's majestic coastline, seen spectacular mountains and fjords, and hopefully even caught the fabled lights at least once along the journey. Best of all, you'll have had all of this without having to move a muscle.
Keen to stay on? Also included in the itinerary are pre-cruise transfers and a two-night, four-star stay in a Bergen city centre hotel, as well as a one-night stay in a four-star city centre hotel in Oslo (or vice versa if you've booked the itinerary kicking off from Oslo and ending in Bergen).
MS Trollfjord
Taking her name from the jaw dropping Trollfjord in Vesterålen, the MS Trollfjord is undergoing a complete refurbishment to be unveiled for her inaugural sail in September 2023. The 822-capacity ship is an homage to Norwegian nature with classic decor and flourishes that hark back to the era of exclusive small-ship sailing.
Featuring all the elements guests adore, from a large outdoor sun deck with two hot tubs, the Espolin Johnson lounge for afternoon tea, a double-storey observation lounge, and a panoramic sauna and fitness room, MS Trollfjord brings a new range of experiences to the Norwegian coastline.
Dining options include an a la carte restaurant with tasting menus, a food centre featuring cooking demonstrations and classes, and wine, beer, champagne and whisky tastings. There's also all-day dining, afternoon tea and a takeaway service. In 2023 there will be another first for the company when picnic and culinary excursions will be available for those who want to extend the foodie experience off the ship.
For those concerned about sustainability, it's also worth mentioning that the vessel has also undergone a LowNox conversion, significantly reducing her environmental footprint.
Svalbard Express
Of course, if you're all about observing polar bears from a safe distance (say, from the comfort of the cocktail bar aboard the MS Trollfjord), there's no better plan than to cruise to the land where these majestic creatures outnumber humans. Making its triumphant return in 2023 (2 June to be precise), the iconic Svalbard Express showcases the best of the region's pristine Arctic wilderness and remote islands populated by our furry white friends in the summer months. Over a 16-day full journey (Bergen to Longyearbyen return), expect to see some of the highlights from North Cape Express, as well as five magic-filled days in and around Svalbard, also known as the edge of the world.
For further information on Hurtigruten's new itineraries, visit

hurtigruten.com.au.