Meanwhile in Canada... The highway less travelled is best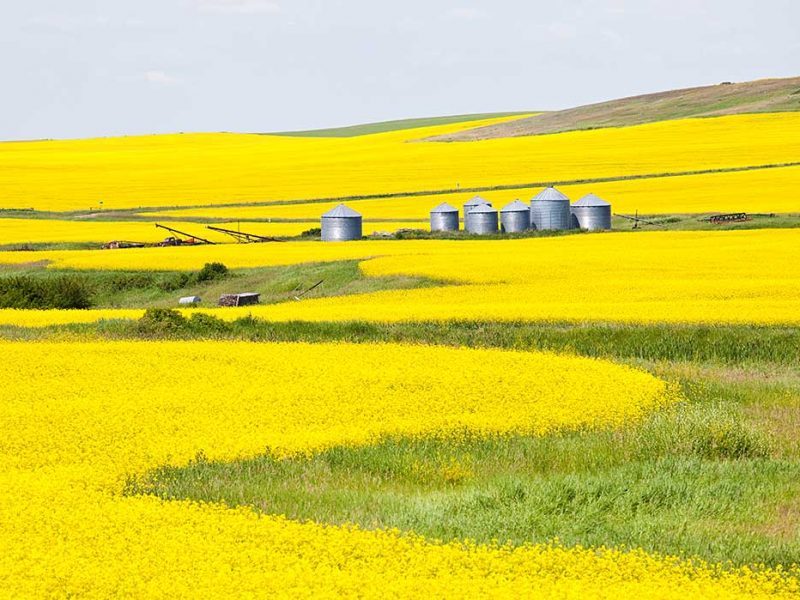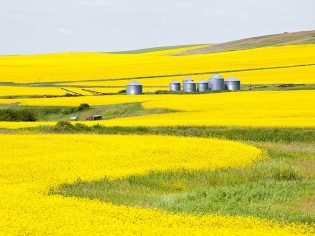 Canada is one of the world's great road-trip destinations, and a journey across its prairie provinces brings big-sky exhilaration and heady encounters with roadside kitsch.
This is story six of our Meanwhile in Canada… series.
I've seen many of the world's greatest tourist icons, but I reckon few have made me quite as unaccountably happy as the moose statue outside the visitor centre in Moose Jaw, Saskatchewan.
Partly I'm just exhilarated with this road trip and its sense of movement and freedom. Then there's Mac the Moose itself, which makes me smile. It looks like a kid's plasticine model and has antlers that resemble eagle's wings.
"We had to extend those antlers by 24 inches thanks to a competing Big Elk in Norway," explains a local called Bruce I meet outside the visitor centre. "We're very proud of its large rack."
I find it rather sweet that locals and travellers get so much pleasure from a cement-and-steel moose in a nation where you can see the real thing harrumphing by the roadside. I, too, am finding many pleasures on this journey, marked halfway by Moose Jaw. Canada's prairies are full of the moments and things I love about travel.
I'm rolling along Highway 1 from Calgary to Winnipeg, which is 14 hours of drive time – nothing to an Australian – eked out over several easy days. I rent an American car the size of a steamroller, and almost as soon as I'm beyond Calgary's suburbs I'm into the prairies, the overlooked middle of Canada.
The prairies have a reputation for flatness and, sure enough, I sometimes get over excited when I spot a grain elevator. But there's a splendid minimalism to the landscapes. Lots of horizontal lines, a gigantic sky, the cool breath of the Arctic tundra from over the horizon tickling my neck. You can see forever, and it's exhilarating.
The prairies are seldom as flat as I expect. Just east of Calgary, I glimpse the canyon of the Bow River on my right. Soon after, windsurfers are skimming across Lake Chestermere like gaudy dragonflies.
Old glacial landscapes are rucked and rumpled. Little lakes are scattered like shattered mirrors. The Canadian Badlands – desert rawness and humped rock formations, some with caps like mushrooms – are out of Star Wars, as if I've taken a wrong turn and ended up on Planet Tatooine.
Highway 1 is Canada's main street, joining east and west coasts across all its provinces, and I'm right in its comforting midsection. It isn't only the landscapes I'm enjoying. Interesting vignettes of history sprout everywhere: prohibition-era smugglers' tunnels, First Nations and Chinese immigrant stories, forts and fur-trading posts from frontier days.
At Drumheller I find the world's biggest collection of complete dinosaur skeletons – who knew? Local museums all along this route are full of grinning fossil fish and colossal dinosaur bones. As for the steaks I'm served up at roadside diners, they look as if they've been carved off a Tyrannosaurus.
I love the kitschier attractions of Highway 1, too. An Indian head in, well, Indian Head, looking glum in a feathered headdress. The world's tallest teepee in Medicine Hat, stapled to an 800-tonne concrete slab to stop it blowing away. The world's largest Coke can – actually a painted water tower – near Winnipeg at my journey's end. Brilliant!
The other things to love about this highway? Place names like Elkhorn and Antelope and Summerberry. Pink-tongued dogs lolling at rural gas stations. Wooden barns skewed sideways by wind, but still standing defiant in trumpet-yellow canola fields. Local farmers with rust-stained hands and shy grins, always ready to talk to you in corner stores.
And oh, how I love the road signs, which are masterpieces of pithy understatement. 'Junction' for example – not the most useful of directions at a crossroads. 'Viewpoint ahead'. 'Share the road'. Just in case you thought it had been built just for you. 'Saskatchewan, Naturally'. Hmm, a lot more than that could be said about nature around here.
Leaving Medicine Hat early one morning, pronghorn antelopes leap across the landscape as if propelled by elastic bands. The air smells of grass and warming tarmac. In Saskatchewan, wind turbines stride across the horizon like an attack of the triffids. At Swift Current, parked cars are oddly out of place. This looks like the sort of town where you should be hitching your horse.
That's another thing to like about this Canadian road less travelled. Making this journey is to drive back into the past like Marty McFly, into a more courteous era of country towns and farms and milk bars. I'm given old-fashioned directions: "Turn right at the drugstore" and "go past the barn with the red door". In the Tim Hortons outlet, I overhear conversations about hopper tops and combine harvesters.
Tim Hortons is where travelling Canadians find coffee and football-sized muffins that smell of melted chocolate. There's always someone with a cute Canadian accent to talk to in a Tim Hortons, and in Swift Current that someone is Nathan Tremblay, who is driving from Toronto to Vancouver.
"Road-tripping is like a meditation," he tells me. "I roll down the window and the wind blows my troubles away. And I just stop when I want, take a photo, swim in a lake. Hey – you should stop at the big moose in Moose Jaw!"
Between Swift Current and Moose Jaw there are lakes everywhere, then fields of rippling wheat and canola: oceans of gold parted only by black tarmac. On the radio, announcers are updating the price of heifers and bushels of wheat as I arrive at Moose Jaw and its moose statue.
Later, just before Manitoba, the highway tilts downwards as if about to propel me off the edge of the Earth. A breeze whispers through the car. White-topped hills are surrounded by skirts of fertile farmland. All this was tall-grass prairie once; now it's acres of beets and potatoes and onions.
Winnipeg is up ahead. I never get any closer to the horizon, but that's okay. I love prairie Canada's cold sharp air and the pared-down chic of this scenery. I'm driving through a Rothko painting. Great squares of yellow sunflower fields, oblongs of red barns, blue sky. White clouds drift overhead like colossal sheep. The car engine hums and, like it, I feel utterly content. Sometimes you can't be in a better place than on the road less travelled.
Next time, come with me as I get into the gentle autumn art of leaf peeping, a very Canadian pastime sure to make you dizzy with delight. Or is that just the maple syrup kicking in?