Meanwhile in Canada... walk amongst bears as they feast on salmon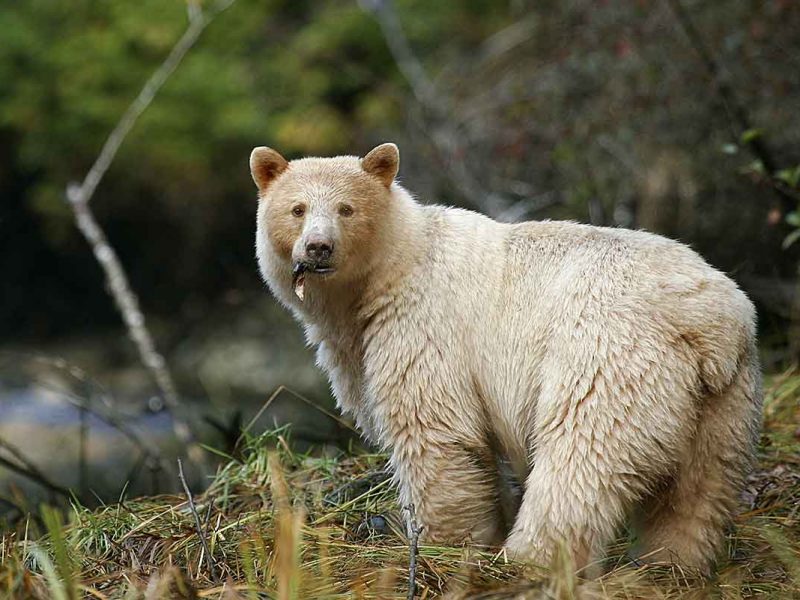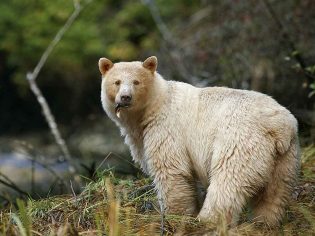 In British Columbia, experiencing the 'bear' essentials in the wilderness is a thrilling experience you'll never forget.
This is story 13 in our Meanwhile in Canada… series.
I'm deep in the forest, damp cedars at my back, lichen-splotched boulders to my side, a river foaming beyond.
I gulp in air scented with pine needles and moss, my heart banging in my chest like a bass drum. A hundred metres away, a bear stands in the river. It's a great raggedy, wet creature of muscled power with extended claws the size of garden clippers.
Fortunately, the bear hasn't clocked my presence. It's too preoccupied with the fat salmon wriggling upstream amid the shallow rapids. Its huge paw slashes down and another fish is impaled; moments later it is half eaten.
A swirl of red stains the steel-blue river. The bear splashes in pleasure but is soon hunched over again, awaiting its moment to strike. It's September in the Great Bear Rainforest and the bears are out to fatten up before the long winter ahead.
Located in central British Columbia, the Great Bear Rainforest lies on a coastline mosaicked with islands and deeply-indented inlets. It's one of the last great expanses of unspoiled coastal temperate forests on the planet.
Getting here is an adventure in itself; I came by boat, weaving between pine-topped rocks lapped by clear, blue waters. Startled seals watched as I disembark, twitching their whiskers as if in disapproval.
The landscape here is powerful. Spirit Bear Lodge, my base for the duration of my stay, sits in an environment that is next-level remote.
Ancient trees groan and sway in the wind and jagged blue peaks on the horizon scratch against the limitless grey sky. Orcas puff and snort in the water. Bald eagles glower from the treetops.
But it's the bears that everyone who makes it here wants to see. While we like to think of these creatures as cute and cuddly, Canada shows nature at its most elemental. Seeing bears in the wild is one of the world's great natural encounters, at once thrilling and terrifying. There are three types here: black, grizzly and Kermode.
The white Kermode is an important spiritual totem for the land's Indigenous people; seeing one in its natural surroundings is the ultimate dream, but one that is largely elusive given it's estimated only about 100 inhabit these vast woods.
The Kermode's Ursidae cousins can also be challenging to find. We chug along in zodiacs and tramp the foreshore under pewter skies as lodge guide Chris Arends studies paw prints and claw marks on trees. He knows the all-local bear haunts.
While searching he likes to regale guests with unnerving information about how fast bears can run, and what to do on camping trips in Canada: don't sleep in the clothes you've cooked dinner in lest one mistakes you for a sausage. Will I be safe up a tree, I ask. No, a bear will just shake it until I fall out like a ripe fruit.
I've spent time in British Columbia's forests before and learned about mindfulness (see my piece on bathing with your boots on), but nothing makes you quite as present as sharing your space with an apex predator. As I walk with Chris, I twitch at every snap of a twig. He explains that bears generally avoid people, but if we do encounter one at close range, we should remain calm, back slowly away and speak gently. Most bears will wander off when they see you aren't a threat.
I have moments of sublime calm, too. The forest is strangely reassuring in its silence and immensity. Sometimes fog sets in. The rain drips down, nourishing rivers and waterfalls and an abundance of ferns and lichen. The trees are bent and battered by storms, and the coastline littered with tree trunks.
But I find the rainforest marvellous and the weather exhilarating, an essential partner in this unapologetic and persistent nature; without the rain there would be none of the beauty. No tinkling streams, no ancient groaning cedars, no glaciers glistening white on distant mountain peaks. No bears for that matter. I am humbled and exhilarated, waiting for my next encounter.
Next time, come with me to Quebec City to one of the most idiosyncratic cities in the world.
LEAVE YOUR COMMENT