Switzerland's quirkiest city... Basel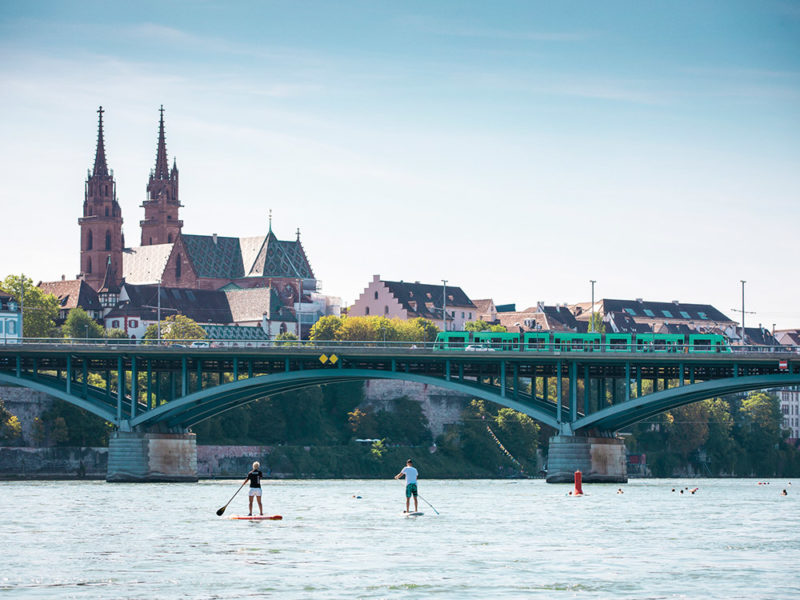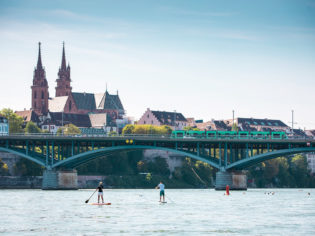 |

THIS ARTICLE WAS CREATED IN PARTNERSHIP WITH Switzerland Tourism

|
Basel might not be one of Switzerland's most prominent destinations, but there's plenty to enjoy in this cultured and surprisingly quirky city, says Brian Johnston.
On a fine day in Basel, the twin towers of the cathedral scratch a blue sky, and the Rhine River winks and gurgles. The cathedral roof zigzags in green and yellow, and its medieval facade pops with statues of saints in ridiculous hats. Over the porch, shrieking little figures are being flung from a wheel of fortune into the fires of hell.
This is just about the only sombre note in Basel, which is otherwise a cheerful city with a great lifestyle and abundant culture. Although it doesn't have the glamorous lakeside setting of some other Swiss cities, it has the Rhine, which made it rich on trade. Barges still toot as they float off towards Germany and the distant Netherlands. Joggers bounce along riverside promenades, and the water provides wonderful watery reflections of old-town spires.
Reasons to linger longer
There's plenty to like about Switzerland's third-largest (but still comfortably small) city. It's characteristically Swiss yet soaks up the influences of France and Germany, both of which start in its suburbs – a convenience that makes Basel a great northern entry point for a grand tour of Switzerland.
You wouldn't want to just transit through its efficient train station, though. This is a sophisticated, creative and interesting city. It has Roman foundations and Switzerland's oldest university, and was one of Europe's foremost humanist centres during the Renaissance. The great thinker Erasmus lived here, and is forever lodged in a tomb in the cathedral.
Basel is now a centre for the pharmaceutical industry, and the wealth this has provided its citizens has resulted in many fine museums, great cafés and a shopping scene that punches well above Basel's population size. Of course, not everyone is after antiquities or Picasso sketches (head to the old town's boutiques if you are), though you'll also find great handicrafts and boxes of milk-chocolate bonbons worth every calorie.
How to lighten up
The beautiful old town has an elegant severity – apart from the mad architecture of its orange-coloured town hall – but another surprise of this city is that Baslers are rather fun. In December, they drink mulled wine and nibble spiced biscuits in light-twinkled Christmas markets that spread across cobbled squares. Early in the year, the Lenten Fasnacht carnival is a three-day explosion of costumed party-goers who sing and listen to oompah music into the wee hours.
The food is hearty. Locally-brewed beer comes in five-litre glasses, accompanied by dumplings. And with its comfortable middle class, Basel has excellent restaurants. You can have traditional veal with rösti potatoes in a thirteenth-century tavern, or fusion-cuisine river fish at a hip restaurant. Four Basel restaurants have Michelin stars, one of which twinkles with three.
Enjoy some art and soul
Of course, you might expect an old town and fine dining elsewhere in Switzerland, but progressive, cultured Basel doesn't just cater to expectations. Beyond its medieval towers and Gothic churches, Basel displays some of Europe's best contemporary architecture. In fact, you can go on an entire contemporary architecture trail and admire creations by world-famous architects, including by home-grown firm Herzog & De Meuron, famous for designing Beijing's bird-nest Olympic stadium. Basel has a hospital that glows green, a translucent football stadium with pillow-like panels, and offices designed by Frank Gehry that resemble floating clouds.
When it comes to culture, not all Basel's art is straightforward either. True, the Kunstmuseum (Art Museum) has a great collection of Swiss and German art and fabulous Cubist and American canvasses. However, the quirky Museum Jean Tinguely displays the amusing concoctions of Switzerland's greatest twentieth-century sculptor: mechanised pieces assembled from scrap metal that clang and turn and wobble. As for the amusing Hoosesagg Museum, it's so small everything is seen through a single window.
Meanwhile Foundation Beyeler, with its fabulous collection of modern art, is housed in a building that looks like an avant-garde sailing ship above a pond-scattered garden. Inside, Monet waterlilies are reflected in the building's curtain wall, which in turn reflects the pools outside.
Enjoy a little more
This top-notch art museum is in Kleinbasel or Little Basel, a Swiss enclave on the otherwise German side of the river. You'll also find funky cafés and ethnic eateries and a youthful vibe, as well as great views across the Rhine to the old town. The promenades along the river buzz with energy. The summer, Im Fluss festival features live music from a stage floating in the river. From sunny café terraces, you can watch kids floating along on inner-tubes, and adults paddle-boarding. In the evenings, bars spill out onto cobblestones, sending a murmur of conversation down medieval streets.
There are plenty more surprises in Basel. This is a small city by world standards, yet has over 40 museums, a botanical garden, both symphony and chamber orchestras, a lively international theatre scene and one of Europe's best zoos – don't miss the adorable pygmy hippos. Industrial Dreilaendereck or Three Countries Corner district has begun sprouting artist studios, including the studio of Permi Jhooti, who first found fame as a professional footballer, inspired the movie Bend It Like Beckham, but has now reinvented herself as an artist working with high-tech gadgetry.
This whole arty district also clatters at the weekend with street buskers and beachgoers. The beach is artificial of course, but why should Switzerland being landlocked prevent some sandy enjoyment? Just order up a cocktail, and join the party.
Make your Swiss dreams come true! Click here for Grand Tour of Switzerland offers from Entire Travel.