Meanwhile in Canada... take a bath in your hiking boots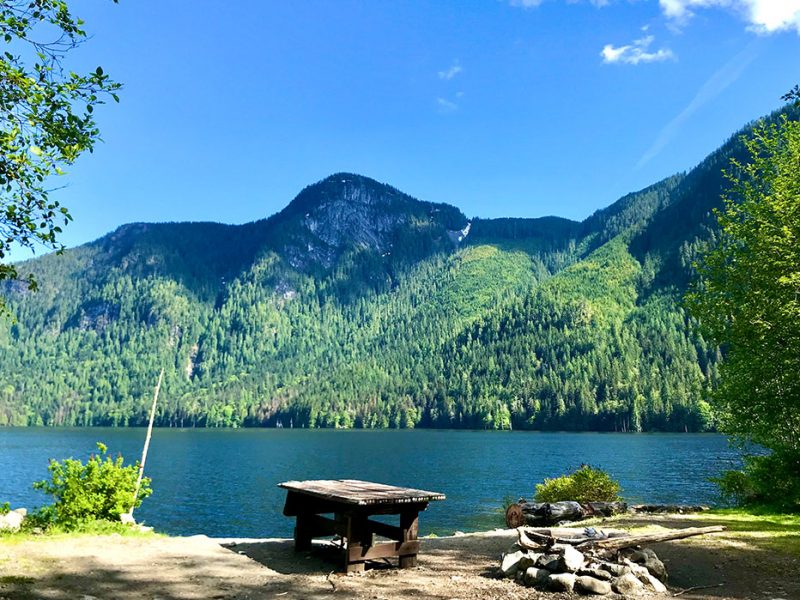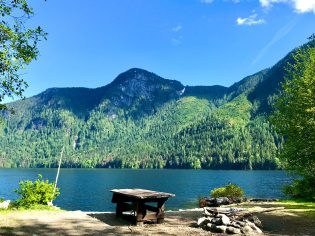 Never heard of forest bathing? Then get ready to revive your spirits by indulging in this curious pastime, which involves no water but plenty of trees.
This is story five of our Meanwhile in Canada… series.
At what point in British Columbia do I realise I've left my urban stress behind? Maybe as I head north from Vancouver to find office blocks and malls vanish surprisingly quickly. Soon the road is a grey strip between skyscrapers of green pine trees. Hillside boulders are blurred with moss. I can hear geese honking. In the distance, purple ridges promise an onset of mountains.
In just 45 minutes, my car is clanking onto the ferry at Horseshoe Bay and we're chugging through placid bays and islands capped by trees. Sunlight glitters across water blobbed with orange and yellow kayakers. Even the teenage ferry-goers look up from their phones to admire this fallen piece of blue heaven.
Maybe my unwinding actually starts as Highway 101 snakes north up the Sunshine Coast. It's an apt name. The Sunshine Coast lies behind the rain barrier cast by Vancouver Island, giving it Canada's longest frost-free season and extravagant blue skies. Well, sometimes anyway. I've taken a hint from the description 'temperate rainforest' and packed waterproof boots and a raincoat. And then there's the 'forest bathing' that promises a soaking. I have fond images of wallowing in a hot spring perfumed with pine needles.
I know my urban stress is really conquered when I start hiking. British Columbian forests are great cathedrals. They immerse you in a shadowy Gothic tangle. Ancient cedar trees creak and stir. Soaring spruce trees sport long, mossy beards. To an Australian, the abundance of water seems wanton. Streams chuckle, hiking trails are spongy under foot, and every rock and branch sprouts a frivolous headdress of ferns and fungi.
This is the sort of forest that refreshes your lungs and unwinds your mind. But where's the forest bath that's going to soothe my soles after a long day's tramp? Alas, these Canadians have bamboozled me. It seems forest bathing happens with your boots on. Turns out I won't be sinking into a bath's hot embrace, but lying on a damp log, soothing my soul instead.
But when a nice Canadian tells you to do something, how can you resist? The log-lying is forest therapy guide Haida Bolton's idea, and she's living proof it works. Her permanent cheerfulness gives her chipmunk cheeks and a goofy grin, and forest bathing has certainly soothed her. She once yelled at her kid all the time, she tells me. Now she's down to yelling just once or twice a year. She doesn't get sick as often, either.
It's the forest that improved her life, Haida tells me as we ramble near Pender Harbour. "I've transformed feelings of frustration into joyful energy after just five minutes of lying on a bed of moss underneath a giant cedar tree," she says.
Well, whatever. I'd probably need five years. And yet, contrary to expectations, I'm not long lying on a log when I get over feeling foolish, and find myself sinking into a meditative state as the sky flickers through branches, the breeze whispers its lullaby, and I inhale the resinous air. I certainly feel in no state to be shouting at children.
This is what forest bathing is all about. Studies have shown that being in nature really does lower stress, anxiety and even blood pressure. But it's no good stomping around with your urban high energy, says Haida. "Slow down… slow way down to a snail's pace. Stop often, look closely, touch, feel, smell, breathe deep, allow the ambience to still the mind and body. Sit on the forest floor for 20 minutes and discover sights and sounds you'd normally miss."
And so I do. I run my fingertips over rough rock. I listen to the chatter of streams. The giant trees are wonderful, but I start to notice ferns, fungi and mosses, too. Then Haida invites me to stroke a mushroom. I almost laugh, but it seems like such a calming Canadian idea that I obediently do as she says. The mushroom is velvety and seductive. Soon I'm touching everything: gnarled tree bark, plump berries, wet leaves, soil that smells like plum pudding.
Later that week I hit part of the Sunshine Coast Trail, which meanders through old-growth forest and across alpine meadows. I stay overnight in one of the 14 free hiking huts that dot the track, and sleep like the logs I've started to lie on. The hut is surrounded by Douglas fir forest. Eagles patrol above. In the morning, I try my hand at mindfulness and start to notice tiger lilies, peeling red bark, and the orange pop of salmonberries in the undergrowth.
I've since become a big fan of British Columbian bathing with my boots on. Now I try to get into the forest every time I visit. Forest bathing certainly beats screen gazing. My wi-fi is often dead, but I feel more alive. The forest breathes on you like a benediction.

My latest discovery is the forest of the mist-shrouded Haida Gwaii archipelago. You can see that forest bathing here is nothing new: First Nations' people have appreciated the healing power of nature for centuries.
I stay on the Haida Gwaii islands in an Indigenous-operated lodge. I feel as if I'm staying on the edge of the Earth, where it dissolves into ocean and mist and rain. The cedars are 1000 years old, and Sitka pines shoulder the sky. I zone out, and my world becomes raindrops on moss, woody smells, the lurch of butterflies, the hunched brooding of bald eagles on bare branches.
I lie on a few more logs. I even get carried away and hug a tree, and for a moment time seems to stand still, and all is right with the world.
Next time, come along with me as I take my new-found meditative state on the road and learn that the highway to nowhere is sometimes the best – even in Canada's in-between bits.
This is one of a series of stories on Canada, read more Meanwhile In Canada… stories,
For more hiking British Columbia inspiration, try these 5 gentle hikes in British Columbia.
LEAVE YOUR COMMENT