The Ultimate Jasper Ski Guide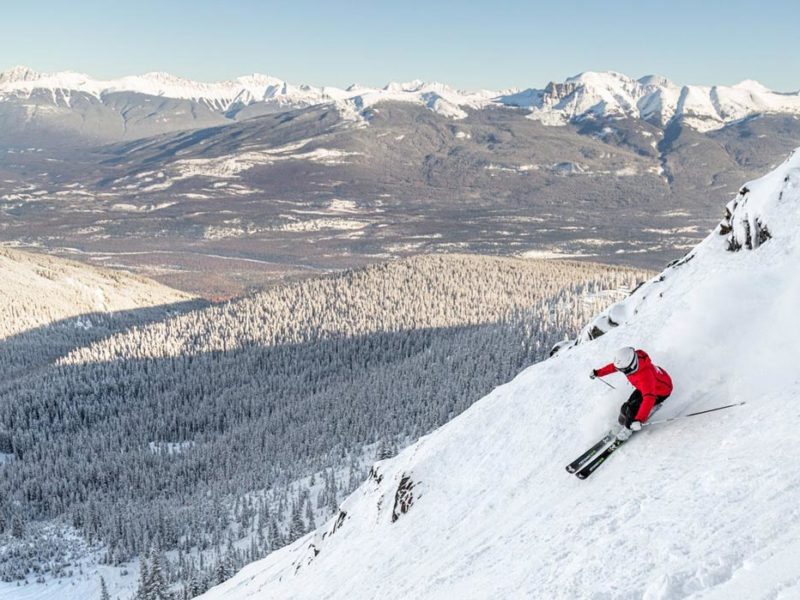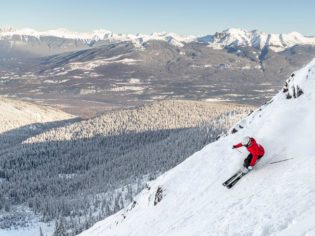 If you're looking for pristine mountain scenery, Jasper's condo-free Marmot Basin makes the most of its spectacular national-park setting.
Why it's a secret gem
Skiing and snowboarding are tons of fun just about anywhere but, if you want to stir your very soul while frolicking in the snow, there's nowhere better than Alberta's Marmot Basin.
Spilling down the slopes of 2612-metre Marmot Peak, the ski area is conspicuously devoid of slopeside condos, thanks to its environmentally sensitive location in one of Canada's first and largest national parks.
Who will love it
Forget selfies on the chairlift – a trip to Marmot (and Jasper) calls for serious photo gear.
The national park was declared a UNESCO World Heritage Site in 1984, and it's easy to see why: dramatic waterfalls, deep canyons, pristine lakes and glittering glaciers punctuate a sea of snow-capped Rocky Mountain peaks, one of which is home to Marmot's 86 named trails. Indeed, a run from the top of the Knob Chair to the base of the Canadian Rockies Express quad – the longest chairlift in the region – can encompass everything from high-alpine bowls and chutes to winding, tree-lined trails and groomed cruisers. Schussing shutterbugs, your heaven awaits.
Three things you must do
1. From the top of the Knob Chair, a 30-minute trek up a well-travelled path will take you to the summit of Marmot Peak. The view on a clear day is jaw-dropping, with the town of Jasper in the distance to your left, the Athabasca River meandering far below, and peak after peak stretching to the horizon. Once you've taken it in – and snapped a few hundred photos – the intermediate ride down will make you want to do it all again.
2. Jasper's famous limestone gorge Maligne Canyon is a half-hour's drive from Marmot, and can be toured in winter on guided 'ice walks'. At the bottom of a chasm, 20 metres deep, pick your way across the frozen river while admiring countless spring-fed icefalls, and crawl into ice caves formed by warm air vents.
3. No trip to Jasper is complete without driving down the impossibly scenic Icefields Parkway to the foot of the amazing Athabasca Glacier, which flows out of the city-sized Columbia Icefield and down the slopes of its namesake peak. A few kilometres north, the new Glacier Skywalk invites visitors onto a glass-floored observation deck.
Local secrets you should know about
As the second-largest Dark Sky Preserve in the world, Jasper takes pains to eliminate light pollution. This special status lures astronomy buffs from around the world, but even naked-eye stargazers will be startled at the brilliance of a clear winter sky. Stop by the Jasper Information Centre for tips on the most scenic spots to stare skyward.
For a bigger surprise on a much smaller scale, head to Oka Sushi in the venerable Fairmont Jasper Park Lodge. The tiny eatery serves incredibly fresh seafood – given that the closest ocean is about 800 kilometres away – with their Jasper Roll combining crabmeat and shrimp with a spicy secret sauce. Pass the sake!
Off the slopes
Many of Jasper's most famous sights can be visited via groomed cross-country ski trails, including the ice-encrusted Athabasca Falls and 3363-metre Mount Edith Cavell, home to the dramatic Angel Glacier.
The Miette Hot Springs bubble up to the surface south of the Trans-Canada Highway on the way to Edmonton – the views from the manmade pool complex are worth the price of admission alone – but the opulent spa at the Fairmont, home to a year-round heated outdoor pool, offers a closer option for Marmot skiers, along with mountain-stone massages and Turkish body scrubs.
Best après-ski hotspots
Marmot is home to several cosy and convenient après venues, including the Caribou Chalet and its Kokanee Glacier Deck for alfresco brews.
In town, the options are more varied, with the Jasper Brewing Company crafting and pouring its own pilsners, IPAs and ales, and the Whistle Stop Pub serving up screens for sports fans and live music to keep the good times rolling.
Skiers will love
Neverending first tracks
With its nearest competitor more than 200 kilometres away (in Banff National Park), and with the nearest international airport more than 400 kilometres away (in the city of Edmonton), the slopes of Jasper's solitary ski area are rarely crowded.
This means plenty of alone time with untracked powder and the world-class scenery surrounding it.
Snowboarders will love
Marmot's ski school has enlisted its top instructors to take willing and able guests down the steepest and snowiest runs (in other words, the runs locals want to save all for themselves).
Recommended places to stay
Budget
Two blocks west of Jasper's main drag, Connaught Drive, this cheerful spot offers private rooms with ensuite bathrooms and dorms with shared facilities.
Address: 400 Patricia Street
Midrange
Sawridge Inn & Conference Centre
This roomy, comfortable property, one of many hotels along Connaught Drive, is home to three eateries, a heated indoor pool and a soaring atrium.
Address: 76 Connaught Drive
Family
This dependable option features family suites with kitchens and fireplaces, as well as an indoor pool, steam room, hot tub, sauna, and restaurant and lounge. And it's pet-friendly (bonus points).
Address: 98 Geikie Street
Luxury
This 283-hectare estate on Lac Beauvert features dozens of upscale cedar chalets and opulent cabins, along with upscale trappings such as a 930-square-metre spa and lavish shopping concourse. The main lodge, meanwhile, is textbook rustic luxury.
Address: 1 Old Lodge Road
LEAVE YOUR COMMENT