Alaskan grizzly bear encounters in the wilderness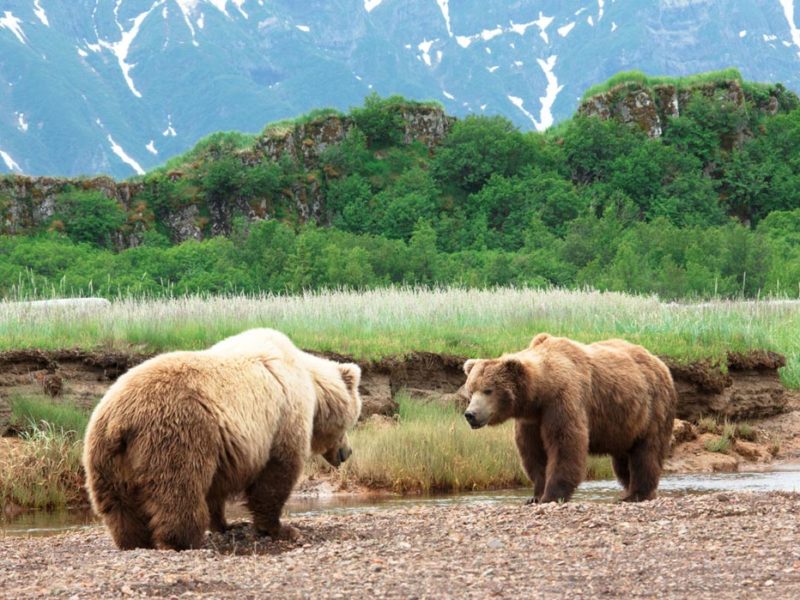 One of our International Traveller readers ventures into Alaskan bear territory and lives to tell us this tale.
The most breathtaking landscape greets me on my arrival into Homer, Alaska. Beautiful summer cotton flowers against a brilliant blue sky and the backdrop of snow-capped mountains; Alaska is like a postcard image. Homer is my overnight stop before venturing out into the wilderness of Alaska. I have arranged a guided Alaskan grizzly bear tour with a small group of photographers from around the world.
This trip has been months in preparation. Even in summer Alaska's weather is highly unpredictable and can fall to zero degrees overnight.
I have packed for every contingency, even purchasing a GPS locator in case of emergencies. It's always good to be prepared when you're over 500 kilometres from the nearest access road and 200 kilometres by air from the nearest civilisation.
Hallo Bay is surrounded by just over 10,000 square kilometres of Katmai National Park on three sides and the Pacific Ocean on the other.
I'm a mix of emotions at this point, really excited about getting close to Grizzly bears in the wild, but equally nervous about living in the remoteness for a week with these powerful creatures.
I arrive at the small airstrip in Homer and am met by our pilot Jessie, and our six-seater plane. My fellow adventurers include a Scot and two Californians, all just as excited as I am about this adventure. The flight to Hallo Bay is just over an hour. It's such a humbling experience viewing this remote landscape from above.
The plane lands on a desolate stretch of beach, where we meet our bear guide, Phil, who has been guiding for 20 years. We are in capable hands, but our protection is basic. No firearms; just bear spray if needed and a flare.
This really is bear country; five minutes into our hike we spot our first Grizzly lying in the long grass, catching some afternoon Alaskan sun. He is around 600 kilos and two metres in height when standing. Not at all concerned by our presence, he dozes in the grass – sleeping giant springs to mind.
Single file we continue along the trail until we reach a group of four large Grizzlies grazing in the meadow. They look our way with a half sideways disinterested glance and continue to feed. We set up our cameras about 50 metres from them. The only sound in the meadow is the machine gun stutter of camera shutters.
A female blonde Grizzly decides we are worth a closer look. She heads our way, slowly but deliberately. 40, 30, 20 metres. Fear at this point is non-existent. Adrenalin yes, but it's more that I am in awe of these beautiful animals experiencing them for the first time up close.
Day two we pull on our waders to hike out from camp along the beach. As we head off two Grizzly bears appear on the outskirts of our camp. We walk to within 15 metres. The bears look up and assess our approach, but go back to the job of clamming on the beach. Their giant paws easily dig the clams out of the muddy sand. Razor-sharp teeth expertly pry open the shells.
We set up our tripods on the beach. The bears look up again, more curious this time staring straight at us. A female moves closer. Phil reassures us to hold our ground.
I find myself holding my breath, not in fear but trying to ensure I don't miss the shot. As if on cue, she walks within an arms reach of me before continuing to slowly walk past. I get the shot.
We cross the river into the meadows. A male Grizzly appears – he is immediately alerted to our presence. With the Grizzly 40 metres away from us, Phil looks to change our position to have room to exit quickly if needed. Without warning the Grizzly turns and runs away from our direction. He covers 10 metres within seconds.
Just as abruptly, as if he says to himself, 'Hang on a minute, I'm the bear', he suddenly stops mid-run, turns and charges back towards us.
Holding my camera, I steady myself focusing on getting the shot. Lightning-quick Phil grabs for bear spray. Confident in his actions and tone of voice he takes a step forward and firmly and loudly tells our charging male "No bear, NO" several times.
This Grizzly's charge is thankfully just a bluff. He skids to a stop; his point proved and swaggers off. No spray required.
As a travel destination, Alaska is an amazing, challenging, beautiful place.
My wildlife encounters throughout the week were everything I imagined and more. An abundance of Grizzly bears, Bald eagles, foxes and wolves all live in this place.
The cold and unpredictable conditions are soon forgotten once you have the opportunity to experience Alaskan wildlife up close.
Our last day, whilst awaiting our plane, a fox appeared on the beach.
I had seen this beauty a few times near the campsite but had been unable to photograph her. Just as our plane approaches and I had packed away the last of my camera gear, she walks towards us and sits down watching our departure.
A fitting farewell from this special place. But I know this won't be my last visit this untamed frontier.
LEAVE YOUR COMMENT