The hottest openings and travel news you missed in UK & Ireland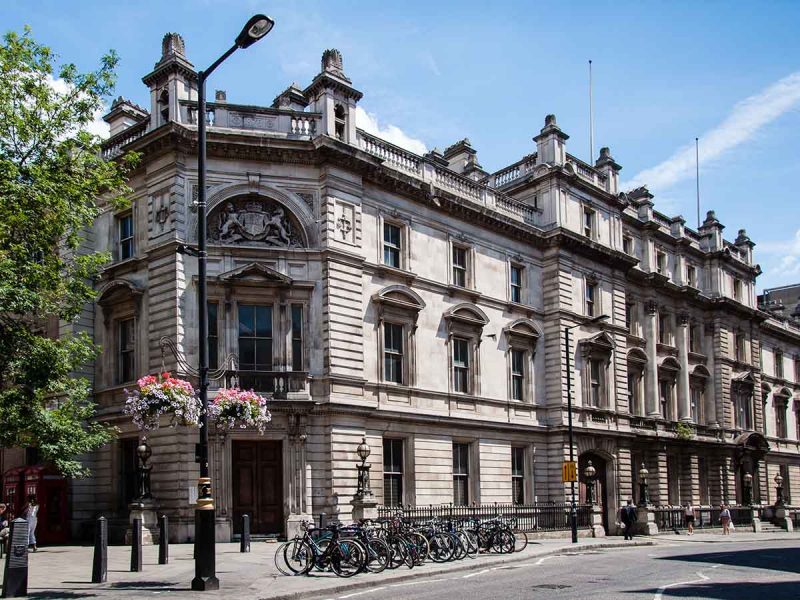 It's been a while since we've been out there, but the world hasn't stopped moving. From the latest hotels to new retreats in far-flung destinations to museum openings and what's trending, here is all the inspiration you need to inform your travel plans to UK and Ireland this year and beyond.
Selfridges reveals bold sustainability strategy
While retail-therapy-starved shoppers raced to Selfridges after a long spell in lockdown – it was revealed as Uber passengers' most popular destination in the whole of Europe in 2021 – London's luxury department store is shifting down a gear with its bold sustainability strategy. Launched in 2020 with clear five-year commitments, Project Earth sets out to reinvent retail for the good of the planet. As part of this, it has welcomed a new plant-based fine diner, Adesse, from chef Matthew Kenney, which joins a growing trend in the UK capital.
London's Gauthier Soho restaurant turns vegan
Helmed by chef Alexis Gauthier, this high-end French restaurant set across three floors of a Regency townhouse in Soho turned completely vegan in 2021; a Michelin star attests to the fact that it works.
Dine at the new plant-based Mallow, London
Based at historic Borough Market as an extension of its abundant stalls of fresh and artisan produce, Mallow is a new plant-based all-day dining concept from London vegetarian institution Mildreds.
Pret A Manger introduces vegan-friendly menu
Hats off to UK sandwich chain Pret A Manger, staple of London office workers and on-the-go tourists, for its introduction of vegan-friendly Veggie Prets across the capital from Soho to Hackney.
Experience Peaky Blinders in Birmingham
You can thank Peaky Blinders for helping to transform the post-industrial image of Birmingham, shining a light on its rich seam of creativity and creating something of a tourism boom. From tours to events to street art, there's no shortage of ways to be immersed in the world of the hit TV series while there, and its influence is such that it will inform part of the opening and closing ceremonies of the 2022 Commonwealth Games, held in the West Midlands city, as well as the cultural program running alongside it from March to September.
Stay at Glebe House, East Devon
From Brae to the Royal Mail Hotel to Bannisters, Australia has its fair share of 'restaurants with rooms', but it's a concept that hasn't yet taken hold here quite like it has in the UK; seeking out the country's best dining rooms with stylish digs to bed down in for the night has become something of a British staycation trend over the past two years, and one of the stars to have emerged is Glebe House. This restaurant, a six-hectare smallholding and guesthouse that opened in March last year sees owners Hugo and Olive Guest apply inspiration taken from Italian agriturismos to their own patch of East Devon. The result is a unique foodie retreat that is authentic and of its own place.
Restaurants with rooms
Coombeshead Farm
In neighbouring Cornwall, Coombeshead Farm is one of the originals and still one of the best; dine on freshly harvested fare and sleep in a converted grain store among 26 hectares of meadows, woodland and streams.
Ynyshir
Destination dining at its most daring, Ynyshir restaurant and rooms promises an 'incredible culinary experience with loud music and fire' in the heart of Wales; new to its accommodation offering in 2021 are three tepees.
The Wife of Bath
The Wife of Bath in the historic Kent village of Wye serves up fine food alongside six bedrooms each named after a character from Chaucer's Canterbury Tales, in which Wye featured as a place of rest for weary pilgrims.
The new RHS Garden Bridgewater
Head north to Salford, Greater Manchester, to explore the largest gardening project in Europe. Designed by landscape architect Tom Stuart-Smith, the new RHS Garden Bridgewater is a radical and sustainable concept. Sprawling 62 hectares on the historic site of Worsley New Hall, its horticultural heart is a five-hectare Victorian walled garden, the only remaining part of the estate. Other highlights embedded in local heritage include a wellbeing garden, no-dig kitchen garden and Chinese-inspired garden.
Traverse the England Coast Path
The completion of a new stretch of the England Coast Path means travellers are one step closer to being able to walk the entirety of the country's diverse 4345-kilometre coastline. What will soon be the longest coastal trail in the world is currently walkable in cherry-pickable stages, from London to the sea via the wilds of the Thames Estuary (the newly minted Grain to Woolwich stretch), to the North East's rugged Northumberland coast and to the South West's ancient and awe-inspiring Jurassic Coast.
Belfast awarded UNESCO City of Music status
Belfast has been awarded UNESCO City of Music status, and you can explore its rich musical heritage – its homegrown luminaries include Van Morrison, and it's twinned with Nashville – through its suite of intimate gig venues, a stop at Oh Yeah Music Centre, a creative hub housed in an old bonded whiskey warehouse, or by joining the Belfast Traditional Music Trail. Dublin, meanwhile – a UNESCO City of Literature – will be celebrating the centenary of James Joyce's Ulysses this year, which unfolds around the Irish capital; follow in its footsteps with a program of artworks, readings, talks, food and walking tours, exhibitions, music, theatre and more.
Stay at The Albion, Aberteifi (Cardigan)
From the creative minds behind Fforest Farm, a unique 'outdoor hotel' concept in West Wales, The Albion is taking shape within two historic warehouse buildings overlooking the river in one of Wales's most historic towns, Aberteifi (Cardigan). Retaining as many original elements as possible, including 19th-century pencil sketches of tall ships on old lime-washed walls, the 23-room boutique hotel will celebrate the town's maritime heritage and the journey of the brig Albion from Cardigan to Canada in 1819.
Scotland declares 2022 as the year to slow down
Unable to skip across the Channel during the lockdowns of the past two years, Brits, like Aussies, took to exploring their own backyard with gusto. And for many, this meant heading north to Scotland to breathe in its wide and wild open spaces. Sensing the zeitgeist, the country has seized the moment to double down on communicating what has always been true: that it is the ultimate slow travel destination. Identifying how the pandemic has been a force for positive change in terms of tourism continuing to develop responsibly, Scotland has declared 2022 as the year to slow down, stay longer and savour the local charm. There are any number of ways to take this lead.
Consider taking your time exploring the world's first-ever UNESCO Trail, launched in October, which loops together 13 of the country's most iconic, diverse and culturally significant sites – from the Heart of Neolithic Orkney to the cities of Edinburgh, Glasgow and Dundee (UNESCO Cities of Literature, Music and Design respectively; Perth, the first city in the UK to be awarded status as a UNESCO City of Crafts and Folk Arts, will be added in 2023). Or follow the Scottish leg of the UK's first Vegan Food Trail, launched in September last year, which covers Argyll and the Isles on the wild West Coast. Or literally savour a sip of whisky; a number of distilleries across the country run on renewable energy and Eden Mill will become one of Scotland's first-ever carbon-neutral single-malt whisky distilleries when it opens soon in St Andrews. visitscotland.com
Sleep in a Field Of Light, Somerset
Bruce Munro's Field of Light might be synonymous with Uluru, but this awe-inspiring light installation is currently also in situ at Marston Park, a 'playground for creativity with grown-up food and drink' located in the countryside outside the reinvented market town of Frome, Somerset. (It's something of a homecoming for the artist, who lives in neighbouring county Wiltshire.) Best of all, Light at Marston Park offers the opportunity – for the first time anywhere in the world – to stay overnight among it (29 April – 30 October), in a bell tent luxuriously furnished with a double bed, a wood-burning stove and artists' materials, no less.
See Yayoi Kusama at the Tate Modern
Yayoi Kusama: Infinity Mirror Rooms On display until 12 June, London's Tate Modern presents a rare chance to experience two of Yayoi Kusama's absolutely mesmerising and totally immersive Infinity Mirror Rooms. Book well ahead.
LEAVE YOUR COMMENT