Dublin's 5 Weirdest Pubs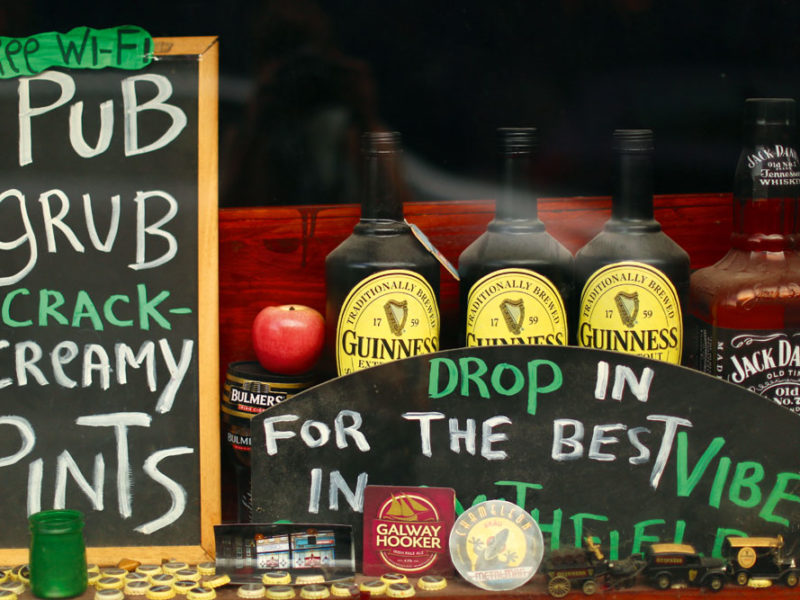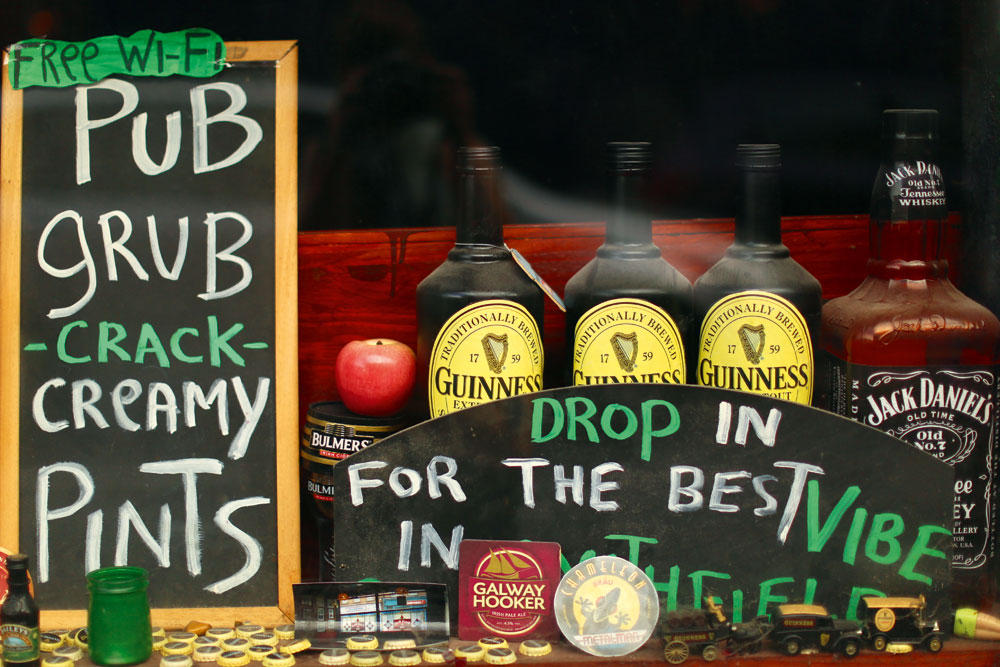 Jennifer Pinkerton steps away from Dublin's usual drinking holes to hunt for the brazen and the bizarre.
1. Frank Ryan and Sons
5 Queen Street
The clock is permanently set to midnight at the heaving corridor of music memorabilia that is Frank Ryan and Sons. Red neon lights illuminate owner Tadgh's quirky collection of old boots, feather boas, television sets, record covers and mesh lingerie – the latter of which hang from a line pinned near the toilets. Music is king here: live sets of blues and rock are regularly played. "Come inside for the best vibe!" a local encourages. I wonder if he'll be here at 'close' when Frank Sinatra croons on cue, beckoning drinkers to polish off pints and exit this cave of crazy.
2. Dawson's Lounge
25 Dawson Street
'Probably the smallest pub in the world' is etched on the red door at Dawson's Lounge, a pub set in a killer location opposite St Stephen's Green park. I descend down two flights of stairs to a wooden-panelled, L-shaped room. It's tiny; the ladies' loo, for instance, has a cushioned ceiling that stops its occupants from banging their heads. Similarly, the bar's Guinness deliveries occur twice weekly because "we've nowhere to store it. The cellar's too small," says owner Ron Black. Indeed, it feels more like a lounge than a pub – but that's the crux of its charm.
3. The Bison Bar
10 Wellington Quay
Paul Hogan's mug crops up in the strangest of places, including a spot on the wall at new whisky joint, The Bison Bar. "There's your pal," says a local bar fly, elbowing me in the ribs. But the real star is a giant Bison's head, hung so that it stares down at all who enter from the street. Saddle stools line the bar front and saloon doors partition the 'front' from the 'back' bar. There are 150 varieties of whisky on tap, as well as the affections of the barman – provided you're partial to free hugs. As I depart, he gathers my neck in his arms. "I'm a nice bloke," he says. "And so, so lonely."
4. Gravediggers
1 Prospect Square
A crow's flight from Glasnevin Cemetery rests Kavanagh's, better known as Gravediggers. Six generations of the Kavanagh family have worked the floors of this deliberately run-down relic, now 180 years old. It's gritty, dark and happily free of blazing radios or television sets. Gravediggers is pure, pared-back pubbing: all cosy nooks and clusters of old-fashioned fancy, such as wooden medicine chests and curved, classic cash registers. Visitors rate its draft beer, too. In the words of one drinker: "This is the most exquisite pint of Guinness I've ever had."
5. The Confession Box
88 Malborough St
To be frank, Malborough Street is a little edgy. But The Confession Box is the diamond on this stretch of 'rough'. The pub draws its title from the fact IRA soldiers once made confession to sympathetic priests here during years when the church banned them from doing so. Over two storeys, walled in eucalyptus-green paint, The Confession Box has an immaculate, churchy feel. Just like its namesake, it's tiny – not much bigger than Dawson's Lounge, in fact. Pop in during the day to avoid the after-dark brouhaha. Or join in to create your own reason for confession, perhaps.
LEAVE YOUR COMMENT