Tokyo Disneyland: a grown-up's guide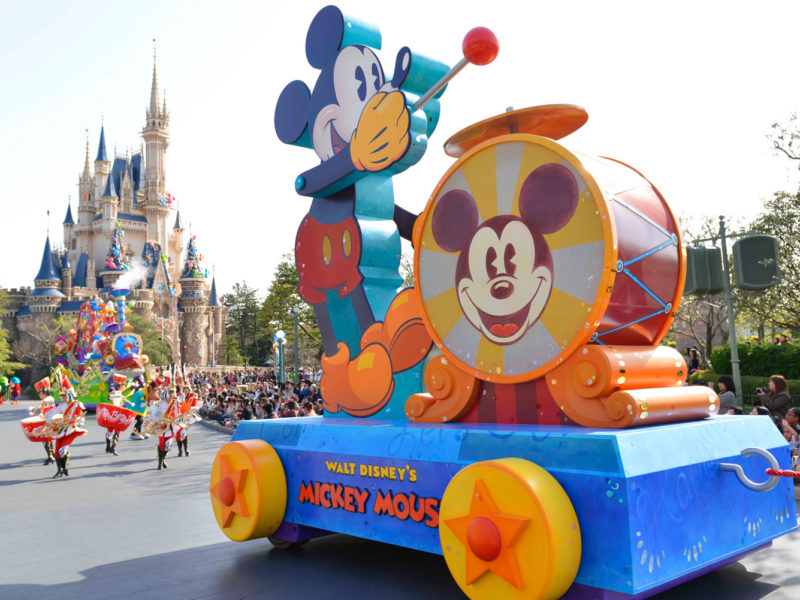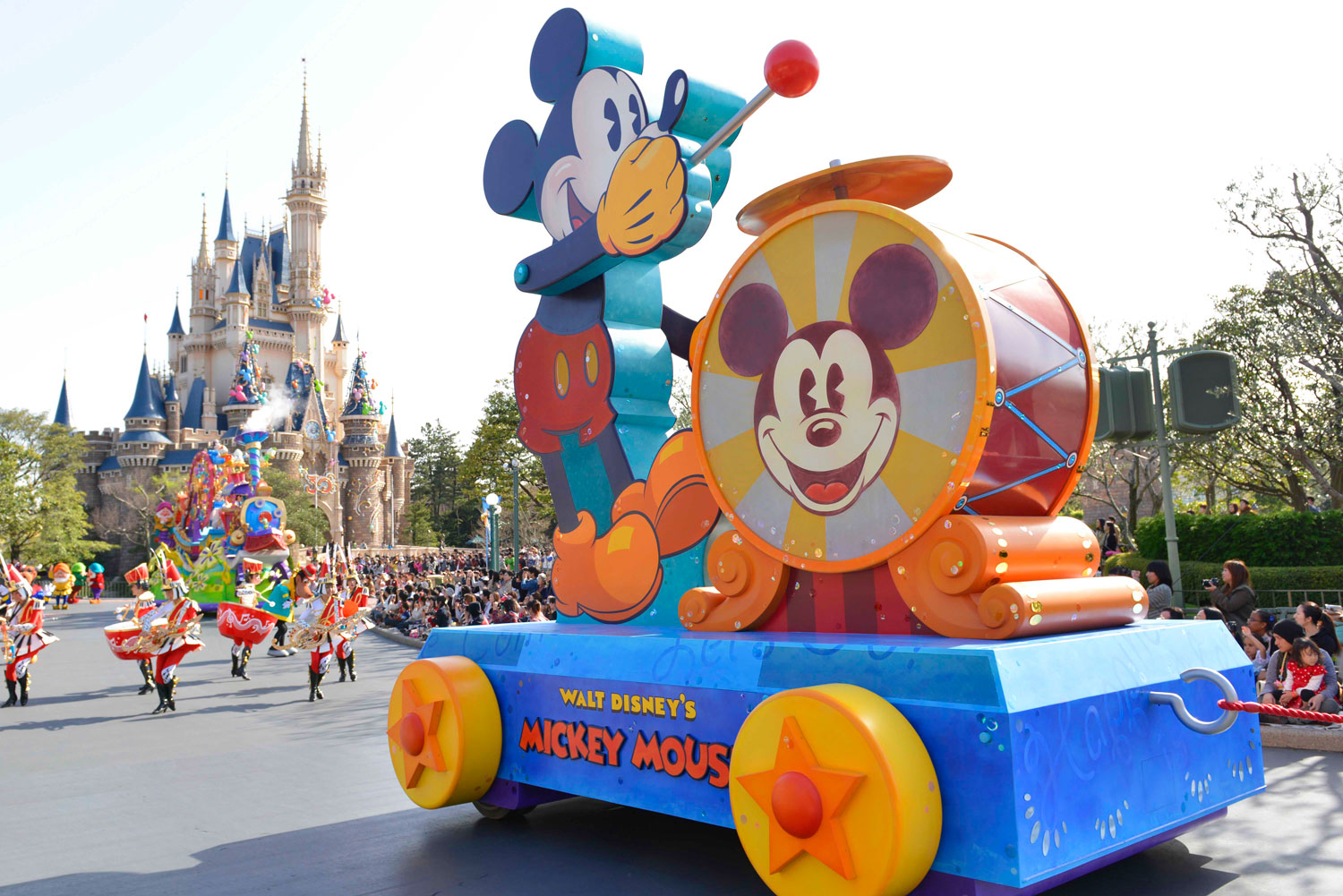 Jen Pinkerton shows grown-ups with kids in tow, adult fans of Mickey, and simply the curious among us, how to get the most out of Tokyo Disneyland, a slice of Americana 'Nipponified'.
Skip to the bottom for a quick-read five-step survival guide
It's 9am on a mid-week morning in Japan and rivers of Disney fans flow towards Mecca. As anyone who's been to Disneyland will know, Disney's fanbase stretches across all generations and is loved by toddlers and adults alike. Teenage girls wear hairdos the shape of mouse ears. Toddlers dress as queens. Grown men carry backpacks cloaked with clip-on toys. In short, all paths leading to Tokyo Disneyland are a stage. And against this crowd, even in my fluro-flecked frock, I look as dull as a doorknob.
A precautionary email from a friend pops into my head. "It's normal to queue at the Disneyland entrance for a couple of hours so GET THERE EARLY." I hadn't taken the tip. But with Zip-A-Dee-Do-Dah floating from nearby speakers, and all these people to watch, who needs rides?
Let me confess: in the lead up to this moment I'd been a little nonchalant. I was excited about Japan, but Disneyland? I'd seen the Los Angeles version as an 11-year-old with an overbite and a nose for bad tracksuits. Sure, I loved it. But I was a kid. Twenty years later, singing animals have somewhat lost their sheen.
However, preconceptions aside, there must be something about the place. It's popular. And when I say popular, I mean it's The Most Visited Site in Japan. Along with add-on DisneySea, Disneyland elbows out tourist rivals such as Tokyo's temples and its quirky epicentre, the suburb of Harajuku.
Now at the starting gate, this foreign visitor passes 'go'. I emerge inside a giant green house: a glass-roofed structure filled with lantern-lit streets, Parisian-style cafés and oddball 'cast members' such as a bicycle-riding piano player. In the distance I make out the Sleeping Beauty Castle. It's swaddled in early morning haze. This is quite the magical entry. And a quiet one, too.
Softly, patiently
That's the first thing you notice about Tokyo Disneyland. Boisterous it ain't. Disney songs softly spill into the park. People queue patiently. For a place teeming with visitors, it's markedly hushed – a trait that pervades Japan as a whole.
First things first, I try the Star Tours ride, which is a bit like an intimate IMAX theatre with shifting seats. We spin through galaxies on a spaceship and watch Chewbacca claw at our ship, leaving a trail of oily paw prints on the windscreen. The commentary is all in Japanese, but it doesn't seem to matter.
Next up, Jungle Cruise, manned by a gymnastically gifted skipper. As the boat wheel spins, our host flips backwards, performing a reverse limbo move. He twirls his wrists excitedly. "I am Japanese Idol!"
From there we hit the vividly lit It's a Small World, then Space Mountain. While kids go bananas over the former, it's Space Mountain that sends me into high gear. I start to feel like I imagine an addict might. After minutes spent hurtling through darkness, kept company only by tiny lights and minimalist techno, something snaps in my brain. I'm reconnected with that tracksuit-clad 11-year-old. I feel slightly nauseous, yet completely hooked. Briefly, I forget I'm in Japan.
In my best Darth Vader voice, three words rise from my throat: "I. Want. More." High adrenaline rides need only apply. Tower of Terror, Indiana Jones Adventure and Splash Mountain all make the cut.
Come mid-afternoon, however, these old bones need a rest. A tip from my older self: make a plan to see and do what you want with a map of the park, if not you may walk straight past some highlights. Plus don't take on too much; it's a big place and old legs will be tired by the end of the day, let alone young ones.
The Olympic-esque parade
There's a daily 3pm parade and it's worth a watch. It feels like a scene you'd see at an Olympic Games opening ceremony. Think giant floats, great costumes and ample licks of make-up.
The performance seems more manicured than you'd find at US Disney. Moves are flawlessly choreographed. Cute flows in abundance. Admittedly though, the parade's English soundtrack, Happiness is here, grows old quickly. (Perhaps, as it's not in Japanese, locals don't mind a touch of repetition.)
I wander by the Sleeping Beauty Castle to take up a viewing spot in the Wild West at Westernland. As I do, chimes sound from the garden. Nice touch, I think. It's among the many small devices that help reset visitors' moods – psychologically immersing them in whichever 'theme' they're amidst, be it a magic garden, tropical jungle or haunted house.
On the parade-watching grounds beside me, two Japanese teens adjust huge hair ribbons. A child in Snow White garb waves sweetly. A woman with a British accent leans close: "Disneyland has its heart in the right place, doesn't it?"
She's right. Sure you could grumble about the long waits for rides and the odd spot of cheesiness, but essentially Tokyo Disneyland captures something mercurial: our imaginations. It also throws in a good dose of surprise. Take the bicycle piano, for instance, or a 12-piece marching band that springs into action around midday.
The American v Japanese models
But more enticingly, for me at least, this Disneyland visit doesn't just glean its value from the cleverness of the park. It comes from the way in which the attraction stands apart from its American mould. It's the Japanese-ness. And that includes how much the people here adore all things Disney.
There's a childlike innocence to Disneyland – and indeed to much of Japan. The park dunks you headfirst in fantasy. It also gives visitors license to dress up and unleash their inner crazy (in a loud-but-oh-so-quiet Japanese way).
My own attire might not measure up, but as this fluro-flecked dress exits after dark, I'll be darned if Disney songs haven't looped into my thoughts semi-permanently.
Zip-a-Dee-Do-Dah accompanies me while I ride the elevator, turn the room key and brush my teeth. In the mirror I can't help noticing my overbite. Had it popped back for the night, just to remind me I was once 11? More likely, I think, as I drop into bed, the overbite – and the bad tracksuits for that matter – never really left.
A parent's survival guide
Eat lunch at different times
You're going to need to refuel at one of the many restaurants (you have to try the Great American Waffle Company and the Sweetheart Cafe for Mickey-shaped treats), but taking lunch an hour earlier will avoid the crowds.
FASTPASS
An essential, really. With a FASTPASS you can effectively reserve your place on an attraction at a confirmed time, go off and have more fun and then return to gain instant access.
Happy 15 Entry
If you're staying at a Disney Hotel you can enter Tokyo Disneyland before the regular Park opening time and experience designated attractions, or get a Disney FASTPASS ticket.
Plan your day
Use a map of Tokyo Disneyland to plan your day in the park, ticking off the must-dos and avoid doing too much to avoid tired legs and subsequent tantrums.
The details
Cost: One-day pass is approx. $98 per adult;$84 for 12-17 years; $63 for 4-11 years
Airfares: Approximately $900 Sydney to Tokyo return with Japan Airlines. jal.com.au
Quietest time to visit: Weekdays, plus the months of January and February
Contact: Tokyo Disneyland, Japan National Tourist Organisation (Australia)
LEAVE YOUR COMMENT