The adventure seeker's 12-day guide to New Zealand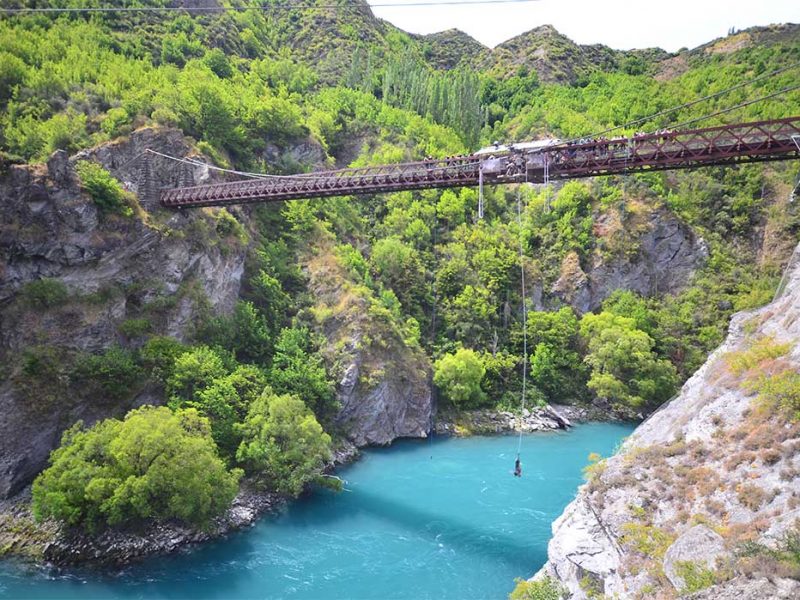 For pulse-quickening experiences and intrepid escapes, New Zealand's often wild and always wonderful islands offer the ultimate in adventure travel.
The pristine and dramatic beauty of New Zealand/Aotearoa's magnificent landscapes have always beckoned adventure-craving travellers. From head-first bungee plunges and landing on a glacier to abseiling caverns by the light of a thousand glow worms and downward descents on two wheels, the country is a playground for thrill hunters.
Follow our 12-day trip from north to south for a sample of that addictive adrenaline rush that has us flocking across the Tasman at every chance.
Days one and two: Auckland/Tāmaki Makaurau
Welcome to the City of Sails. This coastal, North Island city offers more than nautical adventure for the experience-thirsty tourist. With islands, beaches and (thankfully dormant) volcanic cones to explore, there's easily a week of discoveries to enjoy, but on our taste-testing trip, skim the top off with a handful of highlights.
Don't miss:
Sky Tower
If heights are your thing, ascend to Sky Tower and experience the thrilling Skywalk or, for absolute thrill-seekers, the Skyjump, which will see you take a heart-stopping leap from the 328-metre-tall building.
Kayak to Rangitoto Island
More on the gentle end of the adventure scale, take a guided sea kayak excursion out to Auckland's largest dormant volcano.
Enjoy the Waitakere Ranges
Bring your hiking boots for a trek through this regional park that takes in rainforest and coast and dazzles with the dramatic Karekare Falls.
Stay:
New Zealand's first Five Green Star Hotel, The Hotel Britomart is certainly one of Auckland's sleekest and newest hotels. Ultra-stylish, it's the ideal place to unwind after a day of adventure.
Day three: Bay of Islands
Journey a little over three hours north from Auckland to find yourself at the stunning Bay of Islands. This sub-tropical micro-region comprises 144 islands, fascinating cultural sites, a cluster of charming towns, and incredible marine adventures. From pristine forests to offshore islands and marine reserves, it's a veritable playground.
Don't miss:
Take a dive
Join a tour to the Poor Knights Islands to experience the beautiful and diverse underwater life of this marine reserve.
Waitangi Treaty Grounds
Discover this significant site through two museums, guided tours and Māori cultural performances, where the Treaty of Waitangi was signed in 1840.
Ocean Adventure boat ride
Elevate the heart rate with a speedy trip to local attraction The Hole in the Rock with Ocean Adventure. This is certainly the quickest way to take in the beauty of the bay!
Stay:
Punctuate your visit to the Bay of Islands with a little luxury and stay at the superb Eagles Nest.
Day four: Hokianga
Venture west from the Bay of Islands and switch up adventure in the sea for fun on the sand. Hokianga is famous for its giant sand dunes, which invite a day of sandboarding for the speed-chasers among us. Don't miss a stop at the Waipou Forest along the way.
Don't miss:
Mighty Tane Mahuta
This majestic Kauri tree in the Waipou Forest is thought to be the world's largest living tree of its kind. It's worth a detour to take in its ancient splendour.
Sandboard fun
Pre-schoolers to (willing and able) pensioners can enjoy the downhill thrill of sandboarding with Hokianga Express Charters.
Jetski safari
If you've had enough sandboarding, hop on an Awesome Adventures jetski for a guided safari around Hokianga Harbour.
Stay:
After a day on the dunes, return to Auckland to rest your weary bones before continuing south tomorrow.
Day five: Rotorua via Waitomo
Your final destination for today will be the thermal resort town of Rotorua, but the four-hour drive from Auckland is punctuated with a stop at the incredible glowworm-lit Waitomo Caves.
Don't miss:
Waitomo Caves boat tour
With your way lit by friendly glow worms, this dreamy drift through limestone formations has been 30-million years in the making.
Abseil Waitomo Caves
If a boat tour is altogether too sedate for your adventuring heart, you can switch up the pace with a rock climbing and abseiling or black water rafting tour with Waitomo Adventures & Day Spa.
Stay:
Even thrill-seekers need a little RNR, so check into Solitaire Lodge for a top-up of pampering.
Day six: Rotorua
Rotorua offers both sides of the coin to travellers. For the less daring, indulgence awaits at the naturally heated mineral pools at Polynesian Spa. For those looking to quicken a pulse, there's the opportunity for mountain biking, bungee jumping and zip-lining. Meet in the middle to discover the area's geothermal attractions, such as Pōhutu Geyser, Hell's Gate and Waigmangu Volcanic Valley.
Don't miss:
Luge and zip
If your idea of a good time is hurtling through a forest at great speed, you'll need to visit Skyline Rotorua for a day of fast and furious fun.
Hit the trails
For more high-speed hurtling down mountains, head to Whakarewarewa Forest, or 'The Redwoods', for some two-wheeled mountain-biking adrenaline.
Days seven and eight: Queenstown
Head back to Auckland to catch a flight to the South Island hotspot of Queenstown. Come winter this is a haven of snowy adventure, but even without the white stuff, there's plenty to hasten the heart rate, from jet-boating to bungee jumping and skydiving.
Don't miss:
Jet-boating
Skim the surface of crystal Lake Wakatipu at white-knuckle speeds. There are plenty of operators with a licence to thrill.
Bungee jumping
Adventurers don't come to Queenstown without launching off a height. Head to the world's first commercial bungee site at Kawarau River.
Or jump from the sky
Jumping off a bridge a bit tame for you? Plunge from the sky instead.
Stay:
For a streamlined, sustainable hotel, the smart mi-pad on Henry Street has you covered.
Day nine: Milford Sound/Piopiotahi day trip
A 35-minute scenic flight from Queenstown will land you at the incomparable Milford Sound, where you can spend the day marvelling at glacial beauty and otherworldly waterfalls. Join a cruise or choose your own adventure.
Don't miss:
Kayak the sound
Adventure isn't always robust. A serene paddle around this dramatic and pristine landscape will make you feel like an intrepid explorer.
Hike it
The Milford Sound Track may not be on the cards this trip (bucket list that one for later), but you can still get your hike on with the 3.4-kilometre Key Summit Track, which rewards with views of Fiordland National Park.
Stay:
Return to your Queenstown accommodation or linger longer at Milford Sound Lodge.
Day 10: Franz Josef Glacier
Imagine reaching out to feel the icy-smooth, glassy surface of a glacier. You can do just that at the Franz Josef Glacier, just over a four-hour drive from Queenstown. It's a very approachable walk to the base of this chilly natural attraction.
Don't miss:
Take a heli-hike
As far as treasured travel memories go, landing on a glacier in a helicopter has to rank quite highly. The sheer beauty of this icy wonderland will leave you breathless, and that's before you even land!
Stop at Lake Wanaka
On your way to Franz Josef, stop for a quick paddleboard atop Lake Wanaka, or saddle up for a horseback saunter into the surrounding wilderness.
Stay:
A cosy Airbnb such as Gibb's Guesthouse will serve you well for post-glacial defrosting.
Day 11 and 12:
Christchurch/Ōtautahi via Greymouth

Break up the five-hour drive from Franz Josef to Christchurch with an interlude at former gold-mining town Greymouth or a brisk walk at Arthur's Pass National Park, before traversing the Canterbury Plains to the vibrant, ever-changing 'Garden City'.
Must-see:
Devil's Punchbowl Falls
The alpine beauty of Arthur's Pass, with its beech forests and ice-cloaked peaks and valleys, deserves a little pause on your journey. Take a brief one-hour-return hike to Devil's Punchbowl Falls to soak in the alps.
International Antarctic Centre
True adventurers will love a stop at Christchurch's International Antarctic Centre, where you can enter a storm dome and take a ride on an amphibious Antarctic vehicle.
Take a punt
After the thrills of the previous 11 days, wind down to wrap up your last day in New Zealand with a leisurely punt down Avon River, or end the trip with a party bike pub crawl with Beer Cycle.
Want more of New Zealand? Read all 101 Reasons To Stop Dreaming About New Zealand And Go Here.
LEAVE YOUR COMMENT