Four legitimate reasons to visit Rarotonga, Cook Islands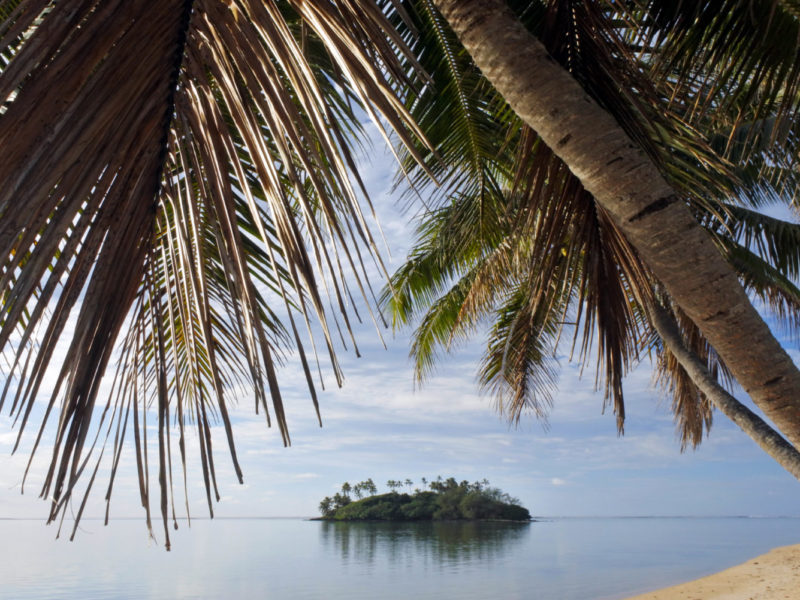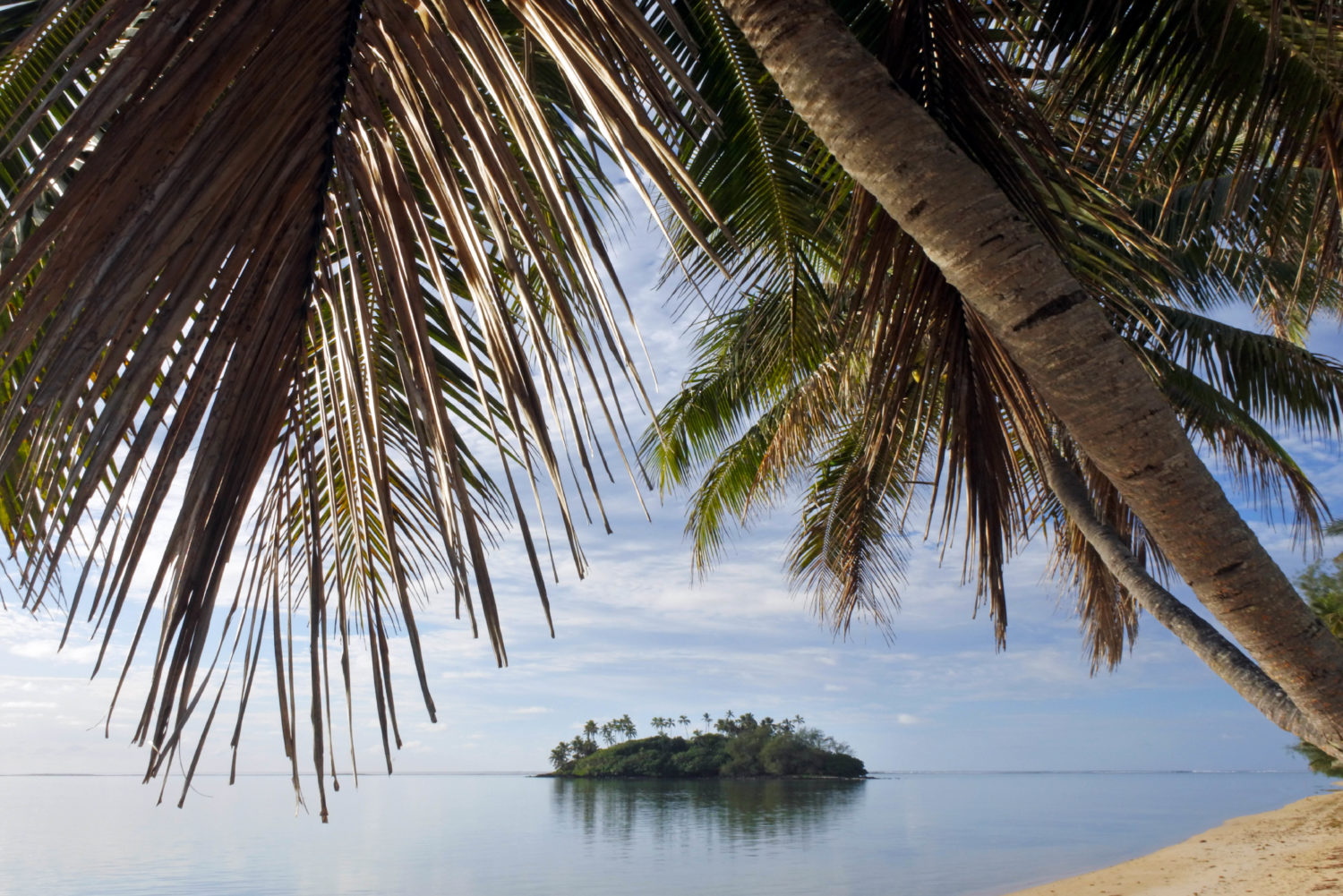 Sun, sand, surf – and still surprisingly mostly untouched…
If ever there was a perfectly proportioned, lush tropical island for a paradisiacal family getaway, the Cook Islands' Rarotonga is it. Words Daniel Down.
At just 32 kilometres in circumference and with one, looping main road connecting all its white sand beaches, pastel blue lagoons and knife-like volcanic peaks, Rarotonga is like a purpose-built playground for families to go wild in for a week or two. And whether you're climbing mountain trails, exploring colourful ocean depths or slowing things down to enjoy traditional dishes at a local home, the island lets you set your own pace. Here are some essential things to do with or without kids in tow when visiting this perfect little Pacific nation.
Dive a little deeper
It's hard not to get excited about the prospect of diving whenever heading to the South Pacific. The reefs are easy to reach; the water is often lukewarm and crystal clear; and the sheer variety of the marine life, the plethora of colourful species of coral and fish, with the occasional visit from a manta ray, turtle or reef shark, all make diving unforgettable in this part of the world.
I booked with Pacific Divers and it was a quick hop on their boat to the island's fringing reef. The guided dive took me over a menagerie of soft and hard corals and through rock tunnels in water so clear that I got vertigo looking back up at the boat bobbing on the water some 25 metres up, like it was hanging in air above me.
Back on the boat waiting for the rest of the divers to surface, the lush green canopy of Rarotonga's rainforest is breathtaking as it rises up like a quilt straight from the ocean and over jagged peaks. Strip off your wetsuit, dive off the boat and go for a swim to admire the island while floating on the surface.
Perfect lagoons for snorkelling
Most resorts on Rarotonga will have equipment you can borrow to go swimming in the surrounding lagoons and their coral gardens, and Muri Lagoon is perhaps the best place to do that.
You can walk through its clear, warm waters (the ocean is 24-30 degrees here all year round) to the islands of Motutapu and Oneroa if you like, such is the perfect waist-height depth of the lagoon. It means you can let kids off the hook a little and watch them snorkel from one of the beaches that ring this beautiful natural swimming pool.
With the sea being shallow, warm and calm here it means you can hire a kayak and explore the lagoon with your child happily sitting up front, and spend the day pulling your craft up on to white sands to wander deserted islands together; a Treasure Island adventure.
Pacific Resort Rarotonga also takes guests out to Muri and Titikaveka lagoons to do some of the best snorkelling on the island and to take a good look at giant clams and some similarly large Moray eels, plus the kids' club will mean your children will be out on the water with masks and fins most of the day.
Another spot to take your snorkelling attire to is Aro'a Beach, one of the island's most beautiful. The lagoon here is part of a marine reserve, with towering coral bommies to glide over and schools of trevally circling about. Plus you have the Shipwreck Hut at Aro'a Beachside Inn for post-snorkelling drinks (yes, that is a thing here).
Take in the view from mount Raemaru
Just a couple of hundred metres from the coast the forests begin to rise dramatically into a jagged range of central mountains, which demand to be walked.
The famous Rarotonga Cross Island Walk is touted as the best hike you can do in the South Pacific, taking you up to the dramatic buttress of rock called Te Rua Manga, or 'The Needle', at 413 metres and down to the other side of the island. Give yourself five hours to do this trek, which delivers stunning views of Rarotonga's epic skyline of mountains.
Another walk that's perhaps a little easier for smaller people is the Raemaru Mountain trail, which takes you to a plateau some 350 metres above sea level. I managed this with my one-year-old strapped to my chest.
The hike takes you up through thick rainforest, and along a knife-like ridge before a precarious rock climb with metal rungs takes you to the plateau – you may want to leave little ones with a partner and take it in turns to scale this bit.
On my way down from the plateau it suddenly started raining making the cliff face a slippery and treacherous descent; without the metal handles I'd have been calling a helicopter. But this is what I love about the Cook Islands – your hand isn't held; you're let loose to have real adventures.
The trick to enjoying the Island life
What is life like for people living on this small rock in the middle of the Pacific? You can find out by doing a Progressive Dinner Tour that takes you for three courses at the houses of three Cook Islands citizens, with the driver doubling as an expert ukulele player.
At the house of John Henry and his wife Nono, in the shade of an enormous spondias tree covered in Spanish moss, I had an entrée of Cook Island favourites including light coconut, sweet potato and papaya salads with ika mata – raw fish, in this case wahoo – marinated in lemon and lime juice; a perfect accompaniment to the tropical warmth.
John showed us his taro patch, the vegetable is a staple part of the diet here, and explained that the palm tree is known as the 'tree of life' in the Pacific since it provides pretty much everything you need to survive on an island – should you find yourself washed up on one.
It was then onto Mama Kafo and a buffet of curries in front of her house. As we dined she jokingly bemoaned the fact that it was only because of the imminent arrival of New Zealand Prime Minister, Jacinda Ardern that they had finally repaired the road outside her house, and that Jacinda would spend all of five minutes on it.
We finish the night with pavlova and coffee at Aunty Terai's, who has a story from her travels to seemingly every corner of the globe; an expensive pursuit for someone living in such a remote corner of the planet.
Three places to dine:
Don't miss the Muri Night Markets (5pm to 8pm Wednesday and Thursday, Sunday and Tuesday) for a range of stalls selling everything from rich Thai and Indian curries as well as Rarotonga classics and crepes for dessert. Take your food to one of the many picnic tables before going back for more.
Charlie's Beach Cafe and Grill is a photogenic beach-side restaurant with a verandah affording views to the Akapuao Marine Reserve through the palms. Come for smoothies, the fish and chicken burgers, and hire a stand-up paddle board while you're at it.
Locals cool off with beers under its corrugated roof, and the restaurant serves the freshest seafood in town being right on the wharf with views out to sea. Make sure you drop by Trader Jacks in capital Avarua to have some fish and chips and eavesdrop on the fishermen's latest, greatest conquests.
Details:
Getting there
Air New Zealand flies direct to Rarotonga from Sydney. airnewzealand.com.au
Staying there
Pacific Resort Rarotonga is set on stunning Muri Beach among lush tropical gardens, with a kids' club and beach-side bar and restaurant and a range of suites and villas.
Playing there
Visit www.cookislands.travel for more information on how to make the most of your time in Rarotonga and beyond.
LEAVE YOUR COMMENT