Six right royal UK castle stays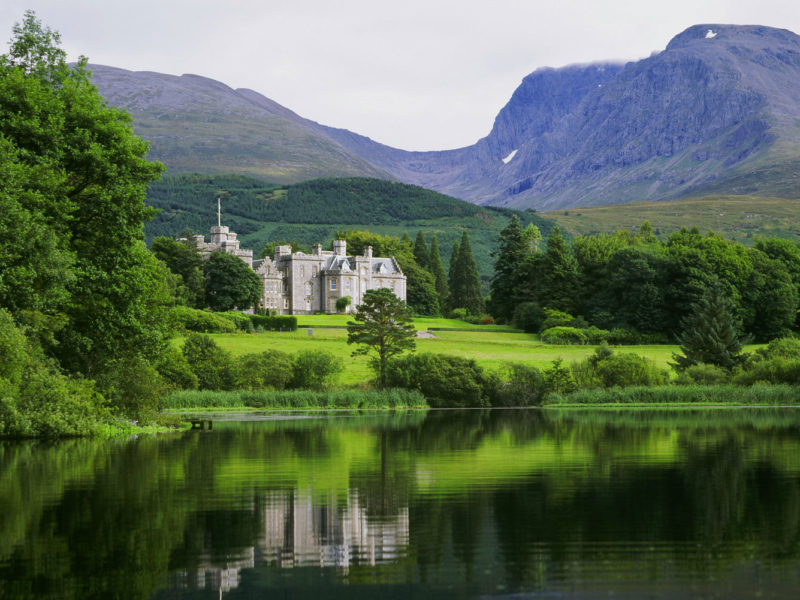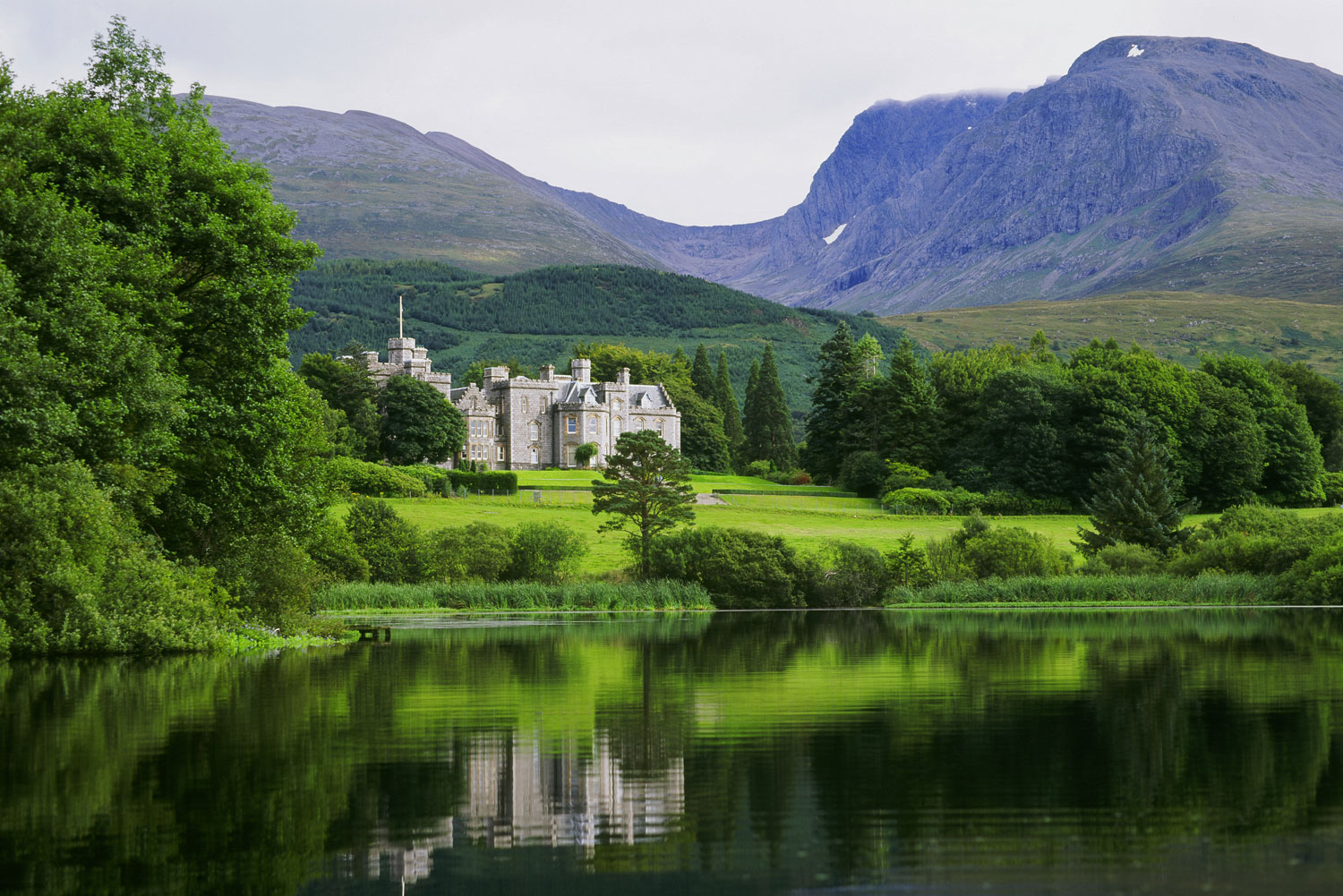 Whether you're a royalist or a republican, sleeping like a king or queen for the night is a majestic experience – and a history lesson like no other – says Sandy Guy.
Once upon a time castles were the domain of monarchs and peers of the realm, and most people had little hope of seeing inside them, let alone the opportunity to slumber in their princely chambers.
But times have changed and visitors to Great Britain can now live the life of royalty, however fleeting, with many royal citadels now transformed into elegant hotels of sumptuous design, Michelin-esque dining and 21st-century amenities.
We commoners can stay amid the splendour for surprisingly reasonable prices, with some medieval accommodation less expensive than tourist-class hotels.
Inverlochy Castle, Fort William, Scotland
Scotland is famous for its grand old piles and forgotten fiefdoms and Inverlochy Castle – lying in the foothills of Ben Nevis, the UK's tallest mountain – is one of its finest.
"I never saw a lovelier or more romantic spot," wrote Queen Victoria of Inverlochy, where she stayed in 1873. It's impossible to disagree. Romance resonates from the castle's walls, and the surrounding landscapes of heather-clad mountains, lochs and glens might inspire guests to pen some prose themselves.
There are two Inverlochy Castles near Fort William. Old Inverlochy, on the banks of the River Lochy, is said to be on the site of a Viking settlement.
Built around 1280, the castle – now in ruins – played a major part in the Civil Wars of the 1640s and is one of the most important castles in Scottish history.
The first Lord Abinger built the sprawling 'new' Inverlochy Castle nearby in 1863.
Each of the 17 guest rooms has great views; public areas are havens of stately grandeur, with plenty of fireplaces to cosy up to.
The imposing furniture in the dining room was a gift from the King of Norway. But perhaps Inverlochy's pièce de résistance, aside from its splendid location, is its fine dining: the modern British cuisine has earned Inverlochy a Michelin star.
Hiking, golfing, fishing and hunting are big in this neck of the woods, or you can climb Ben Nevis, ski in winter, and go white water rafting on Loch Oich.
Or if a traditional New Year – Hogmanay – lures you to Scotland, Inverlochy is a magical place to count down to midnight.
Details: Inverlochy Castle is situated five kilometres north of Fort William on Scotland's north-west coast, around two hours' drive north of Glasgow. Bed and breakfast from $537 per double.
Thornbury Castle, Gloucestershire, England
King Henry VIII and Anne Boleyn once frolicked in the hallowed halls of Thornbury Castle, a 500-year-old stronghold lying amid ancient gardens that are thought to be England's oldest.
Situated just north of Bristol, Thornbury was built by Edward Stafford, third Duke of Buckingham, in 1511.
But the Duke didn't enjoy Thornbury's charms for long – he was convicted of treason against King Henry and executed in 1521.
Stafford was a Plantagenet, descended from King Edward III, and many believed he had a better claim to the throne than Henry.
The King confiscated the castle after the Duke's death, and in 1533 he and Anne strolled amid the Privy Garden and Goodly Garden – which you can still see today – for three years until Anne suffered the same fate as Stafford.
These days this luxury hotel has all the ingredients for a peek into Tudor times.
Well, almost; the castle's 27 opulent bedchambers feature flat-screen TVs and ensuites, naturally, amid grand four-poster or coronet beds and tapestries.
Thornbury features a library, banquet hall, Oriel windows, Tudor fireplaces, and lots of wonderfully windy corridors. Stay in the Duke's Bedchamber, where Henry and Anne slept, or climb a spiral staircase to the Tower Suite, which features an enormous 10 foot-wide four poster bed.
Sample a tipple of wine – Thornbury Castle has been producing vintages for 500 years – partake in lordly pursuits such as archery and falconry, and explore the neighbourhood: Bath and Stonehenge lie to the south, The Cotswalds to the east, and the beautiful Wye Valley to the west.
Details: From $285 per double per night including breakfast.
Leeds Castle Kent, England
In 1278 Leeds Castle became part of the Queen of England's dower – the settlement widowed queens received upon the death of their kingly husbands.
Listed in the Domesday Book as a Saxon manor, the 1119 castle is set amid hectares of parklands on two rocky islands in the River Len.
Leeds was used as a royal residence for more than 300 years and was held by six medieval queens: Eleanor of Castile; Margaret of France; Isabella of France; Anne of Bohemia; Joan of Navarre; and Catherine de Valois.
You can tour the vast castle, including Henry VIII's banqueting hall and the boardroom, which was an occasional venue for Churchill's War Cabinet; visit the servant's halls; get lost in the yew-hedge maze; learn falconry; and amble through beautiful gardens.
Accommodation is available in five period houses on the estate, allowing guests private freedom of the castle's splendid gardens after day visitors have left, as well as the Stable Courtyard Bed and Breakfast or the refurbished 16th-century Maidens Tower.
Details: Leeds Castle is situated around 10 kilometres south-east of Maidstone, Kent, and 67 kilometres south-east of London. From $150 per night at Stable B&B and from $437 per double in Maidens Tower.
Amberley Castle, West Sussex, England
Connoisseurs of all things historic will revel at Amberley Castle, a 900-year-old fortress on the fringes of England's South Downs.
The first building on the site dates to 1103, and ever since, the surrounding countryside of flint walls and thatched cottages has been dominated by the majestic fortress.
A procession of kings and queens have enjoyed Amberley's charms, including Elizabeth I and Charles I and II. In 1643 cannonballs ravaged Amberley's walls during the English Civil War.
When Henry Fitzalan-Howard, 15th Duke of Norfolk, purchased Amberley in 1893 the castle began its journey from venerable battlement to luxury abode.
Today Amberley is part of the exclusive Relais and Châteaux accommodation group, and most of its 19 lavishly-appointed bedrooms have four-poster beds; some with spa baths.
A leisurely ramble around the grounds reveals medieval walls and sweeping lawns. You can play a spot of croquet in the former moat, tackle the 18-hole putting green, or picnic in the castle's thatched tree-house, Mistletoe Lodge.
The hotel's plush rooms include the Herstmonceux and Pevensey chambers, which have a doorway to the battlements.
Wherever you snuggle, the ancient portcullis is lowered at night for an experience as far from the 21st century as you can get.
Details: Amberley Castle is situated in West Sussex, about 100 kilometres south of London, and 35 kilometres from Brighton. Double rooms from $530 per room per night include breakfast.
Sudeley Castle, Gloucestershire, England
Sudeley Castle was built in 1442 by Ralph Boteler – member of the King's household and military commander.
He sold the castle to Edward IV in 1469 who granted it to his brother who ascended the throne as King Richard III in 1483.
Majestic Sudeley was also once home to Katherine Parr – sixth wife of serial bridegroom Henry VIII – who is buried on-site at historic St Mary's Church.
Now the private home of Lord and Lady Ashcombe, Sudeley Castle is not open to guests, however the self-catering Country Cottages on the edge of the estate are available for rent.
Explore Sudeley on a castle tour and stroll amid the estate's elegant parklands and gardens. The splendid Queens' Garden, created on a Tudor parterre, is fragrant with hundreds of varieties of roses during summer.
Details: Situated at Winchcombe, Gloucestershire, 152 kilometres north-west of London. Cottages from $588 per week.
Castle of Mey Caithness, Scotland
Scotland's most northerly citadel, the Castle of Mey (formerly Barrogill Castle), was built overlooking the rugged Caithness coast in 1573.
It was built by George, the 4th Earl of Caithness, for his son William Sinclair. When visiting the family seat, Girnigoe Castle, in 1573, William was murdered by his older brother John who had been imprisoned there by his father.
In turn John was murdered and the castle went to the third son, George Sinclair, who succeeded to the Earldom.
The late Queen Elizabeth The Queen Mother purchased the castle in 1952, restored it to its former glory, and made it her summer holiday residence for almost half a century.
Charles and Camilla continue to stay here in August each year. Guests can stay at the Captain's House, a spacious three-bedroom home on the estate, boasting bonnie views of the Pentland Firth and Orkney Islands.
Details: The Castle of Mey is situated 18 kilometres west of Thurso, 423 kilometres north of Edinburgh. Prices start from $698 per week; bookings at cottages-and-castles.co.uk
LEAVE YOUR COMMENT