Review: Chamberlain, West Hollywood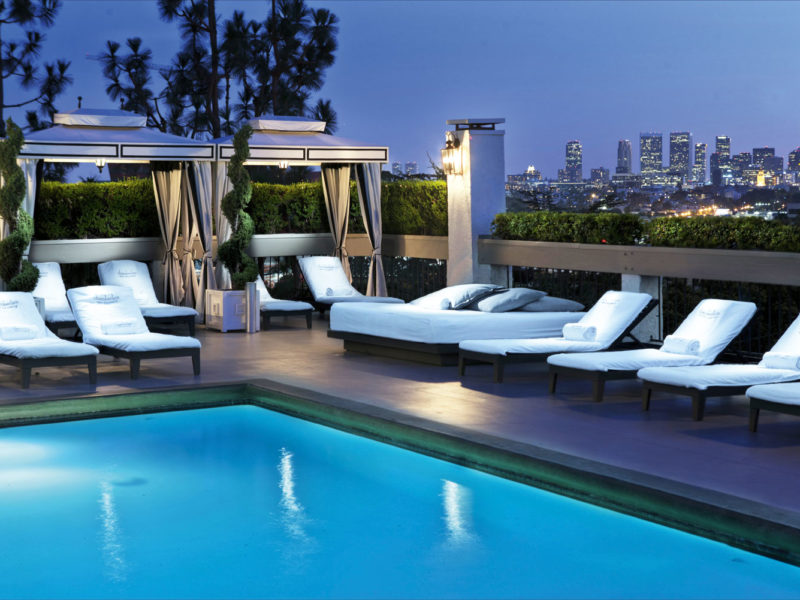 After 13 hours in the air, weary traveller Laura Greaves checks in early, eager to soak up the understated glamour of this Hollywood hotel.
Arriving in LA
The best thing about flying from Sydney to Los Angeles is that you arrive the same day you left.
The worst thing is that the tyranny of timing means flights from Australia land at LAX at the crack of dawn.
With most hotels refusing to check guests in until late afternoon, weary travellers have limited options.
You could book your hotel room from the day before your arrival – sure, you'll pay for a night's accommodation you won't really use, but at least you'll enjoy transiting straight from the airport to bed.
Alternatively, you can opt to shuffle the L.A streets in a sleep-deprived state, with suitcases in tow, until your room is ready. Appealing, no?
I'm not particularly good company when I'm fatigued – just ask my husband – so I decide to look for a third option: a hotel with an early check-in facility.
An expat Aussie friend working in film in L.A suggests the Chamberlain West Hollywood; she's been put up there by studios and loves its understated glamour and quiet setting.
The fact that they'll check us in at 7:00am seals the deal – I don't even mind paying an extra $75 for the privilege. (Although, as it turns out, L.A's notoriously horrific traffic conspires against us and we don't arrive until almost lunchtime. Sigh.)
Location
The Chamberlain is tucked away in a leafy residential street, in between Santa Monica and Sunset boulevards. While this means no on-site parking (valet is available), the location is attractive and, indeed, whisper-quiet.
Acid-tongued writer Dorothy Parker may have dismissed Los Angeles as "72 suburbs in search of a city", but West Hollywood is surely the pick of those suburbs.
There's an array of restaurants and bars within easy walking distance of the Chamberlain, and the famous Sunset Strip is just a five-minute stroll away; it's uphill, but the stunning views and chic cocktail bars at the top are well worth the brief hike. The boutiques of
Melrose Avenue and North Robertson Boulevard are just a little further afield – still walkable, but perhaps not in heels.
The lobby and bistro
The Chamberlain's lobby is an Instagrammer's paradise. From the tessellated tile floors and mirrored walls to the low lighting and 1920s furniture, this is chic 'Old Hollywood' writ large.
I almost expect to see Grace Kelly checking in next to me.
Off the lobby, Chamberlain's Bistro is another funky little enclave. It offers imaginative cocktails and a solid menu courtesy of executive chef Emilio Noselotl.
But I can't help feeling the eatery's out-of-the-way location does it a disservice; it's virtually empty every time we visit.
The room
The Golden Age glamour continues in our Deluxe Suite. Designed by L.A interiors guru David McCauley, our 33 square-metre digs blend a low-key colour palette with rich accents of gold, dark chocolate and bronze.
The king bed is one of the most comfortable I've ever had the pleasure of sleeping on; maybe it's the luxe SFERRA linens.
The compact bathroom takes me to another era: Art-Deco-meets-'80s-excess punch, with chrome fixtures and lots of marble. I would have liked more storage space here – the sink is bijoux to say the least, and there's nowhere to stash my toiletries.
While the 'separate living area' isn't really separate at all – it's merely divided from the bedroom by a banister and a step – it is a lovely, cosy space. There's a vast plasma screen TV and even a fireplace, activated by remote control, of course.
Rooftop pool bar
The suite also has a small balcony, but the view of neighbouring apartment buildings is uninspiring. And besides, if it's panoramic vistas you want, the Chamberlain's rooftop pool bar is the place to be.
With its plush sun lounges and private cabanas, an impressive menu and 360-degree views of the City of Angels… it's easy to while away entire days here enjoying a taste of the Golden Age's old Hollywood lifestyle – like I'm in my very own episode of Entourage.
The Details
Chamberlain West Hollywood, 1000 Westmount Drive, West Hollywood, Los Angeles, +1 310 657 7400. chamberlainwesthollywood.com
The IT verdict
Laura Greaves, who paid her own way, says: "The Chamberlain West Hollywood offers all the amenities and services of a big hotel with the style and character of a boutique establishment. The location is hard to beat and the 'Old Hollywood' vibe makes it a perfect base for exploring LaLa Land."
Notes
Laura paid $AU360, including taxes plus an early check-in fee ($AU75) for a Deluxe Suite.
LEAVE YOUR COMMENT