Go in search of Nunavut's mystical narwhals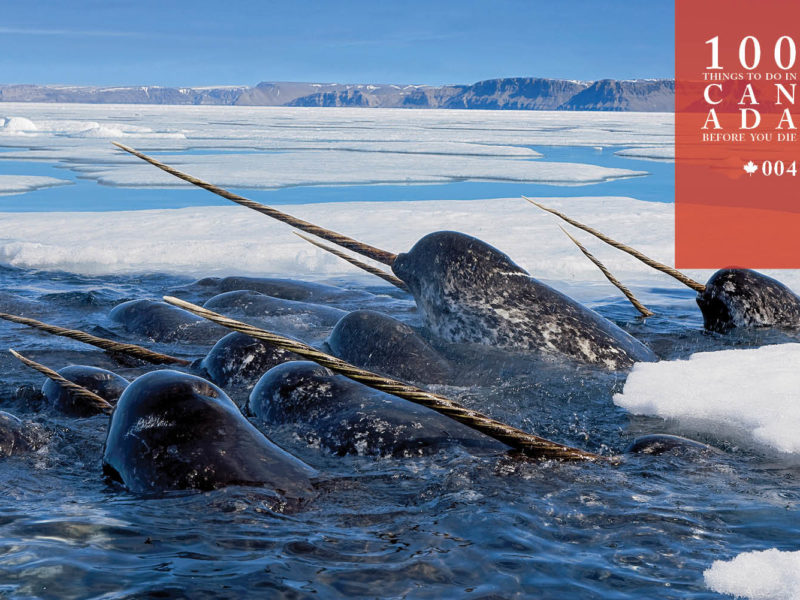 Meet one of world's most mystical creatures
From the Vikings and pre-colonial Inuits to Jules Verne and Herman Melville, humans have long been enamoured with the narwhal, a medium-sized whale notable for its large, quixotic tusk.
The idea that the animal had supernatural properties was dispelled long ago, but it's still an undoubtedly magical experience to see a narwhal in its frozen, natural environment.
Canadian waters are home to about three-quarters of all the remaining narwhals on earth (roughly 75,000), and excursions to see the near-threatened species start at Baffin Island, a place closer to Nuuk, the capital city of Greenland, than any Canadian city.
A small-group, multi-day ice-camping adventure with Arctic Kingdom will take you well up into the Arctic ice floes where you'll witness sights and spot animals you've likely never seen before – including arctic birds, seals, polar bears and the famous Midnight Sun.
The highlight of any trip is the sighting of a pod of narwhals.
Get going:
Track down a narwhal with Arctic Kingdom. More information here.
Location:
Narwhal whale spotting trips leave from Baffin Island, in Canada's eastern Arctic, which can be reached by plane daily from Ottawa.
"Thrilling! For nature and wildlife photographers, one of the best safaris in the world." – Birgit-Cathrin Duval
LEAVE YOUR COMMENT