Norwegian Bliss: an exclusive look at a $1 billion megaship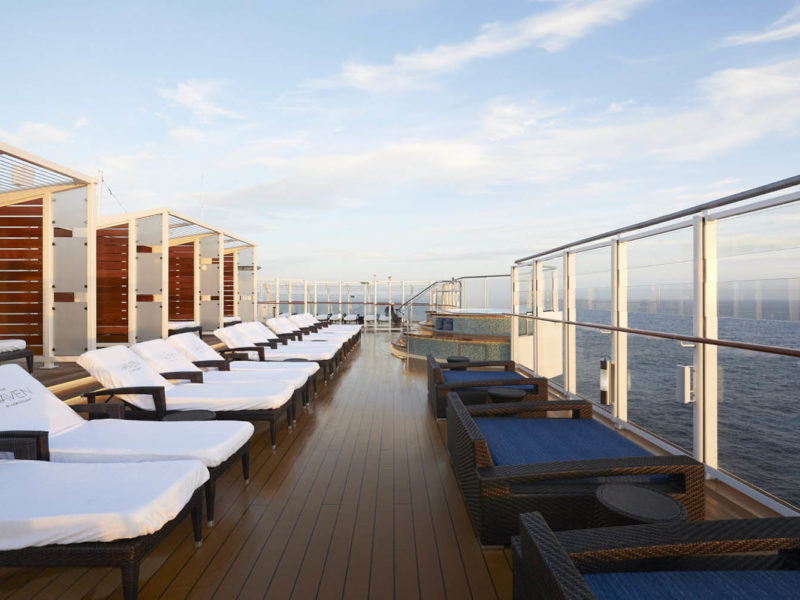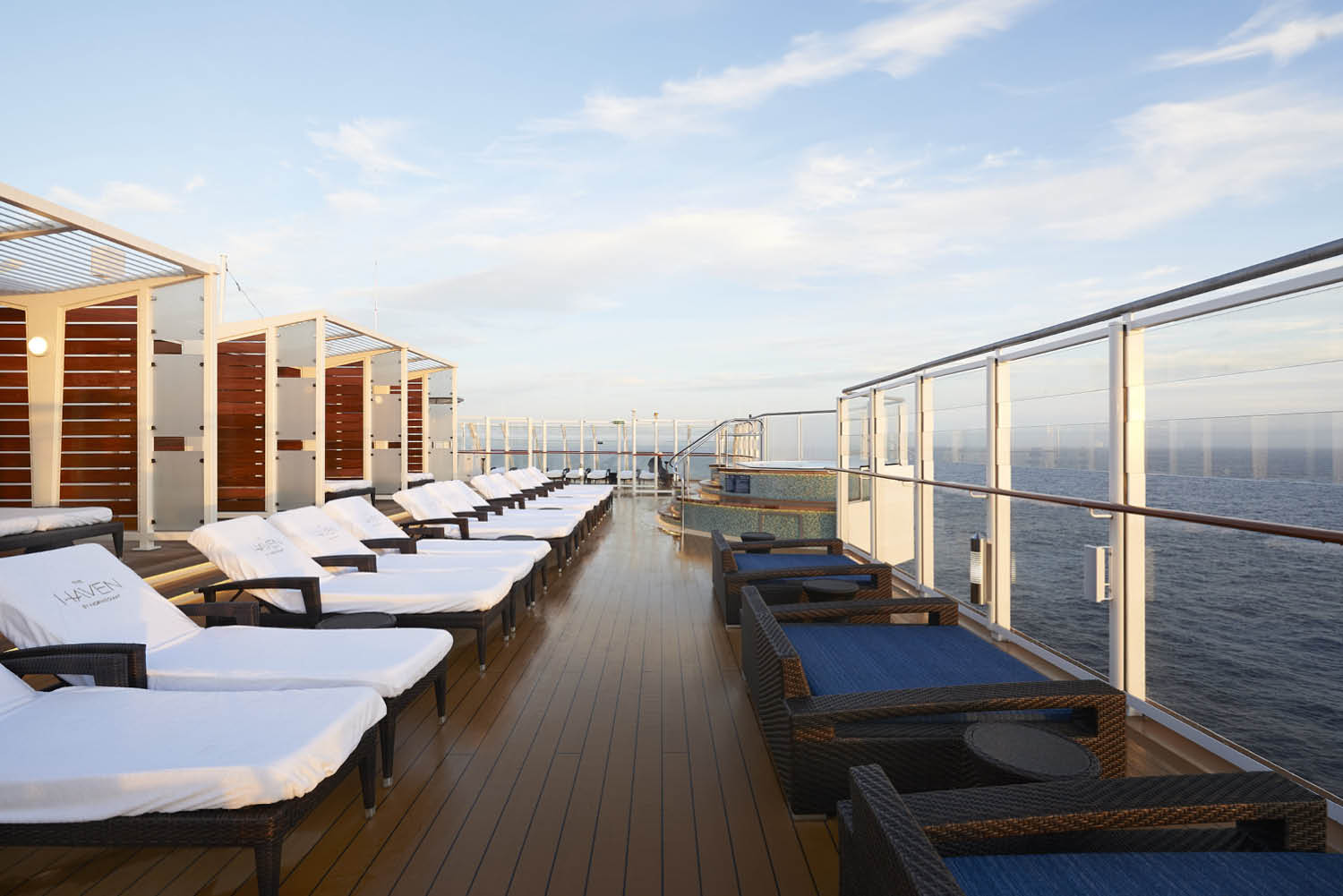 International Traveller's Quentin Long was invited to be one of the first guests on Norwegian Cruise Line's latest megaship, Norwegian Bliss. In this exclusive first look, we test all their new toys, shows, food and drink.
There's a go-kart track on Norwegian Bliss. Yes, a complete go-kart track with karts that hit top speeds of a fraction under 50 kilometres per hour. There are even two 'pimped out' karts that have top speeds of 100 kilometres per hour.
Whoever decided to put 200 tonnes of track and karts on a cruise ship is dancing all over that fine line between madness and genius.
When I climb into a kart, I quickly decide that it's genius.
The track isn't extensive but is multi-level with loads of twists and turns to keep things interesting.
I pass a few of the slower karts and the marshal decides I am a little too reckless, and alas, my kart is suddenly a little slower. Damn, I've earned one of those pimped karts, right? Puuhllleaase; I just want to shred this race track.
I have to admit I was a little sceptical when I heard about this particular innovation, but I shouldn't have been; I've seen everything from wave pools and indoor skydiving, to ice-skating rinks, dodgem cars and observation orbs that lift to 90 metres above the sea on cruise ships to keep passengers entertained.
Check out our review of the Royal Caribbean Quantam of the Seas…
But the tricks don't end with the go-karts. The laser tag on the 20th deck (yes, the 20th deck) is another inspired choice for keeping the kids (and dads) happy. The mini bowling alley would also have gotten a work out by my boys, had I taken them out of school for a two-day inaugural cruise. (Don't you just hate responsible parenting sometimes?)
While Norwegian is sticking to its knitting, the cruise line that prides itself on entertainment and food is tricking up its entertainment kit and in doing so adding other elements to its traditional base of music and shows; they are coming out swinging.
However, it would be difficult to impress hardened cruisers with all of this, especially those wondering if it is only testosterone-driven entertainment on offer.
But thanks to Norwegian's commitment to Broadway and music entertainment, I disembark Bliss with a completely different playlist.
A slightly modified version Jersey Boys is the signature 'Broadway' show on board, and I can testify that, having seen the stage version, the difference is marginal. It's a rocking performance and the truth is I don't usually go for musicals, but this show reminds me just how much I love Frankie Valli's music and I've since put it at the top of my playlists.
The greatest musical treat though takes place the following night. Liverpool's greatest venue, The Cavern, is wonderfully recreated on the Bliss. Word quickly spreads that the show is a smash hit and so it's standing room only for both performances on the second evening. Every voice in the cramped room is hoarse by the finale, Hey Jude. Yep, I forgot how much I loved the genius of the Fab Four. It's also now on top of my playlist.
The Cavern is just one of 13 bars on Bliss and there is a bar for every taste: a craft beer bar, a wine bar, a mojito bar, a whiskey bar, and Jimmy Buffet's Margaritaville, where the cocktail comes in every shape and size from the standard recipe to spicy.
And not to be left out, dining comes in as many shapes and sizes as the bars. The pioneers of 'Freestyle Dining', where you dine when you want to, there are plenty of specialty and inclusive restaurants.
The inclusive dining options include:
The Manhattan Room; think traditional main dining room
Savor and Taste; which are relatively similar traditional modern cruise restaurants
Garden Café; a modern buffet with decent food
The Local; classic Americana open 24 hours,
Specialty dining covers Italian, French, Texan BBQ, Mexican, Japanese and more. I only managed to get to the Texan BBQ; the burnt peach margarita was better than the food – we weren't in Texas but it was a fair representation of a brisket.
However, the most compelling dining option doesn't herald from a destination but a single ingredient: chocolate. Coco's is a chocoholic's heaven of bon bons, chocolate fountains and all manner of cakes plus some indulgent milkshakes.
The kids, well mine at least, would love the water activities on board. A waterslide where they could race each other, the Ocean Loops that gets the pulse rating with its vertical drop and loop over the side of the ship, and then the more tame water park.
That's if we got them out of the kids' club, Splash Academy, for 3-12 year olds. It's a huge area and the program would exhaust them. Teenagers have their own lounge to mope around in, grunt at adults and basically be cool.
The really little ones have a small space called Guppies, where parents with a dedicated early childhood teacher can lead activities. They do not provide baby-sitting services or crèche services.
And finally, for those of you who love a small ship cruise but want to bring the kids and grandkids, Norwegian have expanded their Haven offering on Bliss. The exclusive Haven-only areas include a private pool, lounge, observation deck and restaurant.
She is an impressive ship, with very few flaws. The only three I can find are dependent on what kind of cruiser you are, and so more about personal preferences.
The first is that I would prefer the casino to not be so central; like I said it is a personal choice.
The second is that there is very little in terms of open internal space, the greatest is just three floors at the centre of the ship.
And finally, I am not sure how teenagers would cope, but then again is anyone?
But perhaps the greatest shame is that Norwegian Bliss is not going to be easily appreciated by Australian cruisers, committed as she is to Alaska, Mexico, the Caribbean and New York until the mid 2020.
Other details
There is a charge for the Go-Karts (US$7) and Laser Tag (US$5).
Norwegian has a Free at Sea offering up to June 2018. The offer is up to five free inclusions depending on your state room category. Most cruisers get at least one free offer and take the Free Premium Drinks Package valued at USD $89. The others include Free wi-fi, Free Shore Excursions, Free Family and Friends, or Free Specialty Dining (I would go for the last one).
There are 2043 guest rooms and a total of 4004 guests at double occupancy. Another smart innovation from NCL was the introduction of supplement-avoiding single occupancy rooms, AKA Studios. There are 82 Studio rooms on Bliss.
See NCL.com for more.
LEAVE YOUR COMMENT