Lindblad Expeditions-National Geographic: experience the difference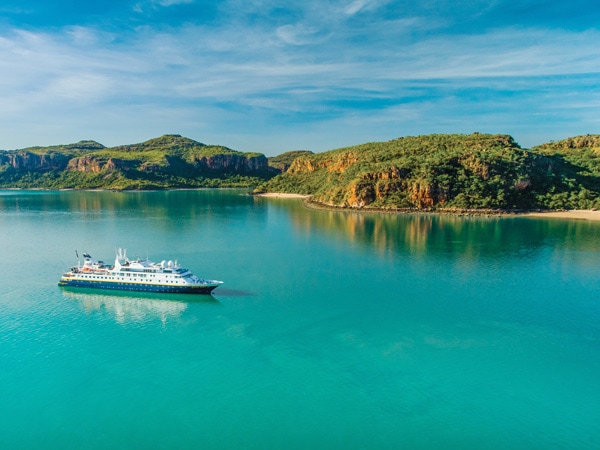 |

This Article was created in partnership with Lindblad Expeditions - National Geographic

|
For Lindblad Expeditions, the first company to cruise to both Antarctica and Galápagos, conservation is just as important as exploration.
Sven Lindblad, founder of Lindblad Expeditions, isn't sure about the term 'travel company'. He prefers to think of his 56-year-old family business – which is rooted in exploring the world's wildest, most fascinating destinations – as "a conduit to exhilaration."
Tomayto tomahto? Not quite, as it was Sven's father, Lars-Eric Lindblad, who in 1966 chartered a ship and brought private citizens to Antarctica – the first time non-scientists could see the White Continent for themselves.
One year later, Lars-Eric – now considered the father of ecotourism, such was his belief that people who witnessed things first-hand would be a potent force for the preservation of the places they visited – did it again by chartering a ship to sail the Galápagos Islands. The voyage wasn't only about seeing a new destination, but also focused on making inroads to protect it. Understanding the fragility of what he was seeing, Lars-Eric financed the islands' first national park rangers and advocated for a park entrance fee. He also commissioned a study on the long-term impact of visitors, resulting in recommendations that are still largely in place today.
Discovery is clearly in the family DNA, and even today Lindblad Expeditions continues to be guided by Lars-Eric's principles of visiting the world's most remote destinations, then becoming an advocate for preserving and protecting them. Case in point: to date, Lindblad Expeditions' guests have donated more than $8.7 million to conservation, education and research projects in the Galápagos alone.
Green tourism is important, you might think, but are these expeditions really a conduit to exhilaration as well? The good news is that yes, exhilaration is almost guaranteed.
The Lindblad Expeditions difference
When you're committed to pioneering expeditions in destinations such as the High Arctic and Polynesia, and focused on creating in-depth expedition programs in the likes of Antarctica, Galápagos, Alaska and the Amazon, you're going to need the most advanced ships in the world. Lindblad Expeditions offers a fleet of 15 ships, each one purpose-built to explore a particular region of the planet, or leased on the basis of what they can add to the expedition experience.
High-tech, luxurious ships will always have their place, but it's the Lindblad Expeditions experts who are at the heart of the experiences the company offers. Each ship sails with a unique team, and all members are an authority in their field, an expert explorer of the destination they're sailing to, and an enthusiastic wrangler of magical moments (manning the spotting scopes all night to increase the chances of a polar bear sighting, for example, or orchestrating a landing at a noted wildlife site to coincide with a sunrise).
Thanks to Lindblad Expeditions' partnership with National Geographic, guests on select sailings can travel in the company of world-renowned scientists, naturalists, educators, researchers, historians, photographers and undersea and cultural specialists to gain on-site guidance and specialised insight. National Geographic Photography Experts are also on hand to assist everyone from camera-phone users to advanced photographers, helping them get the best out of capturing the destination.
The benefit of the cruise line's alliance with National Geographic isn't only for their passengers, but for the planet itself. The Lindblad Expeditions-National Geographic Fund, created to support projects in the regions visited by the fleet and beyond, enables travellers to contribute to important local projects that protect wildlife, engage communities, and promote locally driven solutions to marine and coastal challenges.
But the focus on conservation doesn't begin and end with the National Geographic partnership. Lindblad Expeditions is a 100 per cent carbon neutral company, and is committed to eliminating single-use plastic on-board, citizen science projects, purchases locally sourced and sustainable food, and invests in on-the-ground conservation work in each of the destinations they visit. With the help of their travellers, it has raised more than $19 million for conservation projects around the world since 1997.
Destinations of wonder
From the wilds of Arctic Svalbard to the still waters of the Amazon River basin, visiting the world's most spectacular and far-flung destinations with Lindblad Expeditions isn't about long-distance viewing, but instead immersing yourself in a wide range of experiences dedicated to wonder.
There's a whole world to explore up close. In Antarctica, zip around gargantuan icebergs in a Zodiac to photograph penguin colonies with a National Geographic photographer; kayak Peru's intricate network of jungle waterways; or snorkel (or dive) the waters of Galápagos. Costa Rica, Japan, Egypt, Greenland, the Mediterranean and beyond are all yours for the taking.
Closer to home, Lindblad Expeditions' highly acclaimed National Geographic Orion, a yacht-scale vessel rugged enough to venture far and wide, makes its return to Australian waters in 2023. It offers two exciting new Kimberley expedition itineraries: Australia's Wild Northwest, a 12-day adventure taking in plunging waterfalls, sandstone formations, deep gorges and emerald rainforests, and Northwest Australia & Indonesia, a 16-day journey traversing dramatic landscapes etched with ancient human history, remote villages and unique wildlife experiences.
It's all laid out for you. Consider Lindblad Expeditions your conduit to exhilaration.
Visit expeditions.com for further information.
LEAVE YOUR COMMENT