Ruapehu: Let your rewilding begin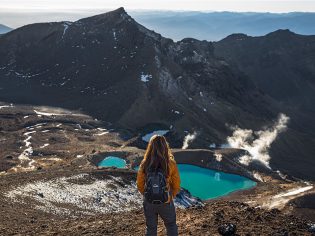 |

This Article was created in partnership with Visit Ruapehu

|
In this brave new world, what does adventure feel like, look like, and taste like? What type of intrepid travellers have we become? And how do we begin to rewild ourselves?
Maybe the first steps are somewhere off the beaten path, a place where you can feel the elements alive and pulsing, a place we know as Ruapehu. In the heart of the Central North Island, Ruapehu is New Zealand's greater outdoors and is an open invitation to redefine what adventure means to you.
Discover a new rhythm in Ruapehu
With majestic mountains and enchanting rivers around every corner, nature takes you by surprise in Ruapehu.
It's where ancient lava flows and volcanic landscapes, carved by thousands of years of slow formation, ground your every step.
Be it hiking, mountain biking or kayaking, however you explore, there is a rhythm in Ruapehu you can feel in your bones, closing the gap between people and place.
You breathe a little deeper and look a little closer, finding a deeper connection to where you stand.
Ruapehu's four seasons of adventure
Is it shredding down the largest ski fields in NZ or a paddle down the river?
Hiking the Tongariro Alpine Crossing or mountain biking the renowned Timber Trail?
You can take your pick of world-class experiences in Ruapehu all year round, but you'll also delight in the simplest pleasures – be it your first alpine sunrise, culinary feats that tantalise at first bite, stargazing, or kiwi-spotting in the wild.
Ruapehu is where you can adventure at your own pace, in your own time, and adventure like no one is watching.
Make your way to Ruapehu
Far from the crowds and as close to nature as you can get, Ruapehu is located in the Central North Island halfway between Auckland and Wellington – a four-hour drive from either city.
You can also fly into a neighbouring airport, arrive by bus, or climb aboard a scenic rail journey on the iconic Northern Explorer.
Ruapehu is your place in the world. Leave part of yourself here, take part of us with you. visitruapehu.com
LEAVE YOUR COMMENT