Captain Cook Cruises Fiji: giving back to Fijians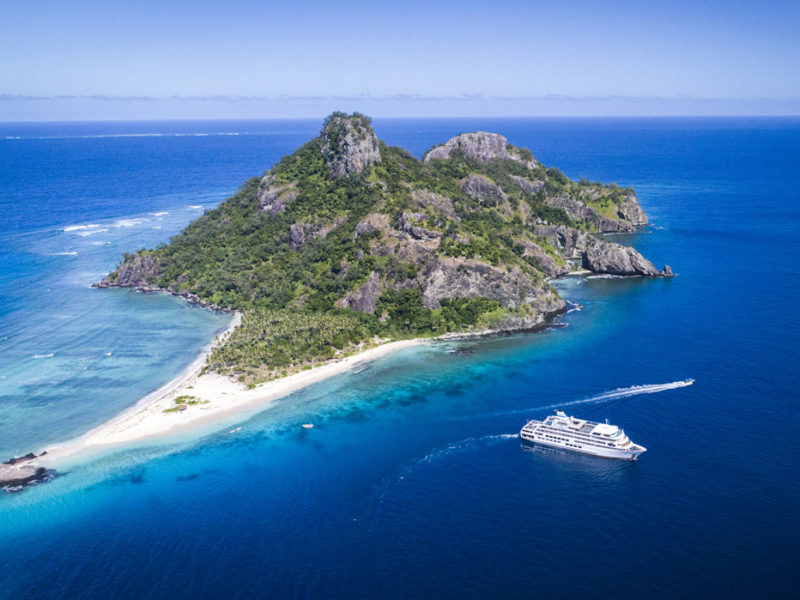 |

This Article was created in partnership with Captain Cook Cruises Fiji

|
Travelling consciously can be as simple as choosing an operator who's doing it, too.
More and more people are choosing to travel and increasingly to remote destinations where tourism plays a vital role in the region's development. Fortunately, operators such as Captain Cook Cruises Fiji – which operate three-, four-, seven- and 11-night small ship cruises around the inner and remote islands of Fiji – are taking responsibility for the social and environmental development of the vulnerable communities it travels to, enacting and supporting initiatives that improve the lives of Fijians.
Oceans Ambassadors
Captain Cook Cruises Fiji launched the Ocean Ambassador Program in November 2017. An environmental initiative, its aim is to curb rubbish pollution in remote Fiji and maintain the beautiful Fijian environment. The program focuses on cleaning up waste from the beaches and villages visited on Captain Cook's overnight cruises, while educating villagers, crew and passengers about how it can help. Since the program started, the company has collected about 70 to 120 kilograms of rubbish per week and valuable data about the types of waste found in the Fiji Islands.
Cruising for a cure
Too many Fijian children lose their lives to illnesses that are treatable and preventable in other parts of the world; a reality that Cure Kids Fiji and Captain Cook Cruises Fiji would like to see come to an end. Since partnering with the organisation in September 2018, Captain Cook Cruises Fiji has raised FJ$17,000 (AUD$11,659) to improve the health of Fijian children, families and communities, and overcome urgent child health challenges.
Cure Kids Fiji has been working on this mission in Fiji since 2006 to create sustainable, robust life-saving solutions using research and evidence-based child health programs, namely the Fiji Rheumatic Heart Disease (RHD) Prevention and Control Program, and the Fiji Oxygen Project.
Guests can support the cause, too, with an opt-out $1 donation charged per room per night on the MV Reef Endeavour. 100 per cent of the donation goes directly to Cure Kids Fiji and helps to save thousands of lives.
LEAVE YOUR COMMENT