24 of the best food trucks to try in Hawai'i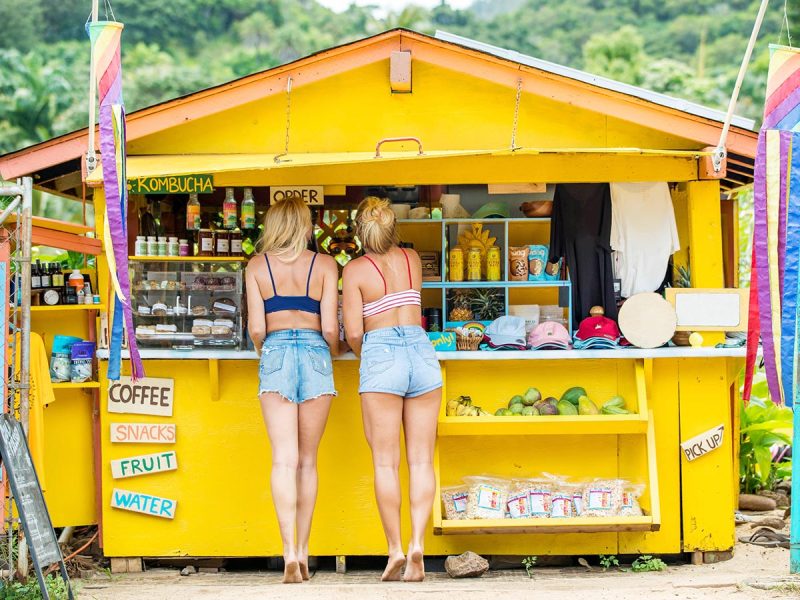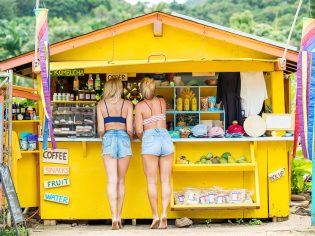 |

THIS ARTICLE WAS CREATED IN PARTNERSHIP WITH Hawai'i Tourism Oceania

|
The food truck trend is blossoming in Hawai'i, with everything on offer from seafood to classic Hawaiian dishes, to Italian. Even better, it's the perfect way to get to know the modern food scene.
A common sight throughout Hawai'i, food trucks offer the quintessential island vibe. They're an ideal way to support local farmers, fishers and entrepreneurs while also sampling a wide array of local specialities at affordable prices.
Tracking them down is easy, just follow an individual truck's Instagram pages to check on hours and locations – and remember that many food trucks only accept cash.
There's no shortage of options to choose from, especially on O'ahu which boasts the most food trucks of any Hawaiian island, so we've narrowed down our top picks.
Best food trucks on O'ahu
1. Giovanni's Shrimp Truck
One of the oldest – and still most popular – food trucks on the North Shore, Giovanni's Shrimp Truck now also has outposts in Kahuku, Hale'iwa and Honolulu. There are at least 10 different shrimp plates to choose from, including their signature garlic shrimp, hot and spicy shrimp, coconut shrimp and lemon pepper shrimp.
2. Mike's Huli Chicken
Mike's Huli Chicken serves up some of O'ahu's best Hawaiian-style barbecued chicken. Broiled over kiawe wood and flavoured with Hawaiian sea salt, it's served with sweet, tangy and spicy sauce, and you can enjoy it all on their sheltered patio.
3. Sunrise Shack
Founded by local Hawaiian surfers on a small plumeria farm on Sunset Beach, the buttercup yellow Sunrise Shack now has other outposts at Hale'iwa, the Waikiki Beachcomber by Outrigger and the Ala Moana Centre. This is the place for excellent acai bowls and good coffee, smoothies, and even avocado on toast.
4. Hale'iwa Bowls
Another great spot to get your healthy acai fix – with all the fruit and health supplement toppings – is Hale'iwa Bowls, which also serves up mighty fine smoothies, and fresh fruit and vegetable juices.
5. Gilligan's Beach Shack
Close to the lagoon's edge near the Hilton Hawaiian Village Resort, the colourful Gilligan's Beach Shack offers surf and turf faves, such as jumbo garlic shrimp and teriyaki steak bites. Enjoy them from the outdoor seating with terrific views of Waikiki Beach and Diamond Head.
6. Elena's Lunchwagon
The original Filipino restaurant has now expanded to three food trucks serving Downtown Honolulu. Elena's Lunchwagon offers pork adobo fried rice omelettes, the lechon special (crispy pork belly pieces) and sautéed squid.
7. Five Star Poke
Five Star Poke is what the name suggests: it's the ideal spot to buy poke bowls in Honolulu, including garlic shoyu (soy sauce) ahi tuna, jalapeno salmon and sesame mayo shrimp. Each one comes with an optional guacamole topping.
Best food trucks on Maui
1. Geste Shrimp
Kahului's Geste Shrimp is the best shrimp truck on Maui, serving hot and spicy shrimp, pineapple shrimp, lemon pepper shrimp, Hawaiian scampi and more.
2. Thai Mee Up
Owned and operated by a former chef at Mama's Fish House, Thai Mee Up in Kahului offers great lemongrass fried chicken, pad Thai shrimp and, sometimes, drunken noodles with whole lobster. Its sister truck, Ono Teppanyaki, sells seafood and teppanyaki, served as a typical Hawaiian plate lunch.
3. Dino's Gourmet On-The-Go
Dino's Gourmet On-The-Go in Kahului offers a range of delectable gourmet dishes that befit chef Dino Zagouras' French culinary heritage. They're made with herbs from his truck garden, and the Maui Big Blue Burger with hand-cut garlic fries is a big hit.
4. South Maui Fish Company
The South Maui Fish Company food truck specialises in poke bowls and fish tacos, all made with the freshest locally caught fish.
5. Kitoko Maui
Kitoko Maui is a gourmet food truck set in a lush tranquil setting in South Maui Gardens, Kihei. It offers a wide range of Hawaiian specialities including seafood specials, loco moco (rice topped with a hamburger patty, gravy and an egg), tofu bento and liliko'i (passionfruit) pie.
6. Nui's Garden Kitchen Thai
Nui's Garden Kitchen Thai (Upcountry) offers Thai classics made from their home-grown farm fresh ingredients.
Best food trucks on Kaua'i
1. Hanalei Taro & Juice Co
Lyndsey Haraguchi-Nakayama runs Hanalei Taro & Juice Co food truck, which uses taro grown on their fifth-generation farm to serve family recipes for taro mocha cake, zesty taro hummus, taro veggie burgers, taro smoothies and kulolo (a Hawaiian dessert made with grated taro corms, coconut milk and sugar). You'll also find other authentic Hawaiian food such as lau lau, kalua pig, poi and lomi salmon.
2. Scorpacciata Restaurant & Bar
Scorpacciata Restaurant & Bar is the best pizza place on Kaua'i. You'll enjoy fresh ingredients and a chewy crust in a lovely outdoor setting.
3. Kauai Poke Co.
The orange trailer of the Kauai Poke Co. food truck (Lawai) is the place for excellent poke bowls, calamari, tempura shrimp plates, and furikake fries with a Japanese seasoning using benito flakes, dried seaweed, sesame seeds, salt and sugar.
4. Kickshaws
Don't expect ordinary burgers, fish sandwiches and fried rice at Kickshaws in Koloa, as chef Seth Peterson is something of a gastronomic mad scientist who creates whimsical offerings like green tea-smoked yoghurt and Gorgonzola foam. They're as delicious as they are surprising.
5. Fresh Bite Kauai
Fresh Bite Kauai in Hanalei offers an array of vegetarian, vegan and gluten-free sandwiches, wraps, salads and bowls, as well as chicken and steak.
6. The Musubi Truck
The Musubi Truck in Kapaa is the place to go for the most Hawaiian of delicacies, musubi, which is a block of white rice with meat or fish wrapped in seaweed. Spam musubi is the most popular option with the locals, but there are lots of other dishes on the menu, as well as poke bowls and fruit slushies.
Best food trucks on Hawai'i Island
1. Aloha Mix Food Truck Cafe
Aloha Mix Food Truck Cafe (Na'alehu) specialises in shrimp, steak, acai bowls, smoothies and local organic kombucha, which you can enjoy at picnic tables in a pretty courtyard area with yard games.
2. Island Style Grindz
The mobile food truck Island Style Grindz serves an enticing selection of surf and turf offerings, including baked ono (wahoo), poke nachos, Korean chicken wings, an ahi patty burger, and the Shaq Attaq, which includes kalbi short ribs, garlic ono and Korean chicken wings in a wasabi-mayo drizzle. Chef Shannon (Shaq) Javillonar not only cooks some of the best fish on the island, but he often catches them himself.
3. Tuk Tuk Thai Food
For classic Thai eats – think spicy curries, tasty stir-fries and delicious noodles, all with plant-based options – visit Tuk Tuk Thai Food in Volcano, on the edge of Ōla'a Forest Reserve. Locals will warn you to go early or pre-order, as the truck is so popular their noodle dishes sell out quickly. Be sure to keep room for fried ice cream as dessert.
4. Plates of Aloha
Lauded for the best garlic shrimp on the island, as well as chicken and plant-based options, Plates of Aloha's Mexican and American menu is so popular it even featured on America's Good Food Network as the winners of The Great Food Truck Race.
Discover more tasty dishes and book your next Hawaiian holiday at gohawaii.com/au.
LEAVE YOUR COMMENT