Don't bust the crust in Moab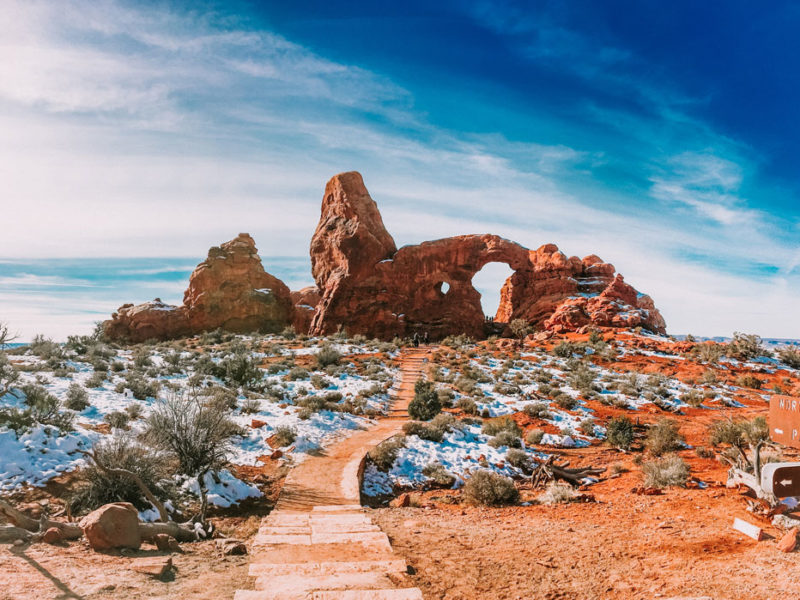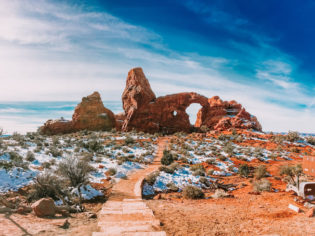 |

This Article was created in partnership with Discover Moab

|
Over one million people hear the siren call of Utah's recreation capital, Moab, each year. The impact of all those feet on the fragile desert is why the community is asking visitors to stay on trails and 'don't bust the crust'.
Towering red rocks that balance impossibly upon the tip of another, snow-patched trails that lead to the famous 16-metre-high Delicate Arch, rock formations resembling three gossiping ladies and panoramic views of canyons carved by the relentless Colorado River seen through the eye of Mesa Arch.
Such is the delicate beauty existing in Moab's Arches National Park and Canyonlands National Park, making the challenge for Utah's south-eastern town to maintain it for future generations – a challenge they're tackling head-on with its Do It Like A Local campaign, delivering an important message to visitors: don't bust the crust.
Protecting Moab's microbiotic soil
A single footprint in the desert can be deadly: living things like fungi, lichens and mosses cover Moab's microbiotic soil, helping it to retain the moisture other species need to survive.
"Those small impacts that we have do have bigger consequences. Small impacts like damaging our soil crust can hurt the ecosystem and degrade the scenic value that these areas have," says park ranger Alli Kosakowski.
How you can help?
So, what can you do? Practice the adage: leave no trace. Walk on durable surfaces such as rocks or dry wash, don't step on vegetation and be mindful of where you put your foot next. Perhaps the most important message, however, is to stick to the established hiking trails; taking even one step off can threaten the delicate balance of Moab's desert ecosystem.
Another way to alleviate the pressure on Moab's sensitive soil is to travel during winter. Not only will it ease the impact of high-volume foot traffic during the warmer months, but you're likely to find yourself all alone on the trail to Delicate Arch, and rewarded with having the epic view all to yourself.
For more advice on how to travel consciously in Moab visit Do it like a local.
LEAVE YOUR COMMENT