Steamboat Springs: when skiing cowboys and Olympians clash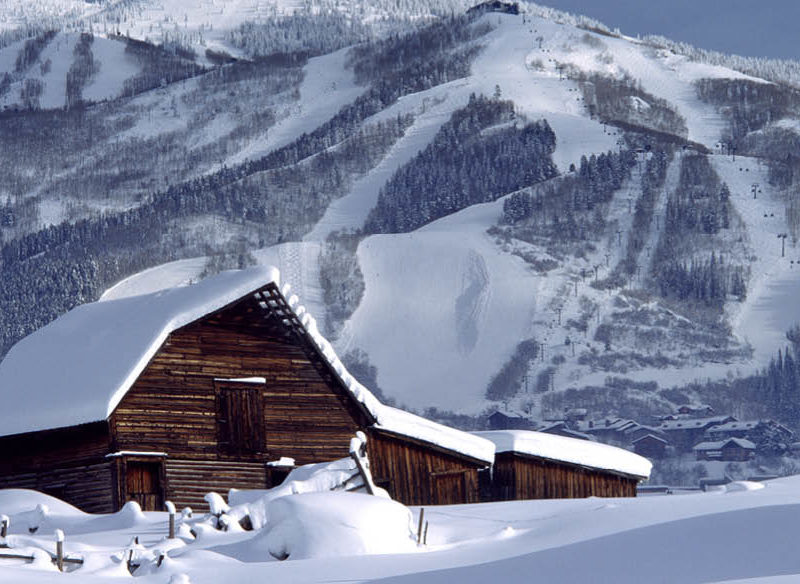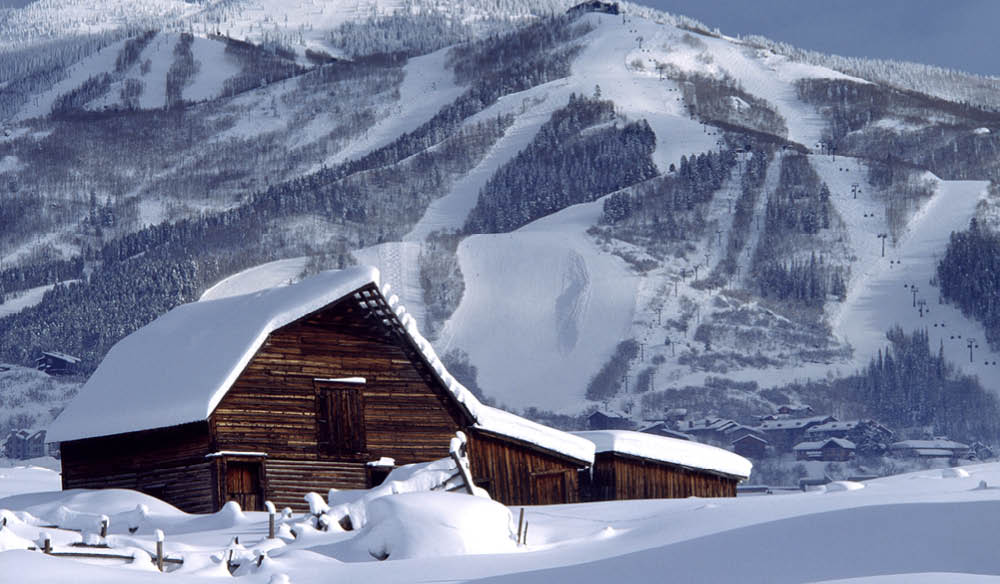 Sounds enticing, doesn't it?
Steve Madgwick finds Steamboats Springs' (Colorado) most challenging runs, quirkiest nightlife and more Olympians than you can poke a ski pole at.
One moment she guffaws about the story of a cowboy who was tasered after riding a horse through a bar, the next a sorrowful solitary tear rolls down her cheek.
Erin Simmons Nemec is a Steamboat Springs local now, gifting her unqualified privileges to re-tell home-grown legends, even (especially) if she wasn't there. She upped sticks from Vancouver in 2003 to move to the Rocky Mountains town to further her boardercross career; one of the most perilous sports known to humankind.
Erin continues the (true) tale; two cowboys and one cowgirl ride their horses down Steamboat's main drag, Lincoln Avenue, and try to get into a pub (yes, still on horseback). The cowgirl, the supreme rider among them, negotiates her steed up a narrow flight of stairs. The barman is livid yet astounded at how she manages to squeeze her hulking horse through the tiny front door. Next, they trot into Safeway on a quest for chips.
And so the horse-capades go on until, eventually, the cops catch up with them. One of the cowboys doesn't play ball and, then, zap!
Not quite your average day in downtown Steamboat, says Erin, whose own story, which includes years of X Games competition and one fateful winter Olympics campaign, is far from average. But this rarefied Colorado town-cum-ski-resort doesn't 'do' average.
Obviously, except for the injuries (including four knee surgeries), Erin pines for the exhilaration and adrenaline of the 'circuit'. Yet there's one unresolved moment from those heady days that lingers just below the surface, every time she straps on a snowboard. A bad equipment decision and a fleeting distrust of her own instincts during the crucial part of her solitary Olympic campaign (Torino, 2006) saw Erin miss the quarter. Cue that single tear.
The flies on the walls of Steamboat's cosy chalets hear more enthralling Olympic tales than possibly anywhere on earth. But this place is no one-trick pony; unlike many ski resorts, Steamboat Springs has another depth to its narrative outside alpine sports.
You'll see some hints of it out on the slopes; among the Helly Hansen and North Face get-ups, where you'll spy locals proudly wearing their ranching heritage on their sleeves and on their heads.
In fact, it's pretty difficult to miss the likes of Stetson-wearing Ray Heid, thanks to his ankle-length combination elk-hide and beaver-fur coat, which he mostly made himself and that he's got 20 seasons out of so far. "They call me a cowboy but I've never actually owned cows," says Ray, who leads horse tours through Del's Triangle 3 Ranch's snowy fields just out of town.
Ray's ultra-religious in a Steamboat kind of way: he skis every Sunday. And, in case you hadn't guessed it, he was an Olympian too (1960). Because it's a "three-wire winter" (the snowline's up to the top of his fences), Ray reckons he'll ski 100 days this season. Not too shabby for an octogenarian with an artificial knee, which he insists is the strongest part of his body.
"I do a lot of out-of-bounds stuff with the '9ers' [skiers who meet at 9am]," he says. "But when I can't get to town, I ski the hills around my property. I load up the horses, ride three-and-a-half hours, climb up for two, and then ski straight back down in five minutes."
Out on his trails on horseback, it doesn't take long for the Rocky Mountain wilderness to engulf you. Coyote paw prints patter out into the glistening white expanse; wild elk stand with his neighbour's cows, just trying to be one of the herd. Within the resort's boundary ropes, vast, dense tracts of aspens, poplars and pines not only make for some of the best glade and tree skiing in the world, but are also an ideal habitat for wildlife spotters.
"I skied past elk on Eagle's Nest [run] today, which is fine, they keep clear of people," says Steamboat instructor Linas Vaitkus. "But yesterday, I saw a moose on the mountain, which isn't so fine, because they tend to charge. As the signs warn: 'You can't shoo a moose.'"
Very occasionally, the odd mountain lion or loan wolf wander onto the ski runs while bears use the resort's upper reaches to hibernate from a winter that gets so cold that ice crystals hang in the air like a prolonged fairy sneeze.
"Mums with cubs wander around the resort when they wake up," says Linas. "They prefer the groomed runs. To walk on, not ski, obviously…"
Linas loves to cruise the forest-flanked Tomahawk run where you can hand-feed Camp Robbers (grey jay), who try to steal food from your hands regardless. If you keep your goggled eyes peeled, you might catch a glimpse of a porcupine gorging on flaky bark.
Apart from numerous Wild West appellations, the names of Steamboat's ski runs are in tune with their natural surroundings, says Linas. It's like skiing by numbers: One 'O Clock, Two O' Clock and Twilight, all baptised to match the ideal time of day to ride on them.
Linas lives off-grid with his (fellow instructor, ski-jumping) partner Kat, in a log cabin not too far away from town, which he built himself from trees he milled himself. And, naturally, he was an Olympian too; Nagano 1998.
The superlative Steamboat day for Linas is a crowdless and cloudless early-morning blast on the corduroy of Heavenly Days, "Arcing the entire run" [linking giant-slalom turns]. He just has to fight an Olympic case of back pain to do so.
Luckily, Colorado's countryside has ready-made (short-term) relief for such ailments. Strawberry Park Natural Hot Springs is 20 minutes' windy drive from downtown. Five snowy-forest-encircled pools span "Aww, that's better" to "Hells Bells, that burns", with the bulk of soakers taking the Goldilocks' approach and settling in the middle "just-right" one. Committed locals roll in the snow before entering the pools, and the more committed ones adhere to a clothing-optional philosophy after dark.
The hot spring that literally put the spring in the name Steamboat Springs is, sadly, no longer. Down by the Yampa River near to town, it used to puff like, you guessed it… Apparently, its charming chugging sound stopped when the railway was built over it.
After the ski lifts close, there's a decent yet not comprehensive choice of après possibilities in town, from truffle fries and Colorado craft beers at energetic Truffle Pig at the bottom of the chairlift to mountain-top northern Italian after dark at Four Points Lodge (accessed by both gondola and snowcat; woolly blankets supplied).
Start with a browse along Lincoln Avenue and its peripheries, which retains that historic Western cow-town visage, aided by foundation shops like renowned western wear purveyor F.M. Lights & Sons.
Away from downtown, up the hill towards the resort, there's a sprawling range of low to mid-rise food and accommodation options; from Airbnb condo shares to how-much-do-you-want-to-spend lodges.
For the latter, ski-in-ski-out One Steamboat Place offers high end apartments with grand-chalet ambiance where you will be waited on glove and boot. The ski butlers and valets are on hand to kit you out and then store away your cumbersome gear; less lugging and more après. For a premium, the folk at Moving Mountains provide an in-lodge chef, who can wake you up with the freshest of Coloradan fare and will have a multi-course dinner on the table waiting after a hard day on the mountain.
Overall, Steamboat is more a find your bar/restaurant and stick to it kind of place, rather than a boisterous bar crawl venue; except during its rowdy winter carnival (February), when the whole town parties like it's 1999 (with the braver locals skiing behind horses along Lincoln Avenue).
For the rest of the time, this is a place to embrace the low-key, slightly off-the-beaten path vibe. Put simply, this is a small-town with big mountain terrain, that doesn't embrace the ski-to-be-seen vibe of its neighbours, which would sound like a marketing cliché if so many Olympians, anonymity-preferring celebs, and extreme skiing cowboys and cowgirls didn't agree.
The details: Skiing Steamboat
See Travelplan Ski for more information on flights and packages to Steamboat, including discounted accommodation at One Steamboat Place, lifts and airfares.
LEAVE YOUR COMMENT