Meanwhile in Canada... we find the world's most agreeable capital city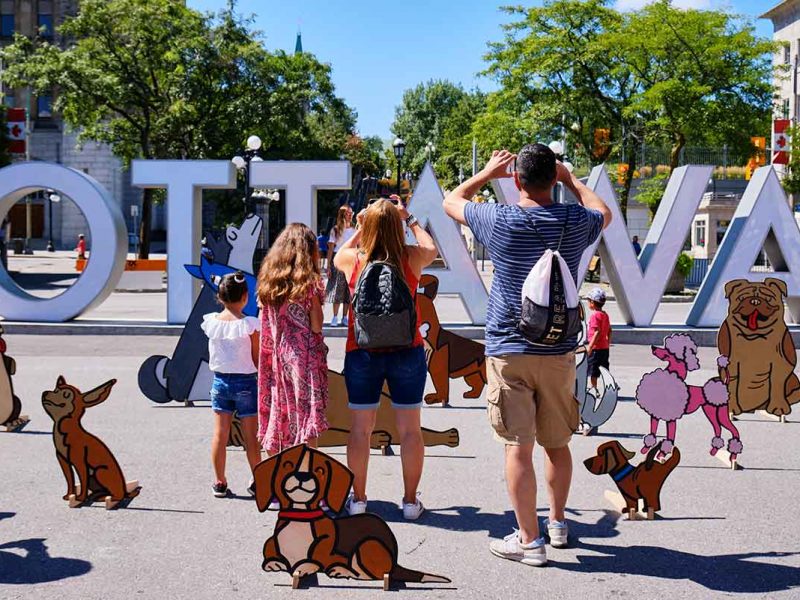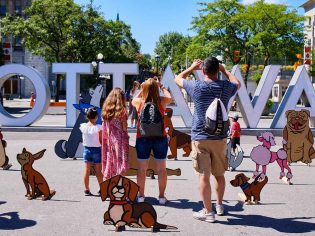 Ottawa is a mini version of Canada that condenses the character and aspirations of Canadians into one very pleasing package.
This is story 15 in our Meanwhile in Canada… series.
Who knew beaver tails made such tasty snacks?
Mine is quite a treat, warm on my fingers, crunchy on the outside, soft and slightly chewy on the inside. I have it the classic way, with a sprinkle of sugar and cinnamon. Some locals add a spritz of lemon. This iconic Ottawa deep-fried, paddle-shaped pastry is a foot long, just the thing to fuel me up for sightseeing.
I'm in ByWard Market in Ottawa, and my beaver tail gets me thinking about the real beaver, an official emblem of Canada. It says a lot about Canadians that they have various majestic choices as their potential national animal – the grizzly bear, polar bear, moose, wolf or killer whale – but instead chose the humble, if hardworking, beaver.
Ottawa and ByWard in particular are a great place to think about Canada. After all, it's the nation's capital and ought to say something about the national psyche. ByWard Market reveals multicultural Canada in a few city blocks. English turns to French from one conversation to the next, but then to Arabic and German and Korean, too, as if I'm surfing television channels.
In shawarma restaurants, spicy meats sizzle on giant spits and Turkish pop music wails. Dizzying aromas waft from a coffee roaster's. Patisseries are piled with lurid coloured macarons, brewpubs sound to the music of Celtic fiddlers, and delis make me hungry with the smell of smoky Polish sausages.
Even better is the farmers' market that spills along the street, because shoppers can chat to stall owners as they inhale the aroma of earthy potatoes, dewy herbs and plump organic pears. The multicultural diversity of ByWard's food scene is brilliant, but the farmers' market is all about local produce.
I pause to talk to Serge Cleroux, who sells wild blueberries and leeks and tightly curled fern tips called fiddleheads, which he says are best eaten like asparagus, with butter and salt. Nearby, Sandra Smith sells raw, unfiltered honey from the nearby Gatineau Hills, like summer sun trapped in a bottle.
Of course, there are several maple-syrup stands. "You just tap the tree and let the good stuff flow," Ross Hupé explains modestly. The syrup comes straight from the maple farms that surround Ottawa. On sunny spring days locals cycle out to sugar shacks to sample maple syrup and eat maple taffy. Farm owners heat freshly tapped syrup until it bubbles like lava, then harden it on ice. Snap off a bit of taffy with your teeth and it tastes like Canada, sweet and condensed.
Friendly, homey, fresh, unpretentious: ByWard Market seems very Canadian. It's certainly very Ottawan. In fact, the establishment of ByWard Market in 1826 to serve construction workers on the Rideau Canal gave birth to Ottawa. The rough, remote town became Canada's unexpected capital in 1857 and has since transformed into a most agreeable city.
I love this capital. A capital city should be a mini version of the nation it represents, yet so often isn't. Most capitals become outsized and snobbish and develop their own urban cultures. Not Ottawa, which condenses the best things about Canada into a comfortable and inspiring package. Ottawa is small but diverse, polite and quirky, and its bilingual signs and varied cuisines give it a cosmopolitanism that outstrips its modest size.
Ottawa presents Canada in a dozen brilliant museums, too. The Canadian Museum of History displays tree-size First Nations' totem poles still with a woody forest smell about them, and continues with an interactive wander through a log cabin, Ukrainian church, French fortified settlement and 1960s' airport lounge.
Another thing to love about Ottawa and its Canadian-ness is its devotion to the outdoors. A big river slides through the city centre, which is dense with trees. The Rideau Canal, heart of the city since the beginning, remains the local playground. Joggers and cyclists speed along its banks, while canoeists and madly threshing paddle-boaters hit the water after work. I rent a kayak and join them for a lovely float, Ottawa's reflected buildings rippling under my paddle as the long luminescent summer light of Canada shimmers.
In winter, a section of canal is turned into the world's largest skating rink, running for nearly eight kilometres. The mirrored surface of the frozen canal wobbles with reflected Christmas lights, and skaters seem to be gliding over stained glass. Get out on the ice and the clamour of the city fades, the only sound the scratch of skates. Toes tingle and cold air rushes. The parliament buildings are encrusted with snow like the ice palaces of Narnia. Fairy lights drape the trees, and statues sport helmets of ice.
The footpath along the lip of the canal back towards the market looks down on skaters zooming past. Some leave showy stop marks and figures of eights behind. At a stall, skate blades are being sharpened as bright orange sparks sizzle in the snow. Ottawans are gathered around a pop-up bar selling hot wine. Steam rises from their woollen hats as they lean into each other for a chat. It's cold enough to skin a bear – or separate a beaver from its tail – but I fall in love with Ottawa all over again.
Next time, we wrap up our Meanwhile in Canada series with top moments that define the spirit of adventure in this country of big animals, big skies and the great outdoors.
LEAVE YOUR COMMENT