Meanwhile in Canada... the strange quirky truth about Niagara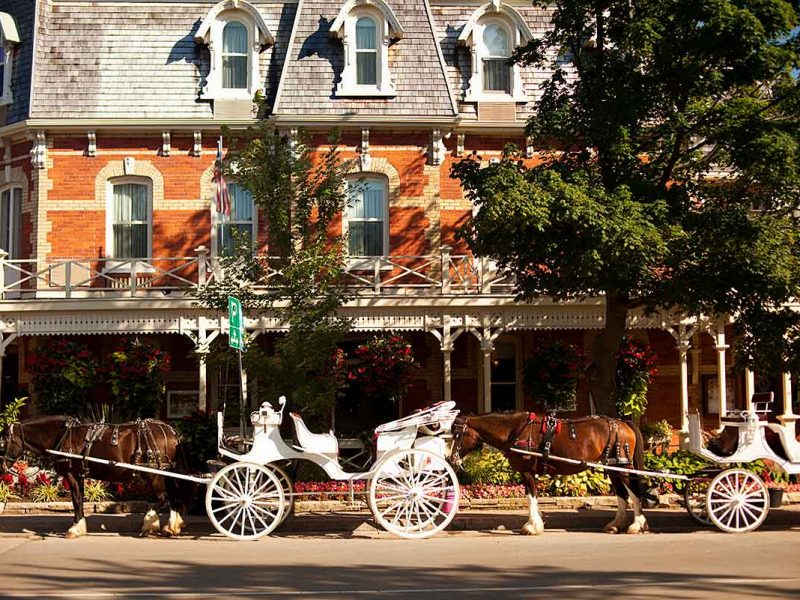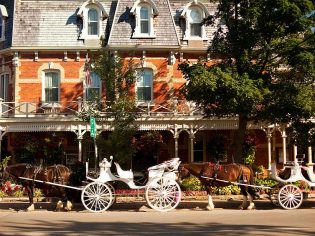 In Niagara and you'll discover peculiarities such as lovebirds, ice wine, the world's prettiest promenades, and the war America lost (but the Canadians are too polite to remind them). Oh, and the locals seem to forget there are some spectacular falls.
This is story 11 of our Meanwhile in Canada… series.
It's funny how I spend far more time on Niagara Parkway than I do at Niagara Falls. True, the parkway is 55 kilometres long, but it's the little things that make me linger. Like the peach-faced lovebirds – which isn't a description, but what they're actually called. They look as if they've been coloured by numbers: green wings, blue backs, red faces, the peachy part of their plumage on their necks.
The lovebirds flit through damp tropical trees, and make noises like aliens trying to communicate from a distant planet by very bad Internet. The cheeps and chirrups make me smile. Later, seeing lush Canadian roses makes me smile, too. The flowers are fat and red as pompoms, with a rich heady perfume.
"Are you enjoying our lovely bloomers?" says a passing retiree, who for a moment I think might poke me in the ribs. But yes, I really am.
It's almost as if the locals don't want me to see Niagara Falls at all. The reason I stop at Bird Kingdom is because a Toronto hotel receptionist mentioned in passing that it has the world's largest walk-in aviary. ("Do you like a good bird?") And I visit the botanical gardens when a winemaker says it has one of North America's best rose collections.
As for the winemaker, I'm talking to him because I have discovered that the Niagara region is stitched with vineyards.
Many visitors rush to Niagara on a day trip from Toronto but, luckily, I'm staying overnight in Niagara-on-the-Lake, and taking my time. I can idle on down the Niagara Parkway and jump from one passing recommendation to another with a cavalier why-not attitude.
Even better than birds and roses is the ice wine produced on the shores of steel-blue Lake Ontario. I sit among a rustle of vine leaves, sipping wine at Between the Lines Winery, where the cellar door looks like a red barn teleported from the prairies.
"It's that look the wine gives visitors that makes it all worth it," says fresh-faced winemaker Greg Wertsch. "The best part of my day is coming to the cellar door and seeing how all that hard work makes people happy."
Greg plucks his Riesling and cabernet franc grapes late in the season and at night, when frozen, so that their concentrated sugars forms a rich, amber wine. It tastes of liquid heaven, rather like a dessert wine, but with more edge. Ice wine, it seems to me, is quintessential Canada: rugged under its friendly and seductive surface.
Like everyone else, Greg tells me not about Niagara Falls but all the other things to see nearby. He, too, is keen to let me know that the Canadians saw off an American invasion at Niagara. It's one of the few times I ever hear Canadians sounding boastful, but that's okay by me. Canadians have plenty to boast about, yet seldom do.
Niagara's rich colonial history is a revelation, especially the War of 1812 in which the United States tried to invade British Canada. "The United States Army crossed the border a dozen times with the declared intent of turning parts of Canada into another state in the union," grumbles Dan Laroche, a superintendent at Fort George National Historic Site, next on my list of unexpected encounters.
Dan is a dashing figure in a red captain's uniform and tall black shako hat topped with a jaunty ostrich feather. Apart from his glasses, he looks as if he's stepped out of a Jane Austen novel. He's one of many costumed staff at Fort George, relating battle yarns and rattling drums and giving musket demonstrations.
The crack of the muskets makes me jump, and the acrid smoke that billows from them catches in the back of my throat. Dan only grins as I cough. "It turns our lips black from biting off the cartridge tips," he says, as if he couldn't think of a better way to spend his weekend.
I take Dan's advice and head on a lovely ramble beneath the shade of glorious trees to Butler's Barracks, where more big, black cannons point towards the United States. The British Canadians prevailed over the Americans in the end, of course. "Though we don't tell our American visitors that; they think they never lost a war," adds Dan.
One result is that Canada still owns the most spectacular chunk of Niagara Falls. And of course, lovely as lovebirds and ice wine and musketeers might be, this is really what I've come to see.
Actually, I feel the falls before I see them. The ground trembles, and spray spritzes my face. The roar amplifies until it sounds like a freight train. The slide of water over the lip of the falls is mesmerising. Spray dances and rainbows provide a pop-up spectacle of colour.
I'm eager to see the drama from river level, too. On a Voyage to the Falls boat tour, I'm kitted out like other passengers in a pink poncho, so we look like a flock of the flamingos I saw earlier at Bird Kingdom.
This warns me that I'm about to get drenched, but I don't expect the rushing wind that comes gusting down the falls along with the water, making everyone shriek and clutch at their flapping clothes. There's no happier holiday sound than the sound of someone getting wet beneath a waterfall.
By the time we're right up at the falls, our boat is so enveloped in mist and what feels like torrential rain that I'm barely able to see. The world has become a white sheet of water and noise as three thousand tonnes of water a second tip over the cliff. From subtle start among the birds to its dramatic finale, Niagara has been exhilarating.
Next time, come with me to the Yukon where the Northern Lights provide one of the world's greatest – and most elusive – travel sights.