Why you'll love this great Swiss ski safari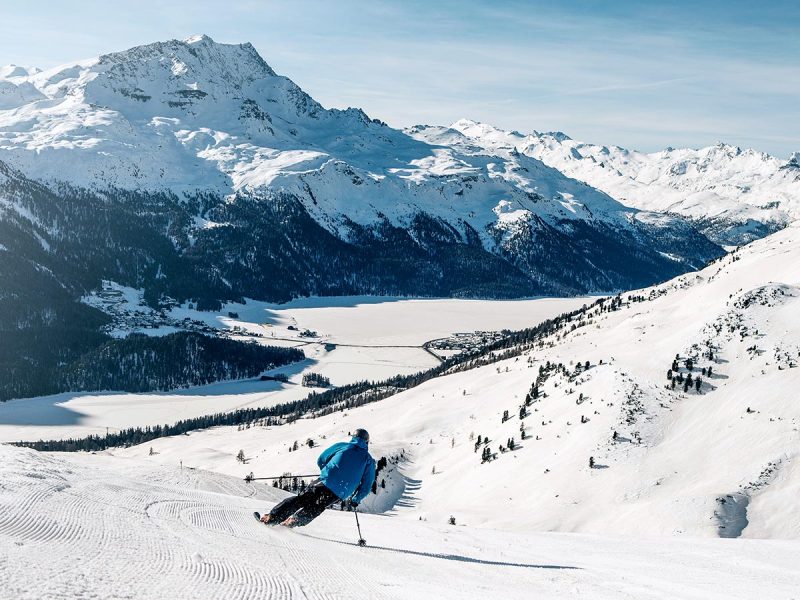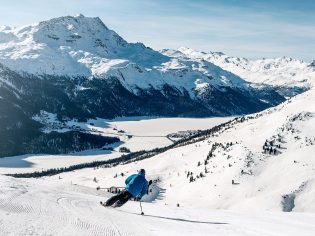 |

THIS ARTICLE WAS CREATED IN PARTNERSHIP WITH Switzerland Tourism

|
Switzerland is the birthplace of winter holidays and has 200 ski resorts crammed into a country far smaller than Tasmania.
While that leaves you endless skiing Switzerland options, you could hardly do better than visit three of its best alpine resorts on a great Swiss ski safari, linked by the Glacier Express.
The glass-domed train ride is jaw-dropping, both for its fabulous scenery and engineering as it winds through the Alps via 91 tunnels and 29 bridges.
The panoramic tourist train runs 291 kilometres between chic resorts Zermatt and St Moritz and you're seldom out of sight of foaming rivers, ice-encrusted valleys and gorges, and jagged mountains. The new Excellence Class allows you to enjoy it all in comfort, and over a five-course meal.
It would be hard to nominate the biggest wow moments, but near Visp, sheer rock faces on either side of the track culminate in peaks that rise to 4000 metres, while Oberalp Pass has particularly magnificent alpine views.
The Albula Valley sends the train into dizzying spirals, across a famous calendar-scene viaduct and through helical tunnels. Small wonder this spectacular section of railway is World Heritage listed.
It isn't just about the train ride, of course, but the stops along the way. Nor is it just about world-class skiing, as there are plenty of winter wonderlands for non-skiers to enjoy as well.
St Moritz
Start your journey in St Moritz, Switzerland's oldest and one of its chicest winter resorts – and two-time Winter Olympic host. Ski lifts are state-of-the-art and link 350 kilometres of pistes and a further 200 kilometres of cross-country tracks.
Visitors come not just to ski but to browse fashion and watch boutiques along elegant Via Serlas, wallow in spas fed by natural hot springs, drink cocktails in Belle Époque bars and enjoy the fine-dining scene.
The local sports are polo and horseracing on ice, culminating in the exclusive White Turf event around the town's frozen lake in February. The meet also includes skijoring, in which skiers are pulled behind galloping horses.
If you want your own adrenaline ride, tackle St Moritz's infamous bobsleigh run. If not, relax on 150 kilometres of rolled winter hiking trails or take a horse-drawn carriage ride through the wild Val Roseg.
Did you know?
St Moritz is a world leader in sustainable ski-resort technology (Switzerland is a sustainable leader in all walks of life) and has the Alps' first plus-energy hotel. Its latest world-first project aims to use 100 per cent recycled water for its on-piste snow makers.
Best places to stay
Five-star Badrutt's Palace Hotel is legendary and has a glorious spa and seven fine-dining venues. Hotel Laudinella is a great mid-scale choice and St Moritz Youth Hostel proves you can stay well on a budget.
Andermatt
As the Glacier Express leaves St Moritz, the Bernina Glacier shimmers and snow peaks jab the blue sky. The ride to Andermatt is the most dramatic section of this always-dramatic railway line.
Andermatt mightn't have an internationally known name, but this large, modern ski resort is the place to swoosh down the slopes with locals amid magnificent scenery.
Those up for a challenge will be thrilled with the steep descents and off-piste opportunities on the 2,969-metre Gemsstock. Families and recreational skiers will enjoy Gütsch opposite, as well as linked Nätschen and Sedrun resorts. Sedrun has wide, gentle runs and a kids' park.
The Nätschen Run is a thrilling toboggan route with fabulous scenery, and the region has abundant cross-country, snow-shoe, skating and hiking trails.
Attractive Andermatt village, which sits at the headwaters of the Rhone and Rhine rivers, has some lovely chalets, other traditional buildings, and a range of swish accommodations. You can sightsee at scenic Schöllenen Gorge and the famous St Gotthard Pass that leads to Italy.
Don't miss
The scenic Après-Ski Train that runs from Andermatt to Disentis over Oberalp Pass. Enjoy spectacular snowy peaks as you quaff cocktails and (on weekends) get into the party mood with an onboard DJ.
Best places to stay
The Chedi Andermatt is one of the Swiss Alps' most luxurious and contemporary hotels. Radisson Blu Hotel Reussen is a fine alternative, while three-star The River House is a cosy, boutique three-star option.
Zermatt
Zermatt has some of the best snowfalls and longest seasons of any European ski resort thanks to its high altitude – in fact, you can ski year-round on some of its 360 kilometres of runs. Snowboarders will be happy too: Olympic hopefuls train at the 1200-metre Zermatt Snow Park.
The 3883-metre ride up to Klein Matterhorn allows for a whopping 2200-metre descent to Zermatt village, while the iconic red train to the 3089-metre Gornergrat brings you to panoramas of jagged peaks that rear in every direction: just the place for lunch on a sunny terrace.
If you aren't a skier, never mind – the famous hatchet of the Matterhorn commands attention even on hikes.
The car-free village has character, and one of Switzerland's best après-ski and dining scenes. Check out the excellent Zermatlantis Matterhorn Museum for the story of the town and the conquest of the Matterhorn.
Local secret
Take the winter walk to the nearby picturesque hamlet of Findeln, and enjoy fondue on a rustic restaurant terrace with a Matterhorn view. Chez Vrony has other Swiss specialities including alpine rösti and hay soup.
Best places to stay
Luxury ski-in ski-out Riffelalp Resort 2222m above Zermatt has breathtaking Matterhorn outlooks. Four-star Hotel Mattiol combines chalet rusticity with contemporary style, while Hotel Carina offers sustainable three-star comfort.
More winter in Switzerland? Don't miss our 20 best things to do in Switzerland other than skiing.
LEAVE YOUR COMMENT