Chur to Alp Grüm, a delightfully crazy Swiss journey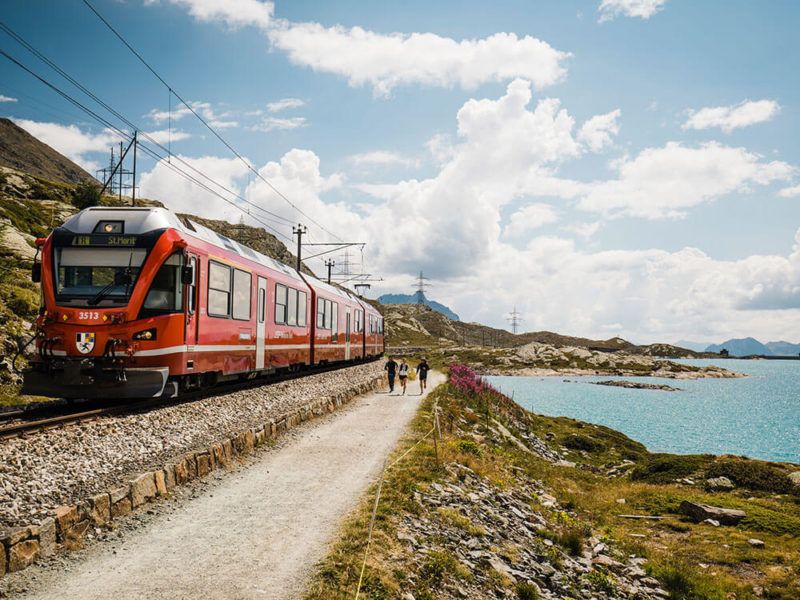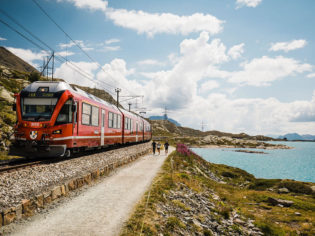 |

This Article was created in partnership with Switzerland Tourism

|
A hotel you can only reach by train, mountain bike or on foot? You'll find it high in the spectacular Swiss Alps, of course.
For gigantic geography in a glorious collision of snowy peaks, glaciers and plunging valleys, you can't beat the train journey from Chur to Alp Grüm in eastern Switzerland. As you tunnel through mountains and travel over extraordinary viaducts, the journey gets ever more dramatic. It's hard to know which is more impressive: the surrounding landscape or the century-old engineering of this now World-Heritage-listed railway.
Seeing these landscapes any other way requires a serious physical challenge, but on this little red train all you have to do is relax and stare out the window at a fabulous succession of cow-chewed fields, larch forests and a symphony of snowy scenery.
Into the Alps: Chur to Samedan
The journey starts in Chur, Switzerland's oldest city, which was settled by Celtic tribes and later prospered under Romans and medieval bishops. Its dense old-town alleys are a tangle of cafes, bars and boutiques, encased in defensive walls and an amphitheatre of Alps.
As soon as your train departs Chur, orchards and vineyards unfold and mountains loom. The Domleschg Valley, which leads towards three strategic alpine passes, is guarded by a dozen castles, making for a glorious eyeful of passing turrets and towers. Into the Albula Valley the scenery gets ever more dramatic, highlighted from every angle as the train negotiates corkscrew tracks and innumerable bridges.
The eleven-arch, incredibly slim Solis Viaduct leaps elegantly across the Albula River, frothing in a narrow gorge far below. Shortly after, you'll see the famous Landwasser Viaduct as you approach around a tight bend. On the viaduct's far side, the railway tracks vanish straight into a cliff face. It's just one of dozens of tunnels on this section of line, some helical, twisting back on themselves to spit the train out where it started, except at higher elevation.
Eventually you burst into a larch-studded valley and pull into Samedan railway station. Here you have three minutes to change trains – not something to fret about given the legendary punctuality of Swiss railways. As you pull away again, look out for gliders hanging like exotic dragonflies above the hills. In winter, you'll spot long-shanked cross-country skiers swooping past against a backdrop of fir trees clad in epaulettes of snow.
Holiday on ice: the Morteratsch hotel and glacier
At Morteratsch, the train stops at another scenic station with a charming attached hotel but nothing else to clutter the fabulous views of the jagged Bernina Range. When the railway line was first built, it skirted the edge of the Morteratsch Glacier here, but the ice has since receded 2.5 kilometres up the valley in a startling example of global warming in action.
Take the opportunity to hike the Morteratsch Glacier Trail, where information boards document the dramatic change in glacial scenery. The easy trail takes about 90 minutes return, with your first ogle at the glacier after 20 minutes. It's an awesome spectacle of ice and tumbled rock, surrounded by peaks that include the 4,049-metre Piz Bernina.
From Morteratsch onwards, the train journey becomes ever more gobsmacking. Get ready at Montebello Curve to capture a photo of the front of the train as it corkscrews against glaciers and snow peaks. As you claw upwards, the landscape becomes increasingly rocky and barren.
Glacial lakes appear, with the train skirting Lago Bianco or White Lake; glacial water often has a milky appearance thanks to suspended minerals. The train pauses for 15 minutes to allow passengers to leap off and soak up the chilly grandeur.
Mountain high; the Bernina Pass to Alp Grüm
When the train reaches the Bernina Pass, you're at 2,253 metres on the highest rail crossing in Europe. The pass shares its name to this section of the railway, the Bernina Line, one of the world's steepest narrow-gauge railways. Remarkably, it operates year-round; the barriers you see on the hillsides control drifting winter snow.
Your destination has arrived. Alp Grüm, a two-platform railway halt, hotel and restaurant built over a century ago on the south side of the Bernina Pass, is still accessible only by train, unless you hike or bike through the mountains to get here.
The hotel has fabulous views down the Poschiavo Valley. The restaurant terrace is quite the spot to sit with a white wine and enjoy Swiss and Italian specialities as you gaze at the alpine panoramas. Some hotel rooms face the stunning peak of Piz Palü, with its gleaming glacier and silvery streams of cascading meltwater. There could hardly be a more inspiring place to stay.
Get going
The journey between Chur and Alp Grüm is both easy and eco-friendly by train. You can do it in a single journey on the tourist Bernina Express or on regular trains. Services run frequently, allowing for flexibility. You might want to take the opportunity to detour from Samedan to nearby St Moritz, Switzerland's oldest and chicest winter resort.
You could stay at Gletscher-Hotel Morteratsch and Hotel Alp Grüm along the Albula-Bernina line, both right by tiny alpine train stations amid spectacular scenery, and surrounded by as many days of hiking trails as your legs can manage. The train ride is dramatic, but getting into the pine-scented mountains on foot sets the spirits soaring – a mountain high in every sense.
Make your Swiss dreams come true! Click here for Grand Tour of Switzerland offers from Entire Travel.