Eight amazing unknown experiences in "Green Spain"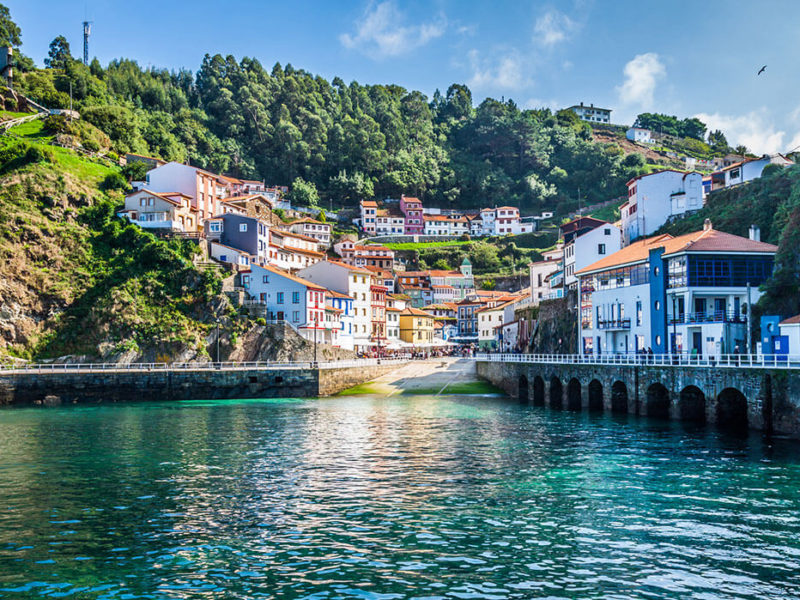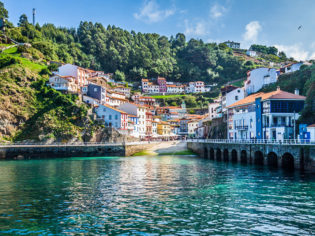 |

THIS ARTICLE WAS CREATED IN PARTNERSHIP WITH Spain Tourism Office

|
Think about Spain and there are certain classic images that will spring to mind: flamenco dancers on the cobbled streets of Seville; the iconic works of Gaudi sprawled throughout Barcelona; the sun-bathed beaches of the Costa del Sol.
However, there's so much more to this amazing and diverse country, a whole swathe of virtually untouched, unexplored destinations in the nation's north, an area known as 'Green Spain'.
Taking in the likes of Galicia, Cantabria, Asturias and the Basque Country, this is a Spain of towering mountains and verdant plains, of semi-autonomous regions with their own languages and cultures, ideal places to escape the crowds and discover something unique.
1. Visit a cider house in Astigarraga
The Basque people have been making cider for hundreds of years, and for almost as long the local sagardotegiak, or cider houses, have been inviting visitors in to sample their wares.
This age-old tradition involves patrons either sitting or standing at long wooden tables inside the old stone cider houses, eating a set meal of chorizo, salt-cod omelette, fried salt-cod, and then a huge steak, all while going back and forth to the barrel room to sample the cider.
The town of Astigarraga is the heart of Basque cider-making, and if you can time your visit between January and April and the Txotx season (pronounced 'choach') when many cideries including legendary cidery Zapiain Sagardotegia opens its cellars to visitors to sample and enjoy the fine apple nectar.
Where to stay: A few minutes outside Astigarraga, the Hotel Arima is a member of Small Luxury Hotels of the World, a boutique property in the Basque hills.
2. Explore Ice Age cave art in Altamira
One of the most important ancient archaeological sites in Europe lies in the foothills behind the coastal surf village of Suances on the central coast of Cantabria: the Altamira Cave.
This one-kilometre-long cavern is decorated with charcoal drawings and polychrome artwork, some of which dates back an incredible 36,000 years, during the Upper Palaeolithic period. This is a UNESCO World Heritage Site, and a visit to the nearby museum and replica of the caves is a must for anyone keen on archaeology.
Where to stay: In nearby Santillana del Mar, the Parador de Santillana Gil Blas is a charming hotel set in a classic mansion, with an excellent restaurant on site.
3. Journey to the end of the world at Cabo Fisterra
This is as far west as Spain goes; almost as far west, in fact, as mainland Europe stretches.
Cabo Fisterra, known in English as Finisterre, is a ruggedly beautiful finger of land in northern Galicia, a place filled with tradition – many who walk the famous Camino de Santiago end their journeys here – as well as history, with a 12th-century church and an old lighthouse to check out. The coast between Fisterra and Muxia, to the north, is studded with gorgeous and often deserted beaches, paradise you will have all to yourself.
Where to stay: Casa Raúl, in the town of Lires, about halfway between Fisterra and Muxia, is the perfect farmstay, with charm and comfort in equal measure.
4. View fine art in Santander
Most visitors to northern Spain are aware of the Guggenheim, the world-class art gallery based in the formerly industrial hub of Bilbao.
Few people, however, realise that just an hour down the coast, the Cantabrian city of Santander has its own rival: the Centro Botín. Set in a spectacular building designed by renowned architect Renzo Piano, the Centro Botín is home to a collection of predominantly modern artworks that stretch across a range of media. There's a cafe onsite, plus a rooftop viewing platform.
Where to stay: The Eurostars Hotel Real is a classic Santander property, a palace built for King Alfonso XIII that retains much of its royal grandeur.
5. Try traditional pintxos in Getaria
The tiny Basque fishing village of Getaria punches well above its weight: this is the birthplace of Juan Sebastián del Cano, the first man to circumnavigate the world, and it's the home town of renowned fashion designer Cristóbal Balenciaga.
More importantly, however, Getaria also plays host to some of northern Spain's finest cuisine, in the form of Elkano, a Michelin-starred seafood restaurant, and Elkano Txiki, that eatery's smaller and more accessible offshoot. Set on the narrow streets of Getaria's Old Town, Elkano Txiki serves up some of the finest seafood snacks you're ever likely to sample, in some of Spain's friendliest surrounds.
Where to stay: Up on a hillside just above Getaria, Usotegi is a stunning casa rural, or country house, with views of grapevines and ocean.
6. Reach for the sky in the Picos de Europa
The Picos are truly one of the unsung heroes of European travel, an absolutely stunning series of towering peaks, grassy meadows and high-altitude lakes where you're far more likely to bump into grazing cattle than any fellow human explorers.
This area, which straddles Asturias, Cantabria and Castilla y León, is paradise for hikers, where trails are well-marked, the weather is temperate, and the scenery is beautiful enough to rival any of Europe's better-known mountain ranges.
Where to stay: The Parador de Fuente Dé, set in the foothills of the Picos de Europa in Cantabria, is a modern mountain hotel that provides access to some excellent hiking.
7. See the Tower of Hercules in A Coruna
A Coruña, the 'second city' of Galicia after famous Santiago de Compostela, is the home of one truly amazing edifice: the Tower of Hercules, the oldest lighthouse on Earth. Built during Roman times in the first century AD, the lighthouse follows a Phoenician design, and stands sentinel to this day over the powerful North Atlantic.
Though the Tower of Hercules is a World Heritage Site, it's far enough from the standard tourist trail that you will find few other visitors at this spectacular location.
Where to stay: In central A Coruña, close to the beach and Congress Palace, as well as the Tower of Hercules, the NH Collection A Coruna is the perfect base.
8. Soak up traditional culture in Cudillero
Bring your camera when you visit Cudillero, because this fishing village on the rugged Asturian coast is as pretty as it gets: pastel-painted houses tumble down steep hills to the local port; boats bob in the old stone-walled marina; the sea sparkles to the far horizon.
It doesn't get much better than Cudillero, particularly when you consider how quiet it is here compared to some of Spain's more famous coastal towns. There's little to do in this village but wander and wonder – but really, that's exactly what you're here for.
Where to stay: Accommodation in Cudillero itself is limited, so if you find a room at the charming La Casona de Pío, snap it up.
For more information about Green Spain, including the latest safety updates, see travelsafe.spain.info/en/
LEAVE YOUR COMMENT