The 8 best nature experiences in Italy you haven't heard of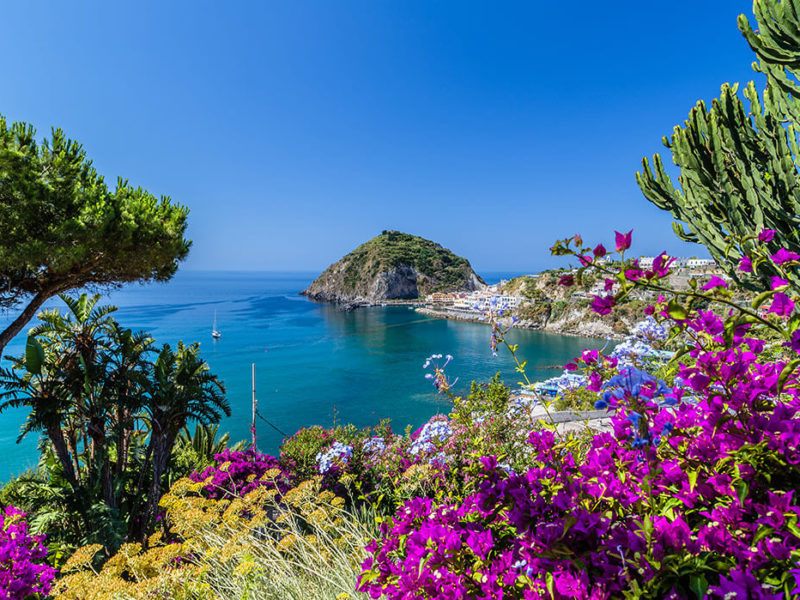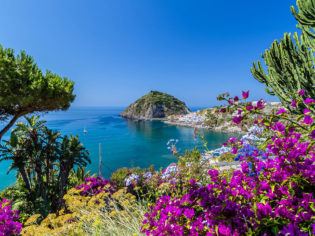 From wildlife encounters with brown bears and pink flamingos to walking the verdant mountain trails of an undiscovered island, and from exploring the most beautiful secret garden in the world to simply enjoying the spoils of the Mediterranean landscape.
From its food and wine to its lifestyle and culture, so much of what we love about Italy springs from its natural landscape and the ancient agricultural traditions so inherently tied to it. From the rustic Tuscan hills to the salt-of-the-earth deep south of Puglia, it offers a patchwork of opportunities to get out amongst it and sample the sweet life straight from the source. And, surprising perhaps for a country 26 times smaller than Australia, it also offers vast and unspoiled national parks and wild places that feel far removed from everywhere but are in fact within day-tripping distance of its major cities. From the mountain wilderness roamed by wolves to magnificent wetlands stalked by flamingos, read on for the weird and wonderful ways you can experience Italy's abundant nature and fall in love with the country all over again.
Hike some of the most majestic alpine scenery you'll find anywhere in the world
With its pale jagged peaks, vivid green valleys and bright blue alpine lakes, the World Heritage-listed Dolomite mountain range in north-east Italy boasts some of the most majestic scenery in the world. And while it's a favourite winter ski destination for Europeans, it also makes for a heavenly spot in summer: with excellent hiking, sublime views every which way you look and pine-spiked fresh air to inhale deeply. Forming part of the Alps, the landscape is home to pretty alpine meadows, mountain huts (rifugios) you can stay in, and a unique culture and cuisine with more than a hint of Austrian influence thanks to its proximity to the border.
Must do: The 10-kilometre Tre Cime di Lavaredo Loop is one of the best short hikes in the Dolomites. It takes in the area's iconic Three Peaks, rolling scenery and valleys carpeted in wildflowers come summer. Stop for lunch and beers at one of the many rifugios along the way.
Or try: Gran Paradiso National Park, close to the French border in Italy's north-west, is the country's oldest national park and an alpine paradise: packed with glaciers, forests, lakes, meadows and sky-piercing peaks. Wildlife to look out for includes alpine ibexes locking horns, chamois (a type of goat-antelope) nimbly navigating the mountainsides and adorable marmots just hanging out.
Cycle and sip your way through the mind-bogglingly beautiful Prosecco Hills
An hour's drive north of Venice in the foothills of the Dolomites lies one of Italy's best but remarkably undiscovered wine regions – home to the world's second most famous sparkling – where age-old agriculture and nature combine to create an uncommon landscape. In 2019, the Prosecco Hills of Conegliano and Valdobbiadene were added to the UNESCO World Heritage list because of the distinctive way they have been farmed since the 17th century. Today these undulating hills are a patchwork of overgrown vines, forests and farmland dotted with traditional Italian villages. And the small family-run vineyards, or cantine, that you'll stumble upon here still use traditional methods dating back hundreds of years.
At the heart of the area, the Prosecco Road is Italy's oldest wine route and one of its unsung gems, looping together rustic cantine and other sites of interest ingrained in the natural landscape including the ancient water mill Molinetto della Croda. You can easily drive the Prosecco Road, but better yet – walk or cycle it.
Must do: Join an eight-day walking or cycling tour through the heart of the Prosecco Hills along quiet trails and rural country lanes.
Or try: Rich in history and art, and surrounded by vineyards, Montepulciano provides all the best bits of Tuscany in one handy hilltop town; take an e-bike wine tour to explore its beautiful surrounding scenery studded with rustic cellar doors.
See pink flamingos and eat traditional eel dishes in Italy's intriguing wetlands
Less than two hours' drive south of Venice within the Delta del Po Natural Park, the Valleys of Comacchio are the largest wetlands area in Italy. Here, 11,000 hectares of brackish lagoons are enmeshed with the Adriatic Sea and swathes of centuries-old woodland and pine forests to create a haven for wildlife of the unexpected variety. Wild rabbits and ducks, egrets and cormorants call this briny place home as well as pink flamingos – one of the few places in Europe you'll find them year-round – and eels, which form the basis of the area's idiosyncratic culinary traditions.
Explore this extraordinary ecosystem (recognised as a wetland of international importance by the Ramsar Convention) by boat, foot or bike and later sample the local speciality – roasted or marinated eel with bay leaves – in Comacchio itself, an ancient lagoon city of bridges and canals that calls to mind Venice.
Must do: Take a boat trip through the inner waterways of the Valleys of Comacchio to see the wildlife, traditional fishing stations and ancient huts that show how humans have integrated with this remarkable natural landscape for hundreds of years.
Or try: The Vendicari Nature Reserve in southern Sicily is a wetlands complex of saltwater lagoons, sand dunes, rocky coastline and beaches; you'll find migrating birds from Africa stopping off here throughout the year including flamingos, herons and storks in spring and autumn.
Embrace the slow food movement in a quintessential rural Italian landscape
In the heart of the Piedmont region in north-west Italy, the Langhe and Roero district supplies your quintessential rural landscape of sweeping hills capped by small villages, or borghi, along with the requisite dose of epicurean adventure. Gastronomic and winemaking traditions are closely tied to the land here, making it the ideal place to stop and enjoy the essence of the slow food movement, which originated here in the 1980s.
Head to Alba for its truffles, Barolo for its full-bodied red wine, and Bra – slow-food ground zero – for its independent stores spruiking organic sausages, handcrafted chocolates and farm-fresh produce.
Must do: Join a truffle-hunting tour to spend a day in the beautiful Piedmontese woods and countryside with a truffle hunter and their dog to see where the Alba white truffle, one of the world's rarest and most expensive foods, grows in the wild.
Or try: For white gold of another variety, head to the province of Lucca in Tuscany to see how the world-famous Carrara marble is hewn from the earth. A trip to the small village of Levigliani will reveal some of the province's quarries including Tavolini, which has been active since the Roman period.
See brown bears and wolves in the amazing mountain wilderness just outside Rome
While the National Park of Abruzzo might only be a couple of hours' drive east of Rome, this spectacular wilderness in Italy's central Apennine Mountains feels far removed from anywhere. It was established in 1923 to protect the natural landscape and its motley inhabitants: today its remote valleys are home to some 40 endangered Marsican brown bears, deer, otter and chamois as well as the Italian wolf. Its medley of mountain trails (many stemming from the town of Pescasseroli), dense beech forests, rivers and streams plus the possibility of animal sightings make for a thrilling excursion.
Must do: Join an environmentally conscious bear-watching tour out of Pescasseroli to learn about the Marscian brown bear and its natural habitat with experts; the evening adventure includes sunset and dinner at a mountain hut and your best chance of spotting the creature safely.
Or try: Formerly used as a prison, the unique Sardinian island of Asinara is these days a national park thanks in no small part to its population of wild albino donkeys. These cute little creatures are thought to be endemic to the island – its name translates to 'donkey inhabited' – and you'll encounter them all over as you explore on a mountain bike, horseback or mini tourist train.
Lose yourself in the astonishing secret garden built on the ruins of an ancient town
Just 1.5 hours south of Rome lies one of the most surreally beautiful gardens in the world. Built on the ruins of a medieval town, the Garden of Ninfa covers more than three hectares in a profusion of 1300 botanical species from all around the world.
Thanks to a microclimate produced by the fast-flowing Ninfa River that winds through the old settlement, the walled garden is home to many things you wouldn't expect to find in this part of the world. There are apple and cherry trees that blossom in spring, deciduous magnolias, birches and Japanese maples, avocado and banana trees, and even a lush bamboo forest. Ancient ruins and bridges that arch over crystal-clear water are drenched in roses and wisteria and the whole scene looks straight from an Impressionist painting.
To protect the delicate ecosystem, the garden is only open to the public on selected weekends throughout the year.
Must do: A 60-minute guided tour is the only way to access the Garden of Ninfa; book ahead online for one of the two English-speaking tours (10.30am and 3.30pm) that run on public open days.
Or try: Forty minutes east of Rome in Tivoli, the grounds of the Villa d'Este influenced the development of garden design throughout Europe and signalled the beginning of Renaissance culture in Italy; wander its terraced hillsides and take in its mind-boggling array of fountains.
Walk the blissful mountain trails and soak in the thermal waters of Italy's under-the-radar island paradise
The more down-to-Earth sister of glitzy Capri, Ischia is a volcanic island in the Bay of Naples famed, among other things, for its proliferation of thermal springs. Travellers have been coming here since Roman times to take to its health-giving waters and while it's a popular holiday spot for Italians in the know, so far it has managed to largely fly under the international radar.
Known as the green island, it's also a beguiling mix of beaches, vineyards, botanic gardens and a bonus Aragonese castle set around a wild green interior of Mediterranean scrub tangled with heather, wildflowers and chestnut forests. Even when the coastline is buzzing in summer, the verdant mountain trails that lace through this landscape are blissfully empty and well worth your footprints.
Must do: Hike to the top of Mt Epomeo, the highest point on the island, for astounding views of Ischia itself, Capri, the Sorrento Peninsula, Naples and beyond, before soaking your weary bones at an open-air thermal park such as Poseidon Gardens or one of the island's fumarole beaches. Stay at the historic Il Mezzatorre Hotel & Thermal Spa.
Or try: Characterised by its black volcanic rock and hot dry sirocco wind that blows up from the Sahara, Pantelleria is a beautifully raw and wild Italian island that lies between Sicily and Tunisia. With 80 per cent designated national park, it has pristine seas, a huge thermal lake and lava stone homes known as dammusi to stay in, whose architectural style remains unchanged since the 10th century.
Live an earthy Mediterranean lifestyle in Italy's magical deep south
The Itria Valley, in the sleepy and deeply evocative southern region of Puglia – which forms the heel of Italy's boot – is famed for its natural tapestry of red soil and golden-green olive groves under a pitch-perfect blue sky. Chalky whitewashed towns like Ostuni spring from this compelling Mediterranean landscape as do the traditional trullo houses – curious limestone dwellings with conical roofs – originally constructed by agricultural workers in the region.
Be sure to visit Alberobello, a UNESCO World Heritage site and the quintessential trulli town, but make time to soak in the spirit of the land, too. You'll find traditional manor farms (masserie) here that have diversified into agritourism to offer stunning places to stay and the chance to be immersed in the earthy spoils of your surrounds through true land-to-table experiences including workshops, tastings and mealtimes.
Must do: Check into the quiet and rural Masseria Casamassima, a whitewashed 16th-century walled manor farm six kilometres from Ostuni, for its atmospheric digs, authentic cuisine and tastings of its in-house olive oil; the masseria has an underground oil mill dating back to the 16th century.
Or try: In the small village of San Floro in Italy's south-west region of Calabria, a dynamic young farm cooperative is resurrecting the area's ancient silk production industry by breeding silkworms. Visit Cooperativa Nido di Seta for an experiential day outdoors that includes the chance to see silk worms nibbling on mulberry leaves and silk-reeling during the cocooning process, and an organic lunch under a century-old pine tree.
LEAVE YOUR COMMENT