10 of the best Mediterranean cruise holidays in 2020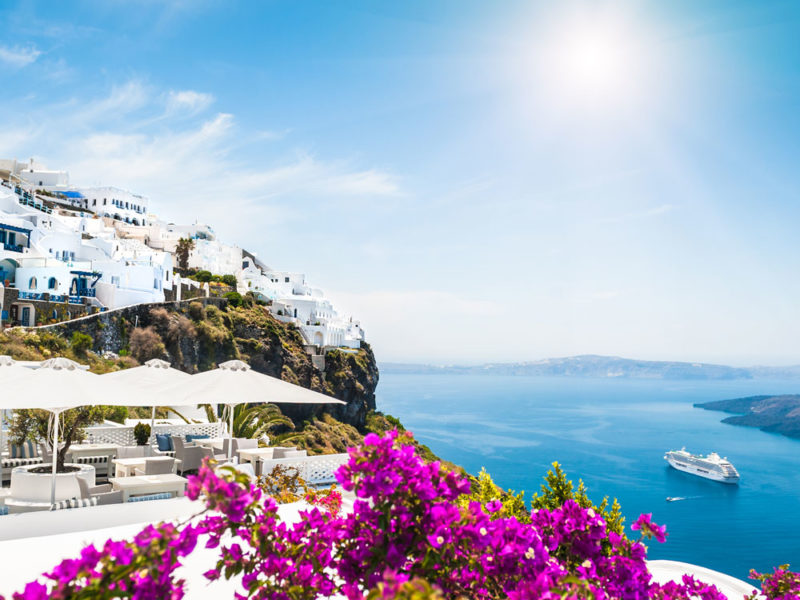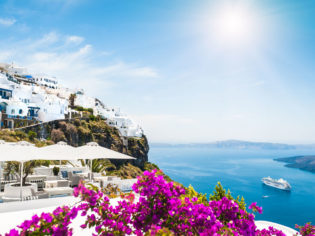 |

This Article was created in partnership with Cruiseco

|
From the ancient ruins in Rome to the romantic canals of Venice, the sun-soaked playgrounds of the French Riviera to the charming old towns of Croatia, the Mediterranean is easily one of the most diverse regions in the world – and one best explored on a cruise. Here, we round up the best Mediterranean cruise itineraries in 2020.
20-night Best of the Mediterranean
We're kicking off this list with the mother of all Med cruises. If you have the time, then this 20-night cruise onboard Holland America Line's Nieuw Statendam allows you to leisurely experience five different (and extraordinary) countries in three weeks. Imagine getting purposefully lost in the white maze that is Santorini; wandering awe-struck in the open-air museum that is ancient Rome; experiencing the cultural fusion of Gibraltar; and mingling with the jetset in the glamorous city of Monte Carlo.
Ports: Rome, Naples and Livorno (Italy), Dubrovnik (Croatia), Corfu, Katakolon, Athens and Santorini (Greece), Kusadasi (Turkey), Cartagena, Cadiz and Barcelona (Spain), Marseille and Monte Carlo (France).
The ship: Launched in 2018, Nieuw Statendam has a classic nautical style, with a focus on music venues including a Rolling Stones rock room, wellness activities inspired by the ship's godmother Oprah Winfrey, as well as cooking demonstrations and hands-on workshops.
7-night Western Mediterranean
On the flip side, this is a concise introductory cruise to the Mediterranean for those who have limited time. The seven-night cruise aboard Royal Caribbean's Allure of the Seas covers some of the best sites in the big-ticket destinations of Spain, Italy and France. Witness the masterpiece that is the Sistine Chapel in Rome, Michelangelo's famous David in Florence, walk through the ruined city of Pompeii and gaze up at the extraordinary architectural feat that is La Sagrada Familia in Barcelona.
Ports: Barcelona and Palma de Mallorca (Spain), Marseille (France), Florence, Rome and Naples (Italy).
The ship: The award-winning Allure of the Seas is one of the world's biggest cruise ships, and has a huge range of entertainment and dining options to match its stature – think waterslides, karaoke, Broadway shows, ice-skating and zip-lining.
9-night Israel Intensive Voyage
If you're after a truly unique voyage to a lesser-explored region of the Med, this nine-night Israel cruise onboard Azamara's Azamara Quest is something special. Stroll narrow streets lined with charming tavernas and shops, witness medieval castles and archaeological ruins, and visit biblical sites such as Nazareth and Galilee, and the spiritual city of Jerusalem.
Ports: Athens and Crete (Greece), Limassol (Cyprus), Haifa, Ashdod and Jerusalem (Israel).
The ship: Azamara Quest is a mid-sized ship that can access some of the region's lesser-visited ports. Its modern, premium design feels more like a boutique hotel, but it still offers several dining venues and multiple entertainment options, such as a cabaret lounge, enrichment programs, a tranquil day spa and fitness centre.
10-night Best of Spain & Portugal
Venture beyond the Mediterranean to the Iberian Coast aboard Celebrity Cruises' Celebrity Infinity. Spend time in the vibrant Spanish city of Valencia, also known as the birthplace of paella; discover Malaga, the gateway to Andalusia's pretty countryside; cruise through the Strait of Gibraltar; and end the cruise in the alluring Portuguese capital of Lisbon.
Ports: Barcelona, Valencia, Alicante, Malaga and La Coruna (Spain), Gibraltar (UK), Porto and Lisbon (Portugal).
The ship: A new-look ultra-contemporary Celebrity Infinity will be unveiled in 2020 with premium bedding and modern bathrooms in the staterooms, reimagined dining venues, new exclusive facilities for Suite Class guests and a redesigned spa.
7-night The Best of Croatia
The rugged beauty of the Adriatic Coast is the hero of Ponant's ultimate Croatian voyage that takes in the country's historic cities and visits islands that feel lost in time. Spend time on the idyllic island of Korcula with its olive groves and vineyards; soak up the mix of ancient history and cosmopolitan vibes in Split; and venture to Montenegro's medieval city of Kotor, also home to a spectacular bay of the same name.
Ports: Venice (Italy), Korcula, Sibenik, Split, Dubrovnik, Hvar, Pula and Rovinj (Croatia), Kotor (Montenegro).
The ship: Le Lyrial is an elegant and luxurious yacht that hosts just 260 passengers, providing a more intimate cruising experience. It has two restaurants and bars, a pool, theatre and spacious staterooms with a fresh, modern look.
7-night Secrets of the Cyclades
History buffs and sun-worshippers alike will find their happy place on this seven-night cruise aboard Crystal Cruises' Crystal Esprit, which hops between the breathtakingly beautiful and history-laden islands of Greece. You'll learn about Greek mythology and ancient civilisations as you explore the world-famous Acropolis in Athens, get lost in the white splendour that is Paros, relax on the beaches of Mykonos, and discover the tiny, deserted island of Delos, once the religious and commercial centre of the Eastern Med. Top tip: take this cruise with your mum!
Ports: Athens, Delos, Nauplia, Mykonos, Paros, Patmos, Santorini, Chania, Neapolis, and Elafonisos.
The ship: The elegant all-inclusive Crystal Esprit is the epitome of luxury, priding itself on six-star service, Michelin-star dining and butler-serviced suites.
7-night Eastern Mediterranean (cruising three continents!)
Three continents and five countries in eight days sounds impossible, but this cruise aboard Celestyal Cruises' Celestyal Crystal does just that – with ports in Europe, Asia and Africa. In just one memorable week you can visit Bethlehem, the birthplace of Jesus; see the awe-inspiring Pyramids; haggle in a Turkish bazaar; and soak up the sun in the isles of Greece.
Ports: Athens and Rhodes (Greece), Alexandria and Port Said (Egypt), Ashdod (Israel), Limassol (Cyprus) and Kusadasi (Turkey).
The ship: Celestyal Crystal is an older-style ship but it's more about authentic, culturally immersive experiences than luxury. There is a host of activities on board including language and dancing lessons, arts and crafts, a spa and gym.
10-night Treasures of Southern Spain and Morocco
Delve deeper into colourful Spain with Windstar's Wind Star, travelling from the Catalan city of Barcelona – resplendent in Antoni Gaudi's colourful architecture – to the southern region of Andalusia, with its Islamic-inspired design. You will also spend time in exotic Morocco, a country that is a cultural melting pot of European and African influences, and end the cruise in Portugal's pastel-coloured capital, Lisbon.
Ports: Barcelona, Tarragona, Palma de Mallorca, Valencia, Cartagena and Malaga (Spain), Tangier (Morocco) and Lisbon (Portugal).
The ship: Wind Star is a four-masted sailing yacht that accommodates up to 148 guests, and possesses an old-world charm. The staterooms are spacious, and there are two dining rooms, a lounge, casino, spa and pool.
7-night Turkish and Aegean Treasures
Explore the exotic far east of the Mediterranean with this Seabourn cruise that begins in Istanbul, one of the world's most intriguing cities, where you can explore ancient ruins, lively bazaars and the sparkling minarets that dominate the skyline. The Greek islands of Spetsai, nicknamed 'Isle of the Aromas' for its intoxicating appeal, and beautiful Santorini, famous for its sunsets, are also on the agenda.
Ports: Istanbul, Myrina, Cesme and Bodrum (Turkey), Rhodes, Santorini, Spetsai and Athens (Greece).
The ship: Introduced in 2018, the modern Seabourn Ovation is a small, premium ship. All 300 suites have verandahs, and there are several dining options, including The Grill by Michelin-starred chef Thomas Keller, as well as excellent enrichment programs.
9-night Rome (Civitavecchia) to Barcelona
Sun-drenched coastlines, charming stone buildings laced with bougainvillea, turquoise bays dotted with bobbing boats – this part of the Mediterranean sure is a beauty. Southern Italy is a focus on this Silversea cruise with the equally beautiful island state of Malta, as well as the resort city of Palma de Mallorca and vibrant, history-rich Barcelona in Spain also on the list.
Ports: Rome, Sorrento, Giardini Naxos, Trapani, Cagliari and Olbia (Italy), Valletta and Gozo (Malta), Palma De Mallorca and Barcelona (Spain).
The ship: Silver Shadow boasts an elegant design, has one of the highest space-to-guest ratios at sea, and four first-class dining venues including the only Relais and Chateaux Wine Restaurant at sea.
To find more spectacular cruises through the Mediterranean, visit Cruiseco or check out their exclusive Europe Collection.