Why you'll love Christmas in Austria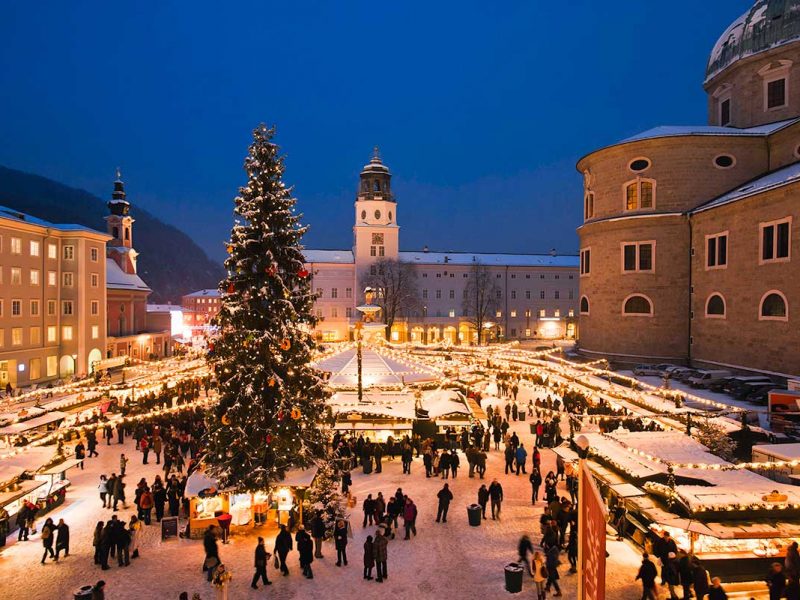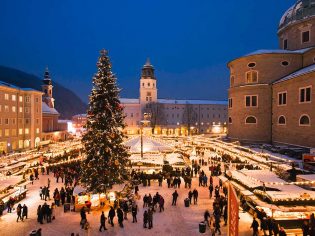 |

This Article was created in partnership with Austrian National Tourist Office

|
There's no better place to enjoy the Yuletide season than in this deeply traditional winter wonderland.
Picture Christmas in all its traditional perfection: blankets of snow atop alpine roofs, carollers singing in the crisp air, ancient markets bustling with life, and centuries-old Yuletide traditions playing out before your eyes. That's Austria, not just on Christmas Day itself, but in the long lead-up and aftermath of this cherished annual festival.
If it's a classic, snow-white Christmas you're after, there are few better places to visit.
The action in Austria starts four weeks from Christmas Eve, when Advent begins. Advent wreaths, woven with twigs and decorated with ribbons and candles, are then placed in homes all across the country. Various traditions then unfold all the way until New Year.
If you're travelling to Austria during this amazing time , here's what to expect.
P.S If you are coming for the skiing, don't miss our guide to the best Austrian ski resorts).
Christmas markets
With all the beautiful products on sale, the feeling of goodwill among visitors, and of course the roasted chestnuts and toasty warm glühwein to try, there's something truly magical about a European Christmas market.
Austria boasts some of the best Christmas markets on the continent, the largest and most famous of which are in the main cities like Vienna, Salzburg and Innsbruck, though some of the most fascinating exist off the beaten path, in the smaller regions and villages.
Be sure to make time to visit the Wolfgangsee Advent, a series of three quaint, gorgeous markets in the lakeside villages of St Wolfgang, St Gilgen and Strobl, accessible by boat. It's one of the most memorable Christmas experiences you'll ever have. Make time, too, to experience the Katschberg Advent Trail, a snow-covered hiking path dotted with nativity scenes, craft huts and other traditions.
The home of Silent Night
One of the world's best known and most loved Christmas carols, Silent Night was written and composed in Austria, in a small village just outside Salzburg. On Christmas Eve more than 200 years ago, teacher and organist Franz Xaver Gruber and local priest Joseph Mohr first performed their new song in their hometown of Oberndorf. Its popularity quickly spread, the song's message of hope and solidarity proving the perfect antidote to troubled times. The song has since been listed as UNESCO Intangible Cultural Heritage.
Visitors to the town of Oberndorf can now visit the Stille Nacht Museum, where the story of the song is told in detail, and renditions can be heard in more than 300 languages.
St Nicholas and Krampus
There are two key figures in Austrian Christmas folklore, two characters that loom large in the imagination of children in particular: St Nicholas and Krampus. And visitors are likely to see both these figures, particularly if you're in Austria in early December.
St Nicholas is probably familiar to most as a Christian saint and kindly figure who inspired the character of Santa Claus. He visits children's houses in Austria with his sinister sidekick, Krampus, a hairy, horned creature, to ask who has been good this year.
This is traditionally done on Krampus Day, 5 December, when children also dress up as the feared mythical creature.
Nativity scenes
You think you've seen nativity scenes? Wait until you see the Austrian variety. These traditional wood carvings are displayed in churches and other community gathering points throughout the country, though most notably in the Salzkammergut region surrounding Salzburg. Here, artisans present incredibly detailed nativity scenes, featuring intricately carved and decorated figurines in elaborate landscapes.
This is a tradition that began more than 400 years ago, and it continues to flourish across Austria. As a result, the practice has been listed as UNESCO Intangible Cultural Heritage.
Christmas Eve
It may come as a surprise to some visitors, but Austrians celebrate Christmas on 24 December. Even for visitors it's a day filled with the magic of tradition. Walk around on the 24th and you'll see Christmas trees ready to be lit for the first time, decorated with gold and silver ornaments, sweets wrapped in foil and stars made of straw. Their lights will go on when darkness falls; traditionally, Austrians sing carols to mark the occasion, and Silent Night is always popular.
This is a night for family, and for feasting. And, of course, for presents. In Austria, children's gifts are traditional brought to them not by Santa, but by the cherubic Christkind, or Christ Child.
Salzburg Christmas Museum
If you're curious to know more about what's happening around you during the Christmas period in Austria, or if you'd like some explanation of the traditions or to dig deeper into the history, the Salzburg Christmas Museum is the perfect destination. Located on beautiful Mozartplatz in the Old Town, the museum features exhibits that have been collected over almost 50 years, spread across 11 different themes. Everything you need to know about Christmas in Austria is here.
Original Viennese snow globes
Snow globes have been imitated the world over, but they were invented in Vienna by an artisan called Erwin Perzy. Beautifully designed, unique globes made by Perzy's company – now in the hands of his grandson, Erwin Perzy III – are still sold each year at the Vienna Christmas Market. Alternatively, interested visitors can call past Perzy's Snow Globe Museum, set in a 250-year-old building in Vienna.
White Christmas
Of course, travellers to Austria in December would be hoping for a magical white Christmas, and there are several locations in the mountainous Tirol region where it is most likely to happen. In the likes of St Anton am Arlberg, Obergurgl and Hochfilzen, meteorologists predict a 90 per cent or greater chance of snowfall by Christmas Day.
For more information and to plan your Christmas in Austria, visit austria.info and for accommodation recommendations check out the Austrian Hotel Collection.