Test your taste buds: 11 essential food adventures in Japan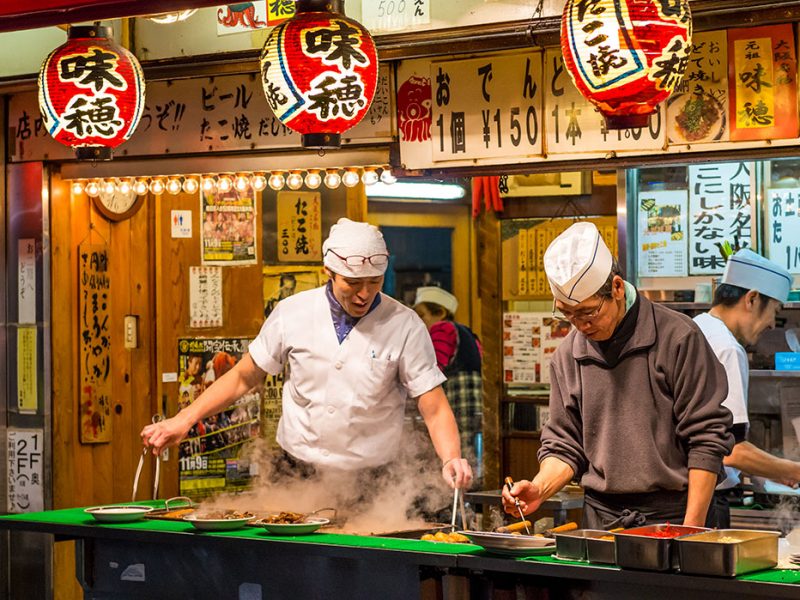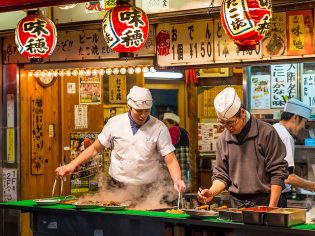 Japan is a destination whose food is inextricably linked to the destination. To know Japan is to have feasted…
Join us for a tour of the 11 essential food adventures you will love in Japan.
1. Go diving for your (shellfish) dinner at Ise-shima
'Catch of the day' takes on a new meaning with a visit to Ise-shima on the Mie Peninsula, in the Kansai region, where the legendary Ama free divers have been delving into the deep coastal waters in search of shellfish, kelp, sea urchins and, in the past, pearls for generations (the practice is thought to be thousands of years old).
The Ama – meaning 'sea women' – generously share their traditions with visitors; as part of an organised experience you can go diving with a guide, learn the history and culture of Ama practices, and then feast on the abundant seafood of the region while enjoying the company and stories of the women themselves.
2. Feast on fugu – if you dare
Much has been made of the fact that you can actually order and eat deadly pufferfish in Japan, but fugu is considered a delicacy to be savoured. The organs of the fish contain lethal levels of poison, which is why specialist chefs study for years to gain the skill needed to create fugu dishes that are completely safe (by removing the toxic organs without contaminating the flesh) as well as delicious.
Head to Shimonoseki in Yamaguchi Prefecture, known to many as the 'blowfish capital of Japan', where Shunpanro has been serving fugu since 1888, or make a reservation at Usukifugu Yamadaya in Tokyo, which serves up fugu with the reassurance of two Michelin stars (the Tokyo restaurant is a sister establishment to the original Yamadaya in Oita Prefecture). If it is your first time, order the classic whisper-thin sashimi slices, dipping them in a citrus-laced soy sauce.
3. Take the wanko soba challenge
In Iwate Prefecture, sitting down to enjoy the rather quizzically titled wanko soba is an adventure in endurance.
The freshly made buckwheat noodles are a specialty of the region, with the way they are served really setting them apart: in small portions one after the other after the other after the other. Accompanied by a range of toppings and side dishes, the noodles are eaten and immediately replaced with another serving poured in your bowl. Empty bowls are stacked in front of the diner creating a tower; when they can't eat any more they place a lid on top of their bowl to alert the ever-present servers.
Wanko soba eating contests are popular in Iwate Prefecture, but the noodles are not designed to be consumed fast, rather they are meant to be savoured, with the process of serving bowl after bowl seen as an act of hospitality.
4. Savour the street food
Mention Japan's street food scene and most people's thoughts turn to Osaka and the sizzling, smoking stalls that line Dotonbori.
But another fun way to sample street food is during the abundant summer festivals that take place across the country throughout July and August. Festivals are a riot of colour and fun, with the food on offer presented in easy-to-eat portions that are packed with flavour.
Dishes that are popular at summer festivals include yakitori – skewered and grilled meat and spring onions glazed with sauce; piping-hot takoyaki – fried batter balls filled with octopus and generously topped with sauce, mayonnaise and bonito flakes; taiyaki – cute fish-shaped waffles filled with red bean paste, sweet black sesame, or vanilla custard; and silky and vibrantly green matcha ice-cream.
5. Immerse yourself in sake (literally)
Niigata Prefecture is famed for its sake, with the quality of the rice produced in the region and the abundant pure mountain water from its heavy winter snowfalls combining to perfection.
You can witness the traditions of sake-making on a tour of one of the 90 or so breweries in the area, including Imayo Tsukasa, which was established in Niigata City during the Edo Period in 1767. Or visit one of the city's three Ponshukan Sake Museum stores to try the 500 yen corner, where you can sample five different sakes using special tasting coins, and purchase from vending machines offering up nearly 100 different sakes. At the Echigo-Yuzawa store you can even soak in a hot sake bath (sake added to local hot spring water).
6. Awaken all your sense with a kaiseki meal
Sitting down to a multi-course kaiseki meal is as much a visual feast as it is a culinary one.
Combining taste, texture, colour, seasonality and design, kaiseki traces its origins to the tea ceremony, when a meal was traditionally served before tea was taken. Now, however, it can be sampled widely as a dinner option, including during a stay at a ryokan or traditional Japanese inn. Here, numerous small dishes are artfully served in an eclectic array of patterned and coloured ceramics, with soup, rice, sashimi, vegetables and grilled meats included.
During a stay at a shukobo (temple lodging), shojin ryori is served; similar to kaiseki in the manner of serving, the difference here is that the meal is completely vegetarian, in keeping with Buddhist principles.
7. Eat a fried leaf, 1300 years in the making
Seasonality is an important element in Japanese cuisine, with various ingredients and dishes considered to be at their freshest and best at certain times of the year, depending on the seasons playing out across the landscape and traditional harvesting periods. Shun is used to describe when fruits, vegetables, meats, fish and other ingredients are at the peak of their flavour.
One of the more unusual seasonal dishes on offer during autumn is momiji tempura, sweet battered and fried maple leaves. With a history dating back 1300 years, the best place to try this unusual delicacy is in Minoo City in Osaka Prefecture, where autumn leaves colour the surroundings in vivid shades of red, yellow and orange.
8. Pungent natto breakfast
One of the most adventurous dishes to try on a visit to Japan is natto, soybeans wrapped in straw and fermented with the assistance of the Bacillus subtilis natto bacterium, found naturally in the straw. The end result is a sticky and pungent mass of beans (which form curious viscous strings when eaten) that are usually served at breakfast atop rice and flavoured with accompaniments such as mustard, soy sauce and spring onions.
9. Attend a traditional tea ceremony
A truly iconic Japanese culinary experiences is the tea ceremony.
An exquisite ritual that honours traditions passed through time, the act of making and serving tea, known as chado or sado (meaning 'the way of tea'), is considered one of the three classical Japanese arts of refinement along with incense appreciation (kodo) and flower arranging (kado).
Undertaking a formal chaji ceremony, which involves a full kaiseki meal prior to both thick tea (koicha; created using the highest grade tea and with less water to produce a syrup-like consistency) and thin tea (usucha; made by using more water and less powder with a frothy head) being served, is a theatrical experience that can take hours. Alternatively, chakai is a less formal gathering with thin tea and small confections (wagashi) to accompany it.
10. Savour the sweet life
As with many things in Japan, the making of sweet treats (wagashi) has been elevated to an art form.
The traditional confections, originally designed to be served with green tea, come in many forms and often differ from region to region.
Varieties include mochi, rice cakes made from glutinous rice; manju, flour-based pastries usually filled with anko (red bean paste); higashi, small, colourful and intricately patterned sweets made from sugar and flour; and konpeito, traditional sugar candies that look like little stars. There are various wagashi-making classes around the country including in Iwakura, north of Nagoya, in Aichi Prefecture, where you learn in a 100-year-old traditional storehouse known as a kura.
11. Japanese beer is something special
Japanese beer is famous for its crisp, fresh character with brands such as Sapporo and Asahi exported to the world. Another brew worth discovering is Orion, which is produced in Okinawa Prefecture. A tour of the Orion brewery is like a visit to an amusement park for adults – the complex is known as Orion Happy Park – weaving its way through each step in the manufacturing process, from mashing to fermentation to filling the bottles and cans, and culminating in a tasting. There's also the Gallery, a reproduction of a 1960s-era shop, a restaurant and, of course, a shop selling Orion souvenirs.
More Japan stories on Internationaltraveller.com you may like:
Seven adventures for the mind and soul in Japan
Seven strange Japanese foods to try while you are there
Where to find the best food to eat in Tokyo
Every season is a new adventure in Japan
Or visit japan.travel
LEAVE YOUR COMMENT