Where to eat in Jakarta according to a local chef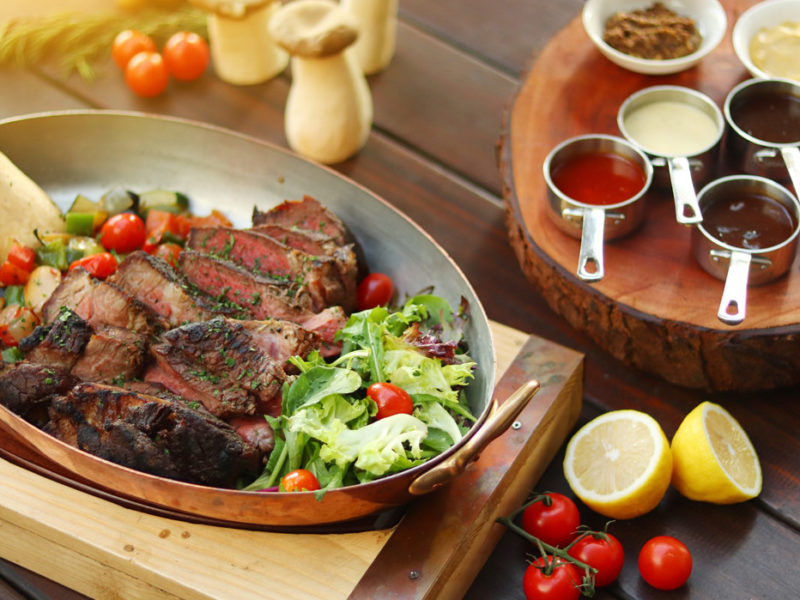 |

This Article was created in partnership with Wyndham Hotels

|
Sampling seasonal produce and flavours of the island of Java, and its neighbouring islands, is what eating out in Jakarta is all about, says Wyndham Casablanca Jakarta's Chef Deden.
Having lived in Jakarta for the past 19 years, and worked as a chef for nearly three decades, Chef Deden is an expert on where to eat in Jakarta. According to him, food from Padang – a city in West Sumatra Province – is among the most popular. And among that cuisine, beef rendang – a slow-braised beef curry dish – can be found on most local restaurant menus.
"Jakarta locals are from 34 of Indonesia's different provinces," Deden says. "These people brought their own food here, so there's now a wide variety. That's what makes dining in Jakarta so different to anywhere else."
And it doesn't stop there. Chef Deden is now looking at introducing creative fusions and unique spice mixes used in neighbouring countries such as Thailand. Having recently hosted the head chef from Wyndham Grand Phuket Kalim Bay in a head-to-head cooking battle, he learnt a lot about the differences in the two cooking styles.
"For the most part, the ingredients are similar," he says. "They use turmeric, ginger – everything we have here. But in Thailand, they take around one day to make a curry. In Indonesia, we are done in just 30 minutes." In general, Indonesian food is also "a little bit sweet" as compared to Thai food, which uses a lot of fish sauce, he adds.
Riva Grill Bar & Terrace
Naturally, Deden recommends visiting his own restaurant, Riva Grill Bar & Terrace, located inside Wyndham Casablanca Jakarta. On the menu, the RIVA Home Age Tomahawk is a must-order. Tomahawk is a type of steak named after its bone shape, which looks like a traditional weapon. "I put rib on the ageing machine for 40 days to give the beef more flavour and make it more tender," he says.
Other steaks of different grades and from different farms – mostly in Australia – also feature on the menu, such as the Himalayan Salt Sliders, where the plate on which the steak is cooked and served is made from a block of stone-like Himalayan salt. "This is something really different from our competitors around Jakarta," he enthuses.
"During our lunch service we take a different approach, focusing more on clean eating", explains Chef Deden. Detox shots and kombucha are some of the drink varieties you'll see on the healthy lifestyle menu, as well as a variety of low calorie mains, salad super bowls and hearty soups.
Chris Ruth's Steakhouse
For an upscale restaurant lunch or dinner, Deden suggests trying Chris Ruth's Steakhouse. An outpost of the American upmarket steakhouse chain, its atmosphere is similar to other classic Western restaurants.
They're also known for their quality steaks, seared to perfection and served with sizzling butter and traditional sides.
Cafe One
Also located in Wyndham Casablanca Jakarta and worth visiting is Cafe One, voted the best buffet and à la carte cuisine in Jakarta. Here you'll find Asian food from Indonesia, but also India, Japan, Korea and Thailand.
"We serve very traditional food that's hard to find in other five-star international hotels around Jakarta," Deden says. His must-try dish: the traditional stew semur jengkol served with petai bakar, which in English translates to stinky bean but is actually a much-loved local specialty.
If you're craving a sweet treat after your meal, pop into The Bakery next door for one of their delicious cakes or pastries.
Akira Back
Chef Deden is clearly a carnivore as, like his earlier recommendations, steak is also Akira Back's specialty. The chef here is from Japan, however, which adds a Japanese touch to this otherwise traditional steakhouse, says Deden. "They serve steaks with many different presentations. The restaurant's 'modern cosy atmosphere' is ideal for young businessmen, and many make up the dinner crowd."
AMUZ Gourmet Restaurant
Next on the list of where to eat in Jakarta is AMUZ – a fine-dining restaurant on the second floor of The Energy Building. It offers contemporary French cuisine accompanied by the finest of French and other European and world wines.
Henshin
Finally, Henshin on level 58 – the top – of Westin Hotel Jakarta makes Chef Deden's list of top picks. Why? According to Deden, it's hard to beat dinner with a view and Henshin delivers. "You can see all of Jakarta, and it's best at night," he says. Both buffet and à la carte (mostly Chinese cuisine) dining are offered here.
Visit Wyndham Casablanca Jakarta for more information about the venue and it's world-class dining options.