How to see Antarctica (and feel good about it)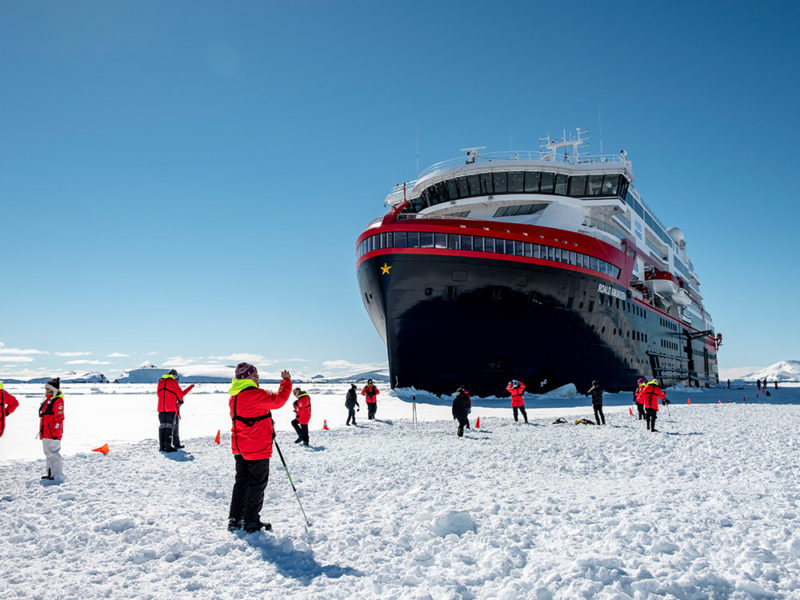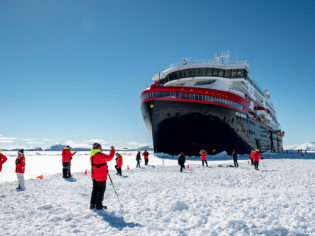 |

This Article was created in partnership with Hurtigruten

|
Travelling to the white continent is the ultimate bucket list adventure, but it's one that comes with a great deal of responsibility, writes Dilvin Yasa.
It's a challenge that tortures even the most experienced of writers: how does one adequately convey the wonder of the white continent? Environmental historian Stephen J. Pyne has long been on record as saying that anyone tackling Antarctica must first 'develop a vocabulary equal to their environment', while Damian Perry, managing director of Hurtigruten says, "If you know how to describe Antarctica, then you've never been," he explains. "It's as though the awe of what you're seeing leaves you dumbstruck."
Success, I've found, lies not in cursory paragraphs about a 'vast landscape of grandiose ice-scapes' or 'crunching snow beneath crystalline skies', but by tapping into moments you're unable to experience anywhere else in the world. It's the thud of a penguin leaping unexpectedly into your Xplorer (and immediately out again), the symphony of whale song and the iceberg calving – the breaking of ice chunks from the edge of a glacier – as you kayak through the deep blue. Visiting Antarctica is the feeling of blizzard ice tearing at your cheeks as you set up your tent and that heavy feeling on your chest, a certainty that no matter how long you live and how far and wide you travel, you'll never see anything as beautiful ever again.
Getting to the ends of the Earth takes no fewer than three flights, plus a heart-pounding journey through Drake Passage. But should conscious travellers visit the continent around the South Pole?
Should you be visiting Antarctica?
Tourism in the South Pole might be on the increase, but there's no denying Antarctica is facing serious environmental challenges. While climate change is the biggest threat to the white continent (temperatures have risen here by almost 3°C in just 50 years), critics also point to the disruption of an already fragile ecosystem, plus potential threats from pollution.
Many protection treaties are in place, of course, but there's also the argument that one must experience Antarctica to truly understand why it needs to be protected in order to become an ambassador. It's a viewpoint Perry firmly stands behind. "It's important we go but that we go responsibly with minimal impact, and with the aim of becoming a champion for the continent," he says. "Hearing about climate change and how it's impacting the wildlife who call the polar south home is one thing, but seeing it with your own eyes tends to galvanise people into action. Looking away no longer becomes an option."
There are many reasons to recommend Hurtigruten for your first (or next) trip to Antarctica. We could, for example, point to its explorer heritage dating back to 1893, or highlight the fact the expedition cruise company is centred around creating itineraries for those who value learning and personal growth over luxury. But the No. 1 reason to book your trip to Antarctica with Hurtigruten (and feel good about it) is because it's got the smallest carbon footprint of any visiting ship.
Traversing pristine waters in the world's first-ever hybrid-electric powered expedition cruise ships, it's reduced its CO2 emissions by up to 25 per cent and NOx emissions by a whopping 90 per cent. "It's like the Toyota Prius of the seas," laughs Perry. "It can cruise on battery packs alone, moving nearly silently in stealth mode so it can slide into areas with no emissions or contact whatsoever." Hurtigruten's goal? To operate its ships completely emissions-free.
It doesn't end there. Hurtigruten – a member of the International Association of Antarctic Tour Operators (IAATO) and a founding member of the Association of Arctic Expedition Cruise Operators (AECO), has already removed all single-use plastics on board. It's also committed to reducing food waste by 30 per cent by 2021 and it maintains stringent policies regarding discharge into the sea (each vessel produces its own fresh water, reusing heat from engines and exhaust systems). Not surprisingly, Hurtigruten also contributes to science and research missions. "We've had occasions when we've had researchers on board collecting and sampling plankton and had half the ship sign up to help them conduct crucial experiments," says Perry. "[Hurtigruten] is big on citizen science."
Should you book now?
Convinced it's time to experience the wonder of the white for yourself? Hurtigruten is offering all-inclusive (ex-Australia and New Zealand) deals across 10 Antarctica 2021/2022 itineraries from only $10,999 per person. Each package includes all flights, transfers, meals, beverages, expeditions and wi-fi. "The only time you'll have to pay extra is if you want to add a personal touch such as a photography package, or try an experience such as snow camping," adds Perry.
Changes to operations have been made in recent times, of course. Along with pre-board testing for all and the compulsory wearing of masks for the staff, on-board restaurants are now open all hours and temperatures are checked before passengers enter all common areas. "Hurtigruten has not only brought on additional doctors and nurses onboard each ship, but it's role-played every potential scenario, too," adds Perry.
Passengers considering a Hurtigruten cruise also have the Book with Confidence guarantee. If you change your mind or need to cancel for any reason, you get your money back; no questions asked.
Top tips for travelling to Antarctica
You know about the importance of travel insurance and carbon offsetting your flights to Ushuaia, Argentina, where cruises to Antarctica depart from. The following tips, however, are just as important:
– Leave any exploration of South America until after your cruise. You would hate for anything to jeopardise your polar adventure.
– Visit your GP to obtain travel sickness medication before you leave home. Drake Passage is notorious for its 10-metre plus swells, leaving the unprepared confined to the bathroom.
– While most cruise lines will lend you parkas and boots, you will need to build a polar wardrobe with a focus on layering. Opt for merino wool thermals, waterproof pants, thick snow socks and fleece jumpers as well as lined waterproof gloves and lined wool beanies. A waterproof bag for electronic equipment taken on landings, and a pair of binoculars are also important additions to the suitcase.
– Last but not least, Perry advises you put aside small pockets throughout each and every day to simply take in the wonder of what you're seeing. "Sometimes you can get over-excited by the landscape and the wildlife, but take time to sit in the snow or stand on the deck of the ship and drink it all in. It really doesn't get any better than this."
For more information or to book visit hurtigruten.com.au